Kinsler notches 5 hits, falls triple shy of cycle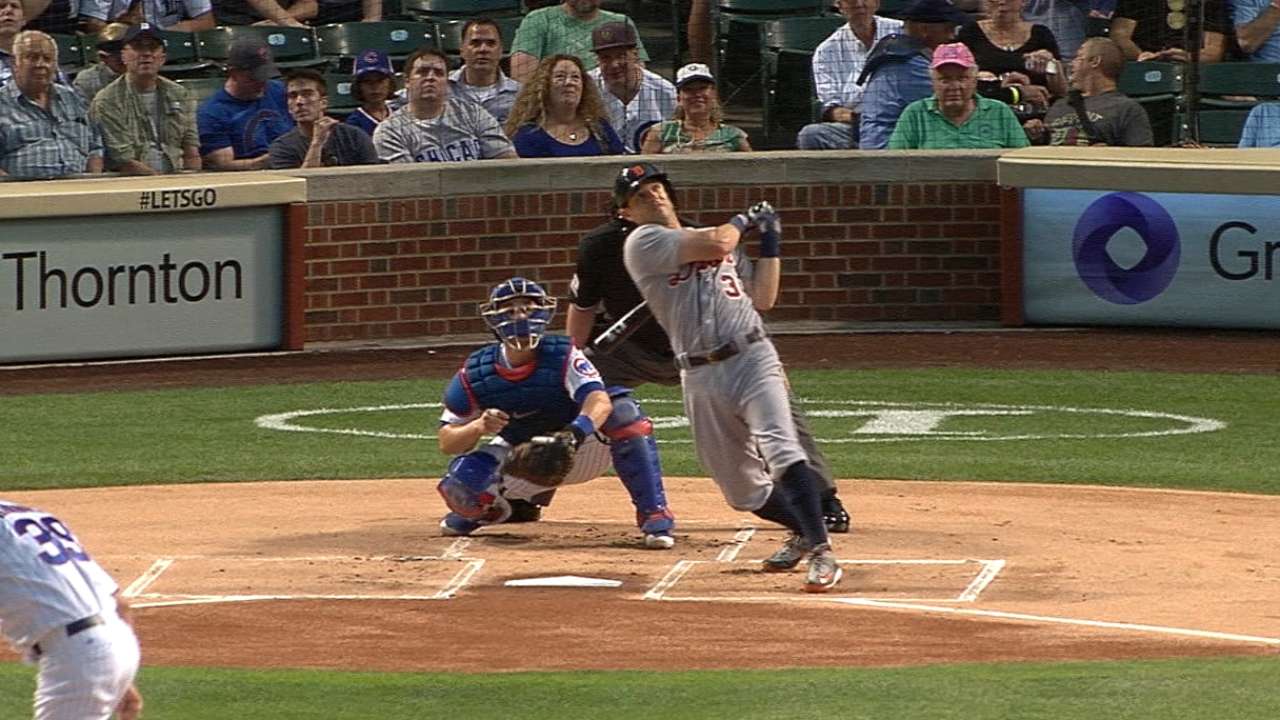 CHICAGO -- Ian Kinsler had been in this situation before, when all he needed was a triple to hit for the cycle. This time, though, Kinsler wasn't worried about reaching third or becoming one the 21 players to hit for the cycle multiple times.
So with Anthony Gose on third base in the ninth inning, Kinsler hit a fly ball to center field, ending the chance at history but scoring the runner to extend the Tigers' lead. And his 5-for-5 performance at the plate was a driving catalyst behind a 10-8 win over the Cubs on Tuesday night.
"On the last one, I was just trying to get Anthony to the plate, far enough to score," Kinsler said. "You try to block stuff out like that as best you can, because once you start thinking about it, you kind of get out of your element and get you out of where you should be."
The second baseman finished with a home run, a double and three singles while adding two RBIs and scoring three runs. He became the first Tiger to record five hits since Omar Infante and Andy Dirks had five against Kansas City in September 2013.
It was the third time in Kinsler's nine-year career that he has finished with five hits in a game. The first time, in 2009, he did hit for the cycle. Then, Kinsler was with the Texas Rangers and finished with six hits.
But this time, he did it in a ballpark where he waited through a two-hour and 17-minute rain delay against five different pitchers.
"He's been a good hitter his whole career," said Cubs starter Jason Hammel, who surrendered a home run and single to Kinsler. "You kind of tip your hat to a guy like that. When he's seeing the ball well, he's a tough out. I've got to get the ball down in the zone. If I execute sliders and heaters down and away to him, he's like everybody else."
Added Kinsler: "When the wind blows like it does, it can benefit the hitters. ... It turns into a good place to hit."
His home run in the first inning sparked the Tigers' offense, but it was the underrated plays, like his double to lead off the fourth, when he ultimately scored a run, or running out a bunt for a base hit, that kept Detroit's offense rolling.
On a team that needed an offensive spark, Kinsler didn't let the pressure get to his head. This time, he kept a simple approach and was rewarded for it.
"I'm just trying to get a good pitch and put a good swing on it," Kinsler said. "We'll come back here 24 hours later and try it again."
Greg Garno is an associate reporter for MLB.com. This story was not subject to the approval of Major League Baseball or its clubs.