MLB.com Columnist
Anthony Castrovince
Pirates present model for sustaining success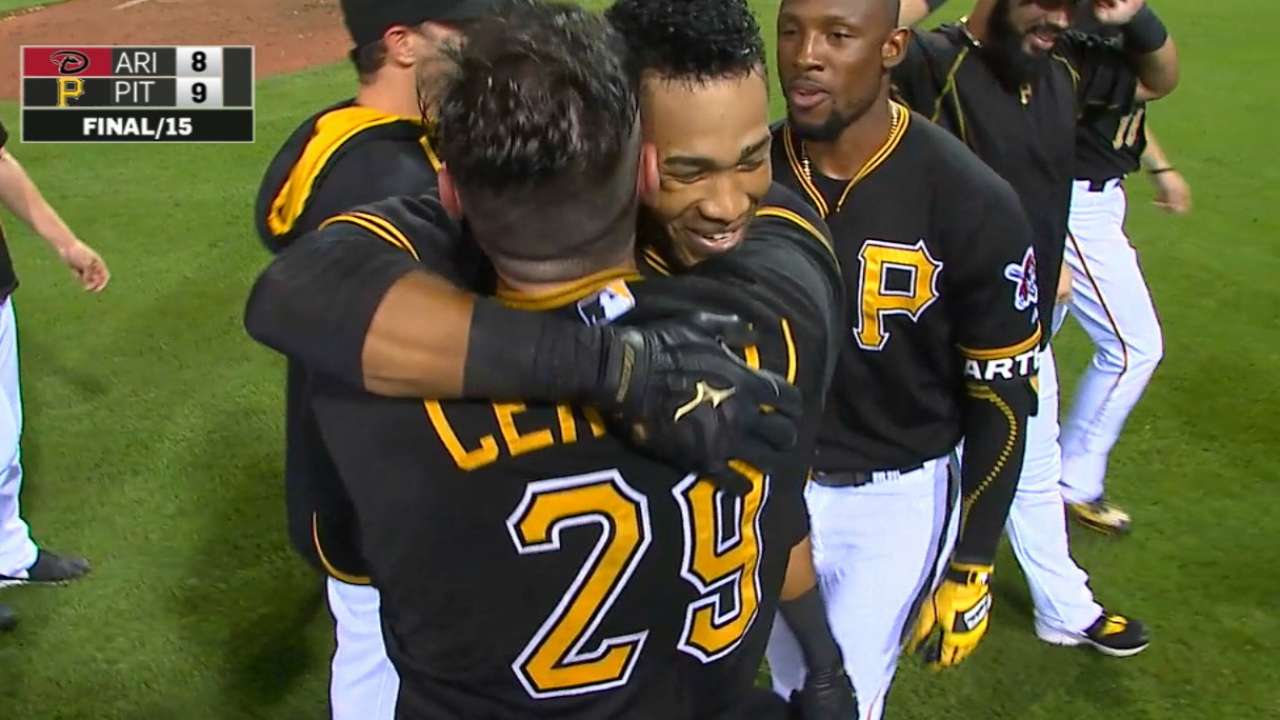 PITTSBURGH -- One of Clint Hurdle's recent daily motivational e-mails to staff and friends dealt with the dangers of "victimitis" -- seeking sympathy instead of answers, complaining about circumstances instead of taking control of them.
It's a pertinent message from the manager of the Pirates. If any club is susceptible to a standings-aided case of victimitis, it is a Bucs club again in line to have to sing for its supper despite having what is, entering Wednesday, the third-best record in the Major Leagues.
Because they committed the cardinal sin of sharing a division with the Cardinals, the Pirates are elite everywhere but in the National League Central. A third straight relegation to the Wild Card Game presented by Budweiser -- where months of blood, sweat and tears come down to what amounts to a coin flip -- might await them.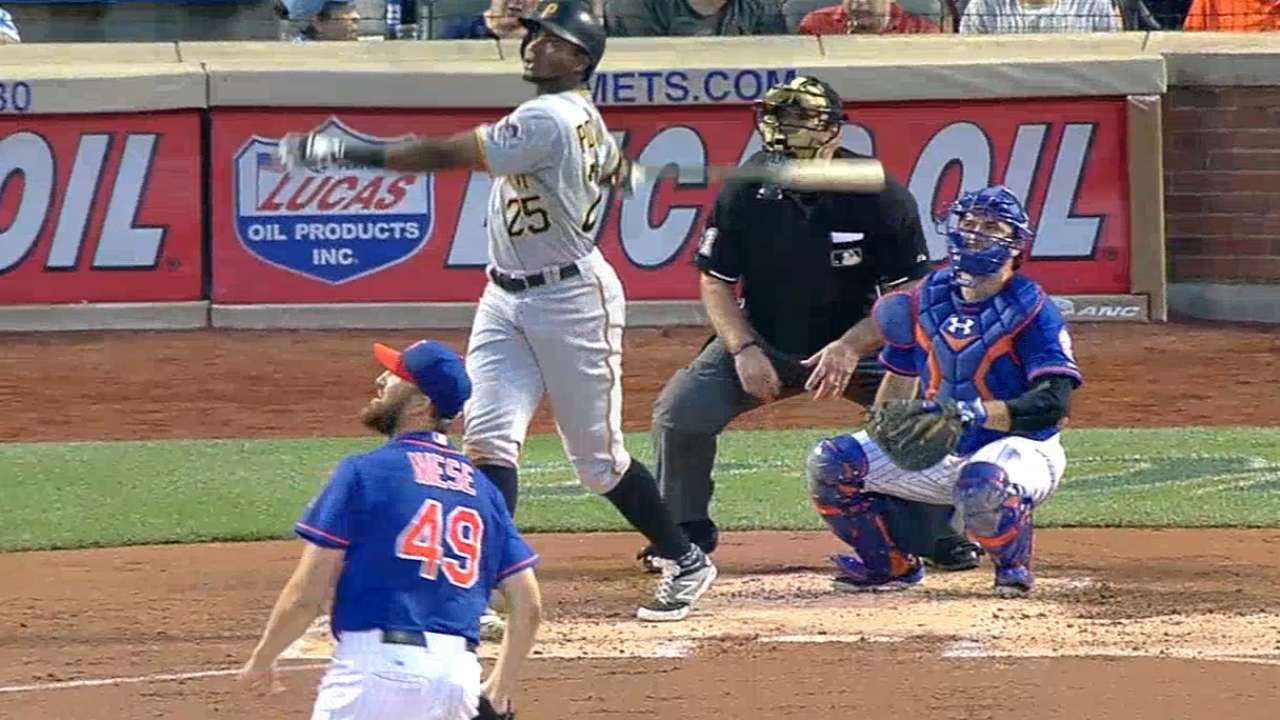 "I'm not sure that there is a vote that I've had as a general manager that I regret more than the vote for the second Wild Card," general manager Neal Huntington joked. "It sounded like a really good idea at the time."
Don't judge Huntington's club on whether or not it overtakes the Cards in the NL Central standings. The fact of the matter is that the Pirates, in the wake of that 20-year streak of losing seasons, have established themselves as a model franchise.
With the Majors' third-best record not just in 2015 but over the past three seasons, the Bucs -- like the Rays before them -- have demonstrated that you can not only build a winner on a budget in today's game, but you can also sustain one.
Here's how they've done it.
Value buys
If the Pirates had a Most Valuable Player not named Andrew McCutchen in their 2013 and '14 runs to the NL's top Wild Card spot, it would have been catcher Russell Martin. Martin's game-calling prowess and bat made him well above average at his position.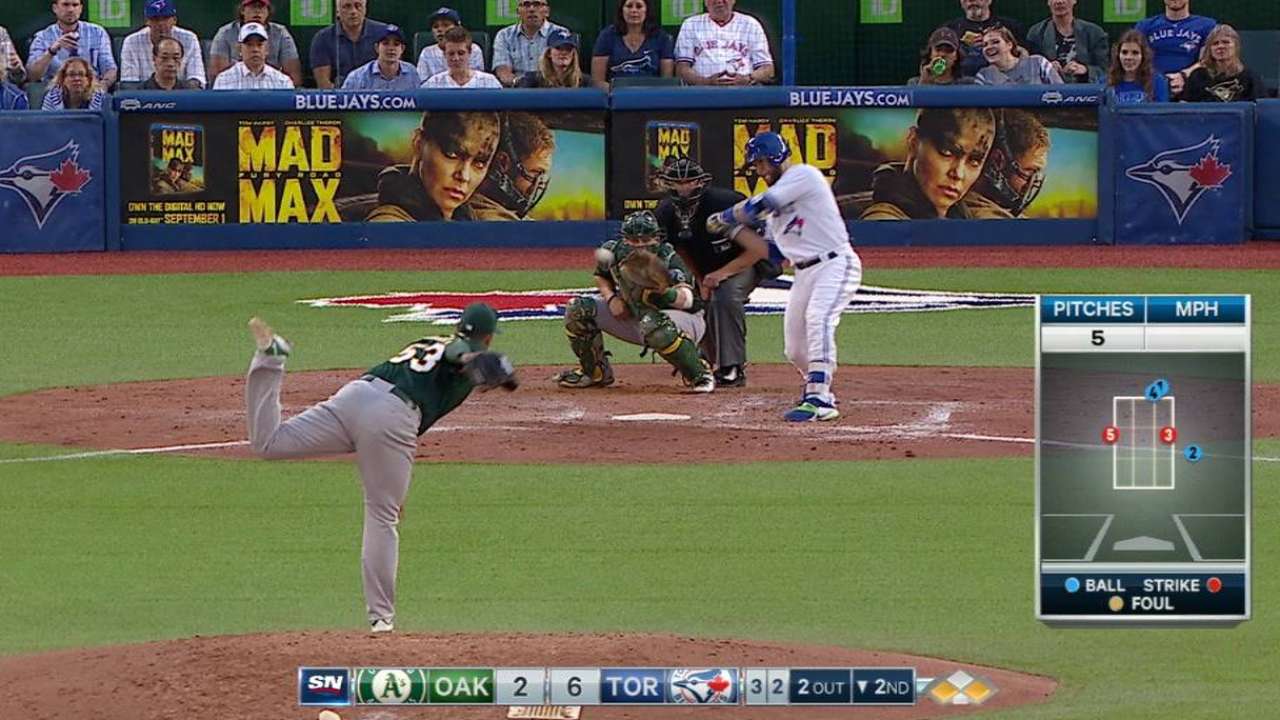 Of course, those same skill sets were what made Martin so valuable when his bargain two-year, $17 million contract ran out last fall. He signed an eye-catching five-year, $82 million pact with the Blue Jays.
Yet by prioritizing two of Martin's strengths -- pitch framing and on-base percentage -- in the search for his replacement, the Bucs were able to approximate a filler with similar impact without breaking the bank. In the trade market, they targeted the oft-injured Francisco Cervelli, who has not only stayed healthy but has teamed well with backup Chris Stewart.
Cervelli and Stewart combined have given the Pirates a higher WAR total from their catchers (1.2) than Toronto (0.7) has received from its backstops -- at a fraction of the cost.
For a small-market club, that's the kind of cost-effective solution that is elemental. The Pirates created and extended their run with multiple beneficial buys.
Martin was one. Josh Harrison, acquired in a 2009 Trade Deadline deal that sent Tom Gorzelanny to the Cubs, was another. The trade that sent a soon-to-combust Joel Hanrahan to Boston before 2013 and brought back now-closer Mark Melancon was also a steal. And from a starting pitching standpoint, the Bucs -- thanks to pitching coach Ray Searage's work -- has eked every bit of upside out of A.J. Burnett, Francisco Liriano and Edinson Volquez.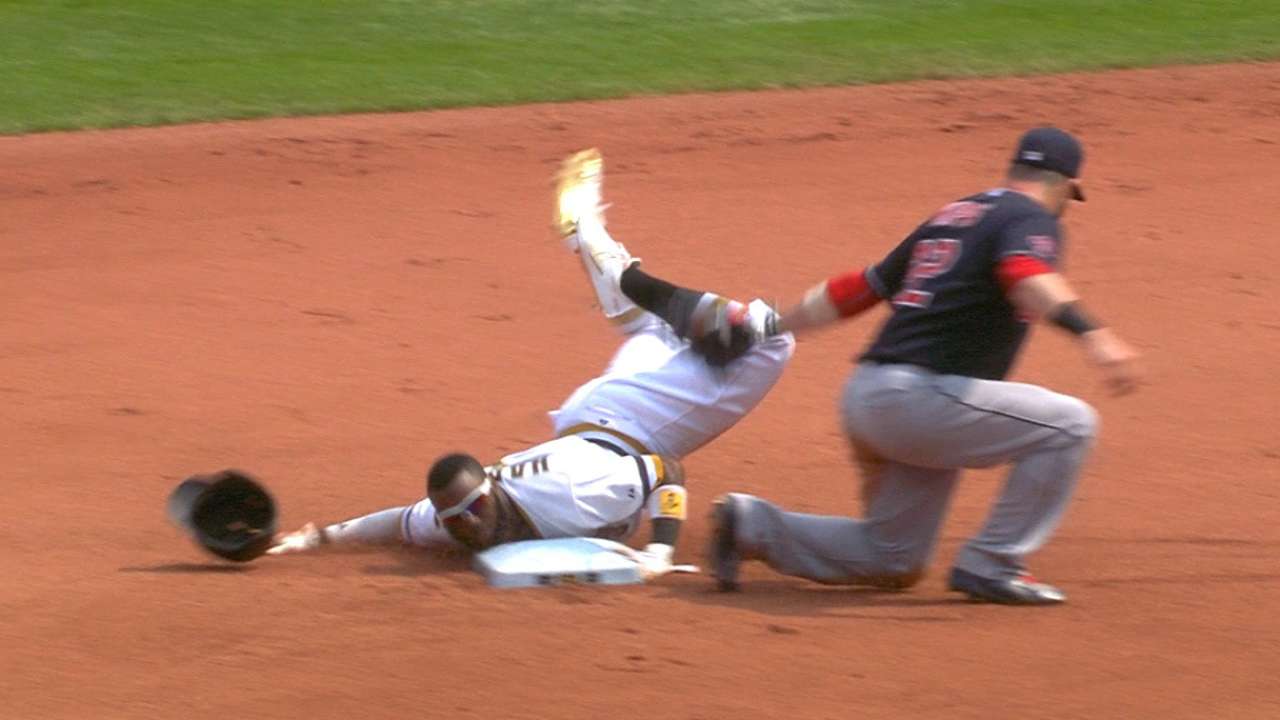 "We have a very solid professional scouting group, and we have as good an analytical department as any in the game," Hurdle said. "They're able to identify bounceback guys or cusp guys or guys who haven't had opportunity. And we've got some very good coaches that are able to coach people up and coach people forward."
The Pirates' 2013-15 Opening Day payrolls total up to $228.8 million. The only two clubs who have a higher winning percentage in that span are, of course, the Cardinals, whose Opening Day totals add up to $350.1 million, and the Dodgers, who have spent a whopping $717.7 million.
Data implementation
Every front office in baseball -- even the ones that are prehistoric compared to peers -- has an analytics department with advanced data at its disposal. The trick is putting it into practice on the field.
We saw that in Anaheim this summer, with the tug of war between manager Mike Scioscia and Jerry Dipoto that led to Dipoto's resignation.
The greatest strength of the Hurdle era has been the willingness of the manager and his staff to take the information given to them by guys like Dan Fox, Pittsburgh's director of baseball informatics, or qualitative analyst Mike Fitzgerald, and present it in digestible chunks to the players.
"I tell this to my players all the time: Amazing things can happen when you have a group of people committed to one goal," Hurdle said.
Hurdle's club was employing some sort of defensive shift on literally every play just before the practice truly exploded across the Major League landscape. It's a big reason why the Pirates have rated above average in defensive runs saved each year during this run.
Bullpen consistency
The Buccos' bullpen isn't as flashy as the loaded unit in Kansas City or the monster tandem of Dellin Betances and Andrew Miller in New York, but back-end stability has been a strength.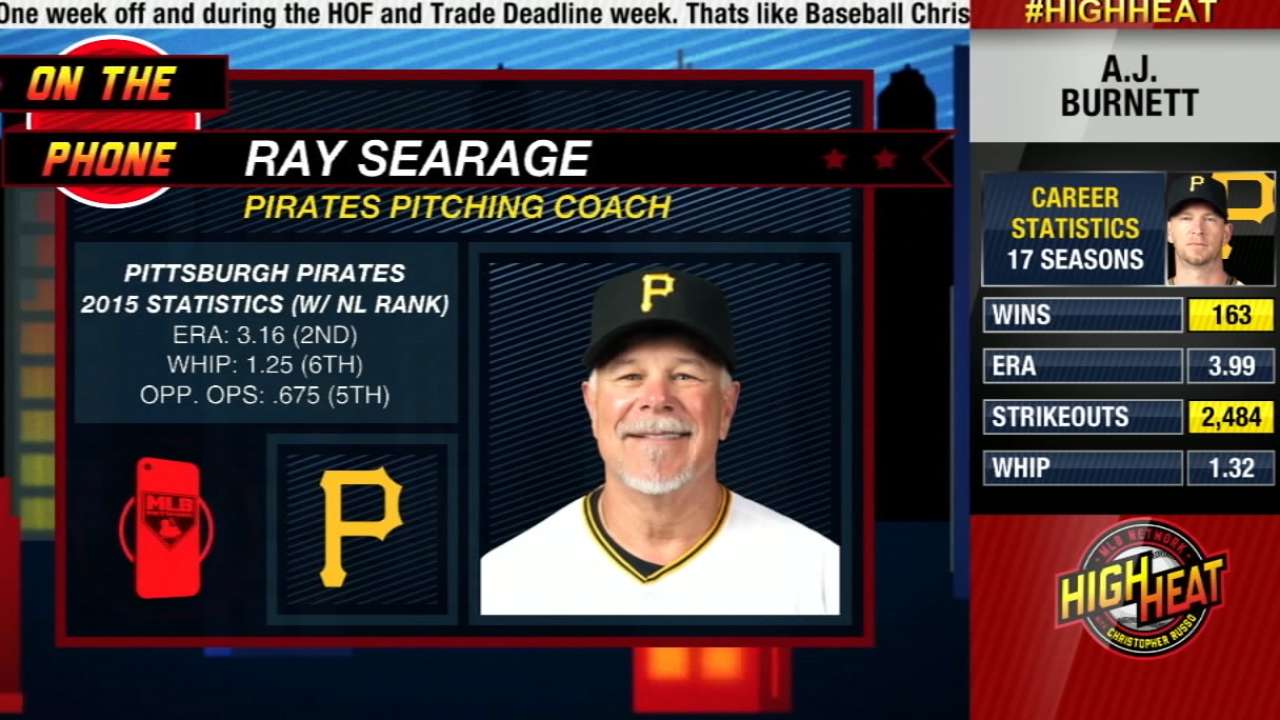 Dating back to the beginning of 2013, only the Royals (2.78) have a lower relief ERA than the Pirates (2.92). The Bucs are also second in the Majors in opponents' OPS (.649), fourth in WHIP (1.20) and sixth in inherited runners scored percentage (25.9), despite significant personnel changes in that stretch.
"When you get a pitching coach like Ray Searage and a bullpen coach like Euclides Rojas, and have Jim Benedict and the guys in our player-development system," said Huntington, "you can bring in some guys who have had success and then struggled for some reason and believe that if there's more to be gotten out of those pitchers, this group will bring it out of them."
The Cutch-led core
It goes without saying that you can't create a winning environment in a small market without successful Drafts.
McCutchen turned out to be the steal of the historically loaded 2005 Draft, taken at No. 11 overall when some teams balked at his size and perceived issues about his long-term strength. The local kid, Neil Walker, turned out all right at second base after being selected as a catcher out of high school at No. 11 overall in 2004. Under Huntington, the biggest Draft success has been right-hander Gerrit Cole, who was a slam dunk at No. 1 overall in 2011. Another right-hander, Tyler Glasnow, arrived four rounds later and is now considered the club's No. 1 prospect.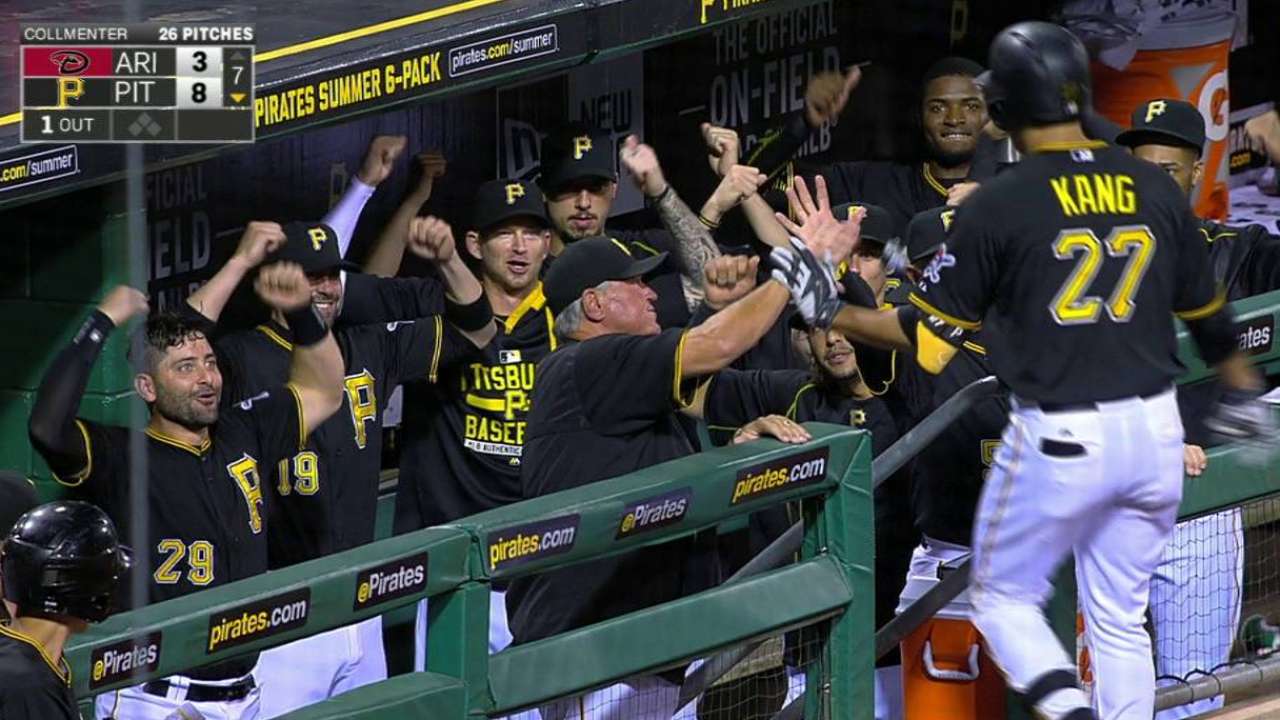 But Pittsburgh's best work has come on the international front. Last winter, the Pirates invested four years and $16 million (including a $5 million posting fee) in Korean import Jung Ho Kang. He hit 40 homers last year in the Korean Baseball Organization, considered by some scouts to be the equivalent of Double-A. Turns out, Kang's bat translated better than anybody could have reasonably assumed. He has proved to be especially vital, especially given the injuries to Harrison and Jordy Mercer on the left-hand side of the infield.
"Another real quality team effort, whether it's our international scouts or our analytics group, which put together a model based on literally nothing, because nobody's made that jump before," Huntington said of Kang.
The Pirates' international MVP scout is Rene Gayo, the veteran who signed Starling Marte, Gregory Polanco (who is now starring in the leadoff spot after taking a year to find his footing) and No. 5 prospect Alen Hanson out of the Dominican Republic for a combined total of $325,000.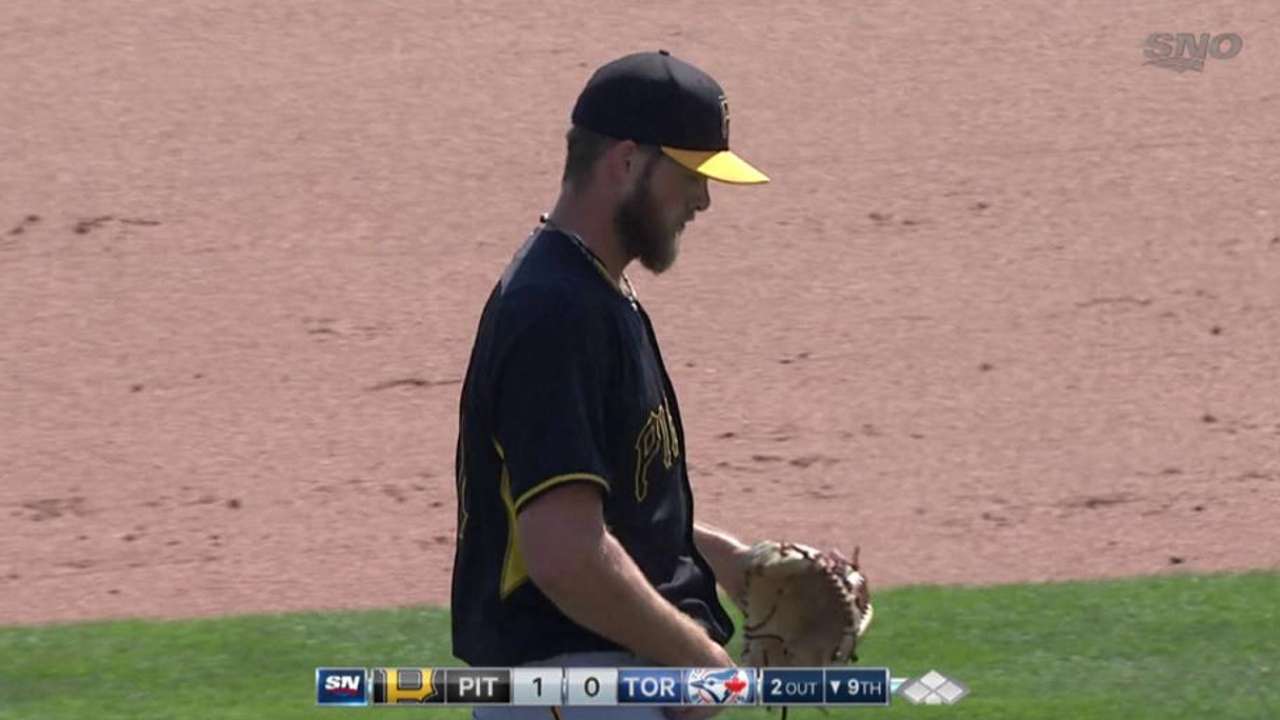 "It all comes back to a really talented group of people," Huntington said. "We're not perfect, and our margin for error is very small. So we try to exhaustively pore into every decision we make and try to make the right decisions for the right reasons and work to get the right outcomes."
The Pirates have been right far more often than they've been wrong these past few years.
The only thing standing in their way is geography.
Anthony Castrovince is a reporter for MLB.com. Read his columns and follow him on Twitter at @Castrovince. This story was not subject to the approval of Major League Baseball or its clubs.