Correa showcases skills on busy day in field
Diving stop to end first inning just one of several plays made by Astros shortstop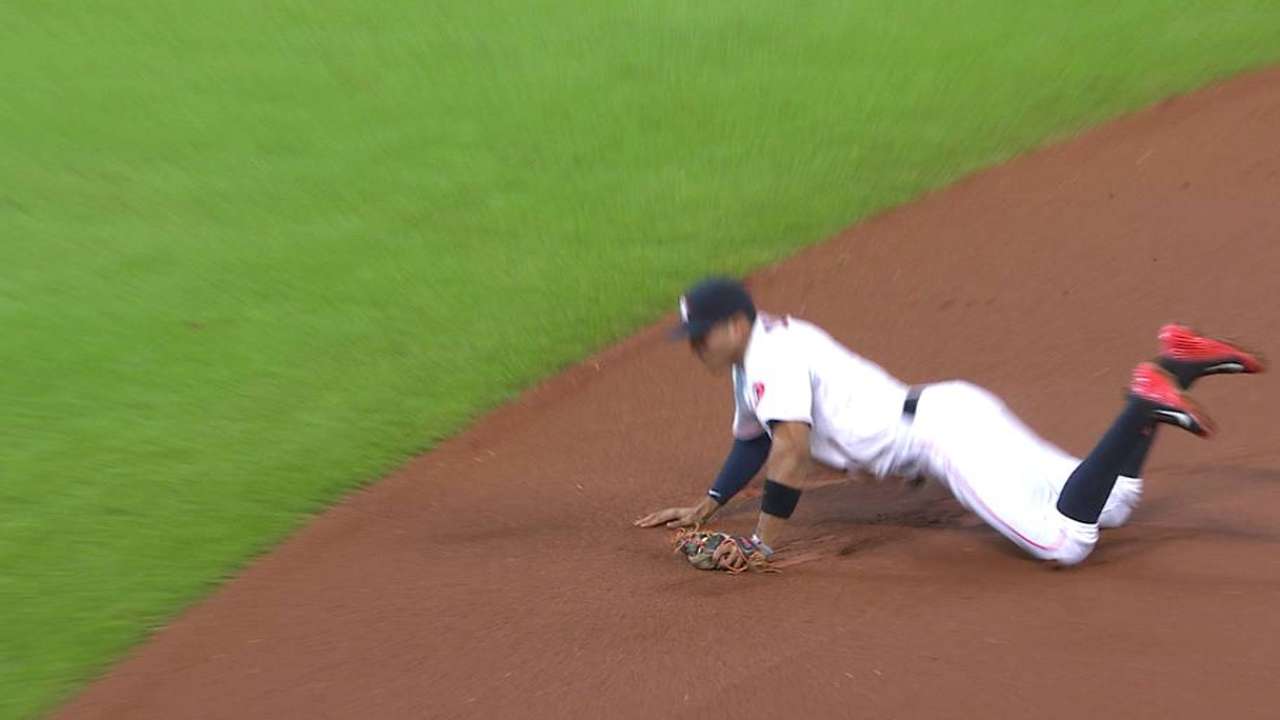 HOUSTON -- On the day he visited Houston Texans training camp and marveled at the defensive prowess of J.J. Watt and Jadeveon Clowney, teammates saw Astros shortstop Carlos Correa morph into a defensive back on the diamond.
Correa had the most active defensive night of his young career in Tuesday's 3-2 victory over the Rays. He fielded six grounders in the first seven innings -- all taking him in different directions and with their own unique hops -- and also was involved in a collision with Carlos Gomez in the seventh that Correa said was more scary than painful.
"It seemed like he was all over the field tonight," starting pitcher Scott Feldman said. "Ball kept finding him no matter where he was. Kind of like a free safety out there, roaming around making a bunch of plays."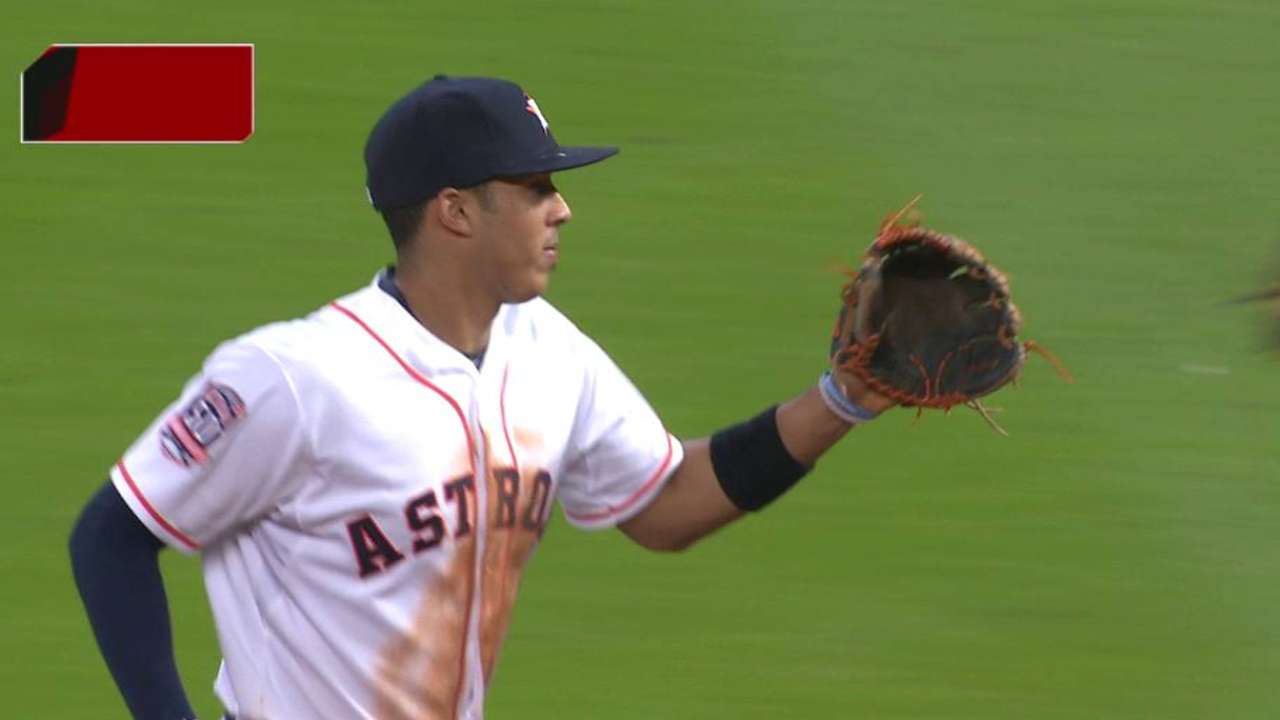 The play most helpful to Feldman -- and perhaps the entire team -- came in the first, where the Astros have struggled of late, allowing runs in the opening frame of both Sunday and Monday's games.
Using all of his 6-foot-4 frame, Correa dove full extension to his right, nabbing Logan Forsythe's scorched ground ball that, according to Statcast™, came off the bat at 94 mph.
Correa gathered himself and fired a shot across the diamond to first baseman Luis Valbuena, who had some nifty footwork of his own, corralling the throw and applying the tag to Forsythe's helmet to record the final out of the inning and strand two runners.
"It was a great play," Correa said. "I expect to make those plays for the team and help the team in some ways, so when I make those plays I just jog back to the dugout because I'm expecting to make those plays for my pitchers. They're working their butt off out there to give us a chance to win ballgames and I feel like I have to make those plays."
From there, Correa was constantly on the move, ranging to both his right and left while fielding awkward bounces and making split-second decisions on where and how hard to make his relay throws.
Still, after the game in which he also delivered a game-tying double in the eighth, he lamented one miscue -- a seventh-inning grounder from Evan Longoria that took Correa to his right. With the bases loaded and one out, Correa tried to start the double play, but he threw high and wide of Jose Altuve, who was only able to get one out at second, thereby allowing the go-ahead run to score.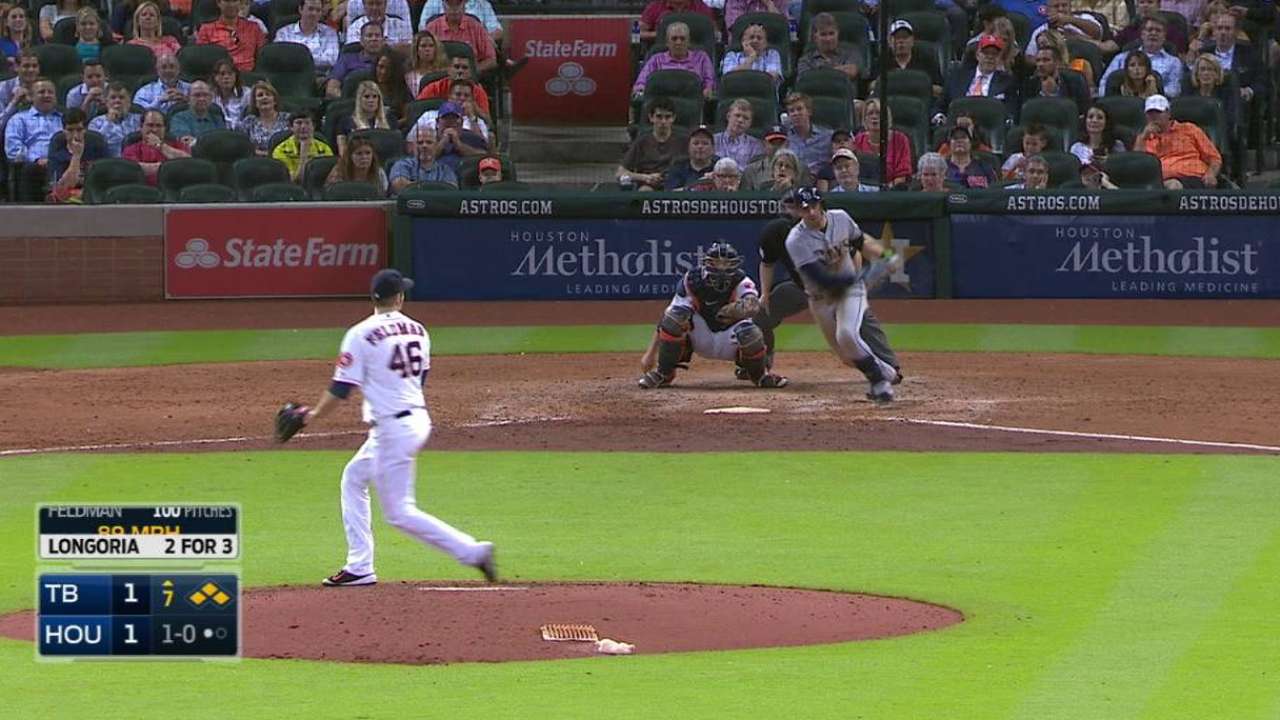 "I take a lot of pride [in defense]," Correa said. "I made a bad throw on the bases-loaded one, so I don't think I played that great of defense. I'm all about perfection, so I want to try to be perfect; I know it's hard, but I don't feel happy about that. I have to keep practicing and keep getting better."
That practice will ultimately yield different results, according to Astros manager A.J. Hinch.
"I'm not sure it's an average play, but the type of plays that Correa makes it won't surprise me when he makes that play the next time," Hinch said.
Chandler Rome is an associate reporter for MLB.com. This story was not subject to the approval of Major League Baseball or its clubs.