Angels retake lead for AL's second Wild Card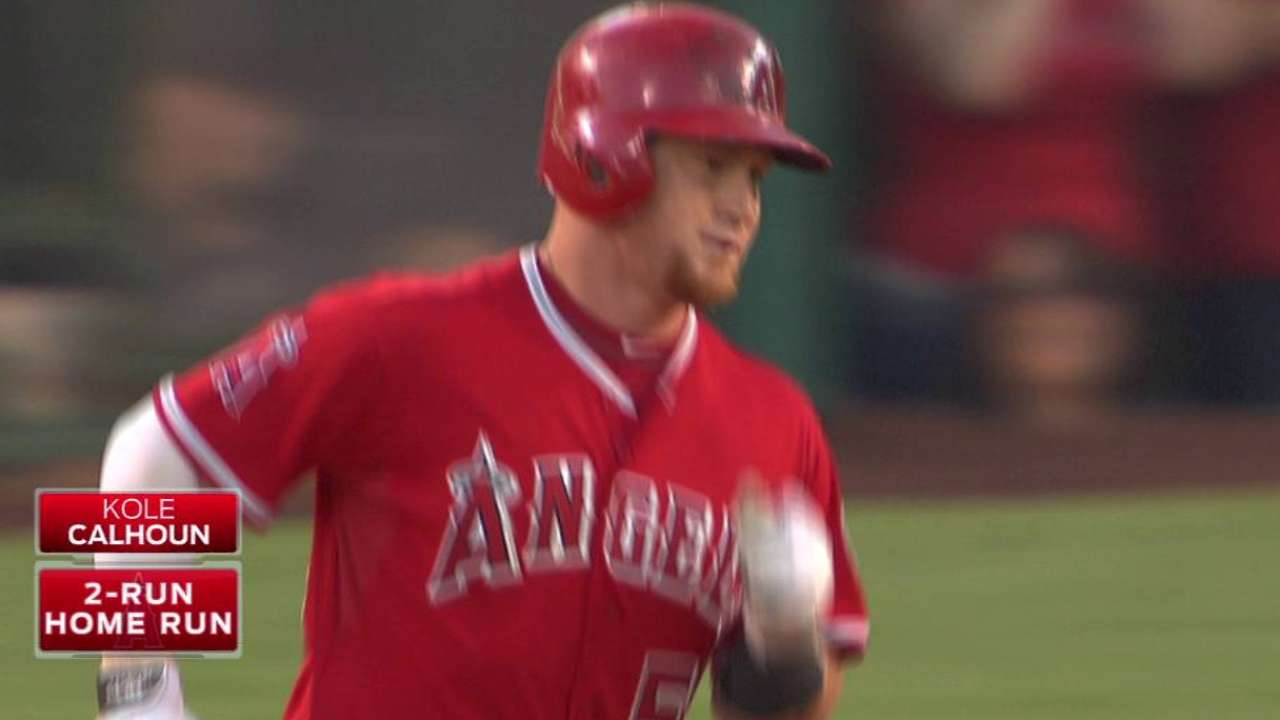 ANAHEIM -- Garrett Richards held the White Sox to three runs in seven-plus innings and the Angels rode another pair of home runs to a 5-3 win on Tuesday night, their second straight to open the four-game series at Angel Stadium. With the Orioles' loss to the Mets, the Angels moved back into the second American League Wild Card spot, taking a half-game lead on the O's.
Left-hander John Danks held the Angels to five hits in seven innings but surrendered two home runs in a rocky first, which put Chicago in an early hole. Jose Abreu had a long RBI double off the wall in left-center field in the sixth, but the South Siders never found the rally they needed.
"Any time we started getting momentum, Richards was good," White Sox manager Robin Ventura said. "The ground ball was kind of unkind. It seemed like any time we got guys on and got something going, that sinker he can throw any time, he was good. We couldn't get over that hump and get the momentum back."
Kole Calhoun started the scoring for the Angels with a long two-run homer to center field, and Albert Pujols followed with a solo shot two batters later to stake the Angels to a 3-0 lead. Huston Street converted the save, his 29th, for a second straight night following his blown save against the Royals on Sunday.
I think [the early runs] were really big," Angels manager Mike Scioscia said. "Garrett had the opportunity to throw any pitch he wanted on any count with a little cushion early. I think that it helped, it helped him to open up the zone."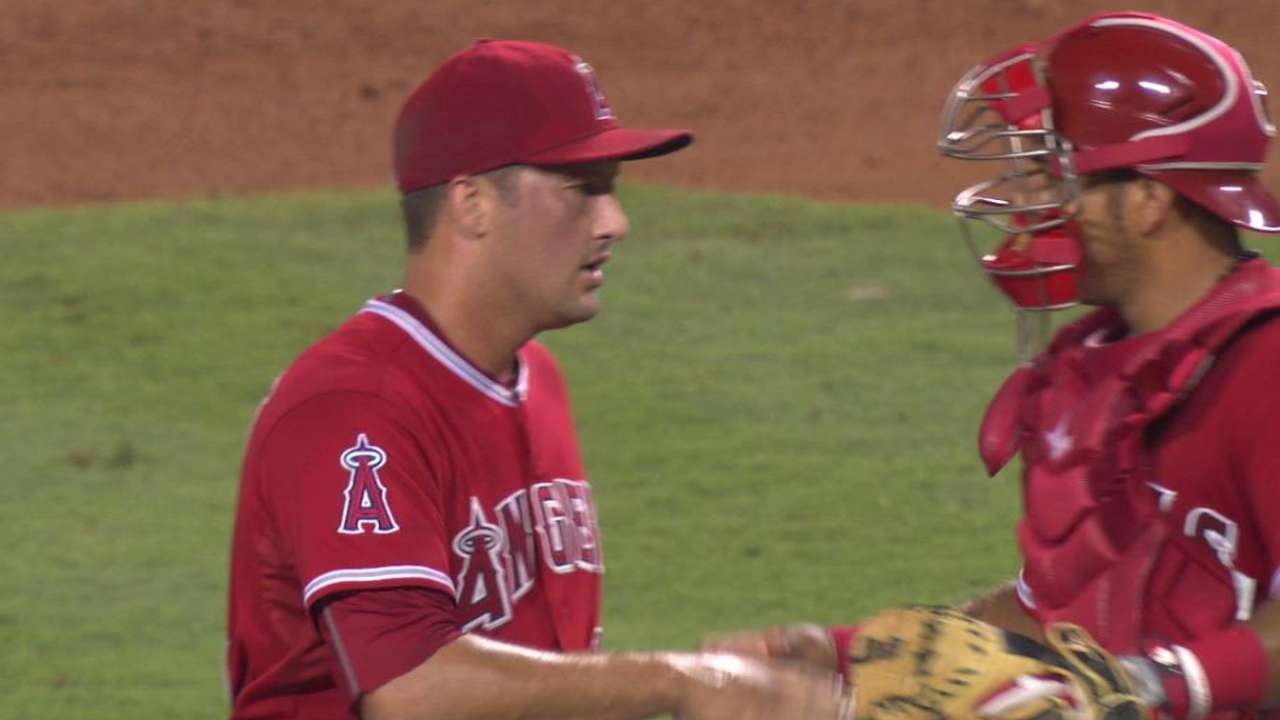 MOMENTS THAT MATTERED
Richards keeps Sox grounded: Richards overpowered the White Sox in an efficient seven-plus-inning performance, pounding the inside part of the strike zone and breaking a number of bats. Richards only struck out four, but he generated a ton of ground balls. He got 13 groundouts, including three double plays, without a single fly-ball out.
"I was able to hit glove side, and I was able to start sinking the ball as the game went on, and that probably led to more ground balls," Richards said. More >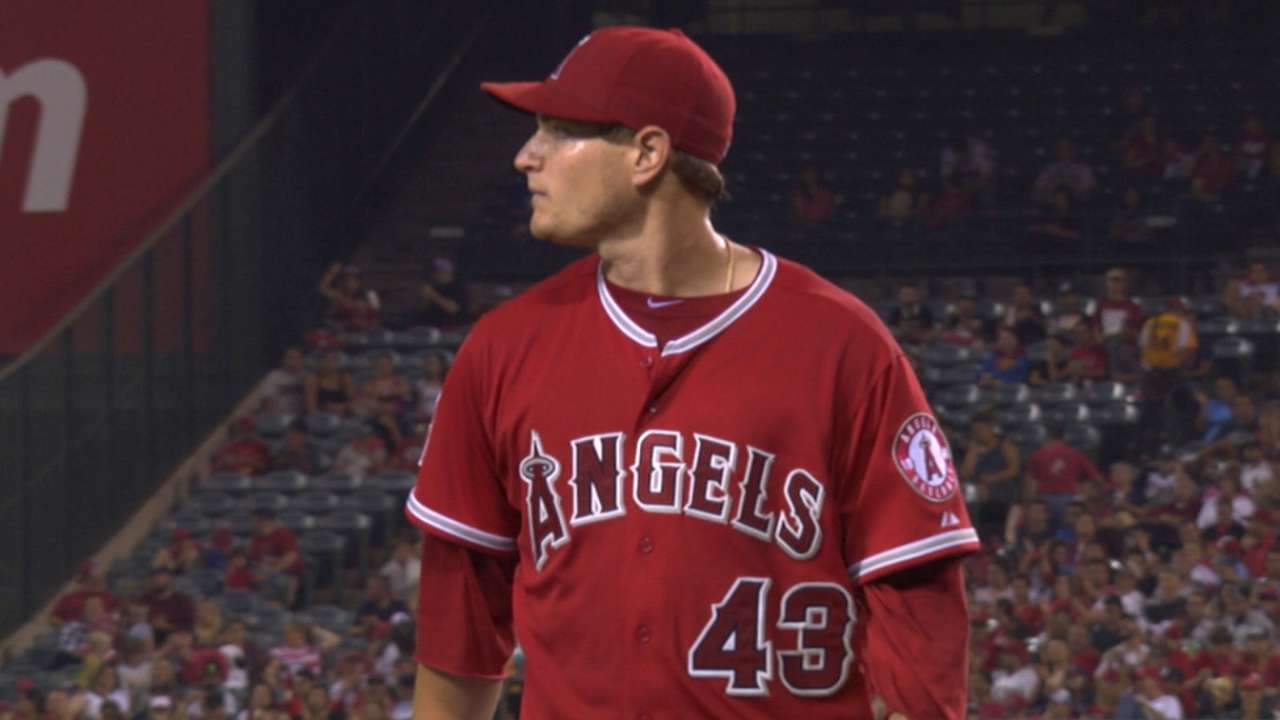 Facing Abreu: With Tyler Saladino on third and two outs in the sixth, the Angels elected to have Richards go after Abreu. The White Sox first baseman had two hits already, and while Melky Cabrera would have been the tying run at the plate if they pitched around Abreu, he had hit into two double plays. Abreu ended up doubling home a run, with Cabrera striking out in the ensuing at-bat to end the frame. More >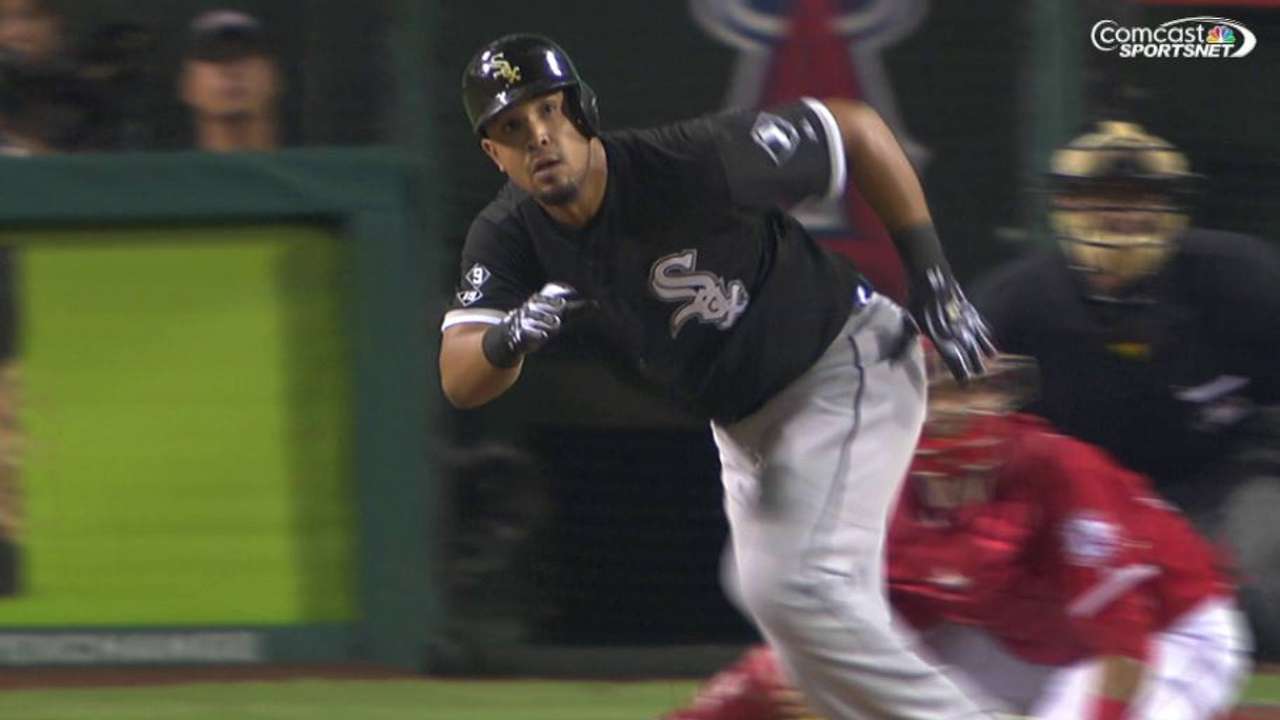 Danks deals: Take away the first four hitters of the game, and Danks turned in another solid start. After yielding two homers in the first inning, the lefty allowed just one unearned run and one earned run over the next six, giving him five runs allowed for the night on five hits. He fanned three and walked one over 109 pitches.
"I really feel good about how I threw the ball," Danks said. "I made three mistakes and got hurt on all three. Against a guy like Richards, you can't make too many mistakes, and unfortunately I did." More >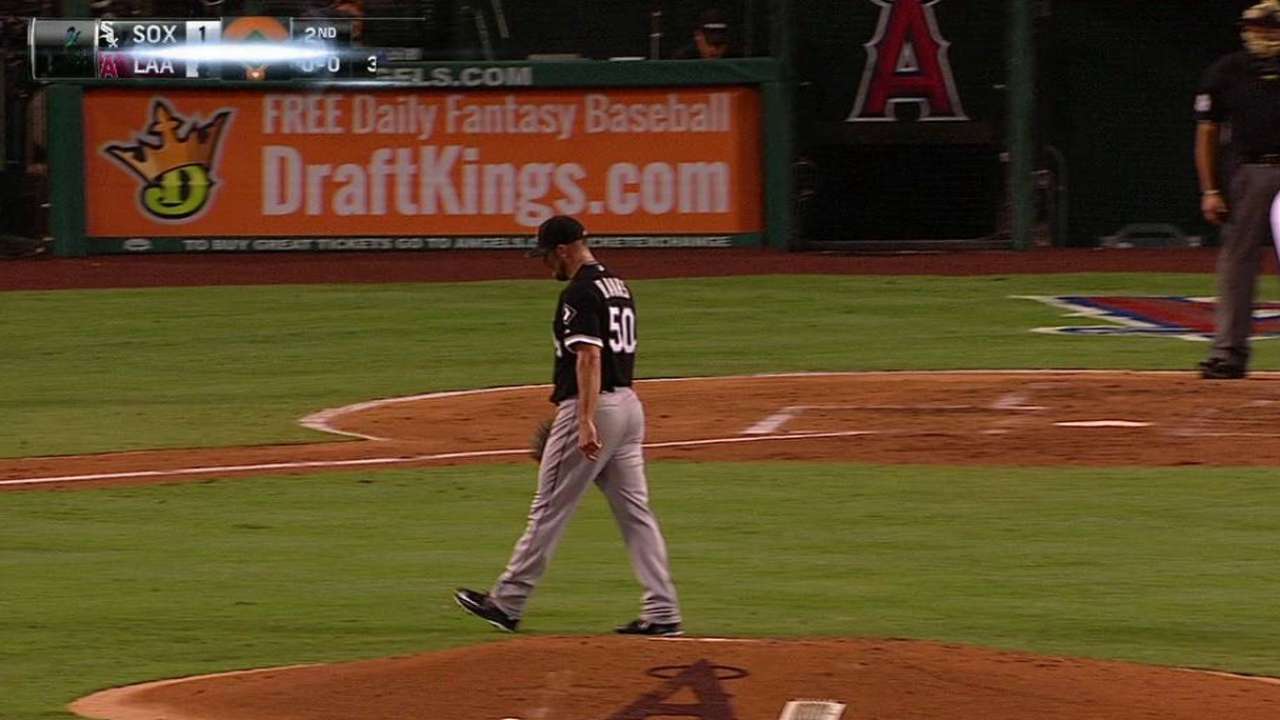 Pujols finding his power: Pujols' 33rd home run of the season, a drive to left off Danks, capped the Angels' three-run first inning -- the kind of early offense manager Mike Scioscia has said the Angels have been looking for. Pujols has homered in three of his last four games, after having none in his previous 14, and just one in his previous 22.
"I don't think there's much difference in his approach," Scioscia said. "But there are always times every hitter is gonna try to find some timing, and it looks like Albert did for these last couple of days."
QUOTABLE
"I hung a breaking ball to Albert. I threw a softball up there to a Hall of Famer. That's not a good idea." -- Danks, on the Pujols homer
"He's fine." -- Scioscia, on Mike Trout, who pulled up in discomfort after lunging for first base on a groundout in the fifth inning. Angels trainers came out to check on Trout, but he was able to play the rest of the game.
HANDLING THE GAME'S BEST
Trout is now 0-for-8 lifetime against Danks and 3-for-17 in five games against the White Sox this season.
"I don't care what the numbers are," said Danks of Trout. "He's the best player in baseball and you have to be careful with him."
TWO-WAY STREAKING
The White Sox have lost six straight road games, following a seven-game road winning streak. They have lost seven straight games at Angel Stadium.
WHAT'S NEXT
White Sox: Jeff Samardzija takes the mound for the White Sox as the series continues on Wednesday at 9:05 CT. After posting a 3-1 record and 2.27 ERA in July, Samardzija has an 0-3 mark and a 12.91 ERA over three August starts.
Angels: Jered Weaver makes his third start since coming off the disabled list at 7:05 p.m. PT at Angel Stadium. Weaver's command and mechanics have looked better since his return, but the veteran right-hander took a loss against the Royals in his last outing despite notching his first quality start since the end of May.
Watch every out-of-market regular-season game live on MLB.TV.
David Adler is an associate reporter for MLB.com and Scott Merkin is an MLB.com reporter. This story was not subject to the approval of Major League Baseball or its clubs.