Abreu rolls with the plunkings
White Sox slugger tired of getting hit by pitches, but knows they're not intentional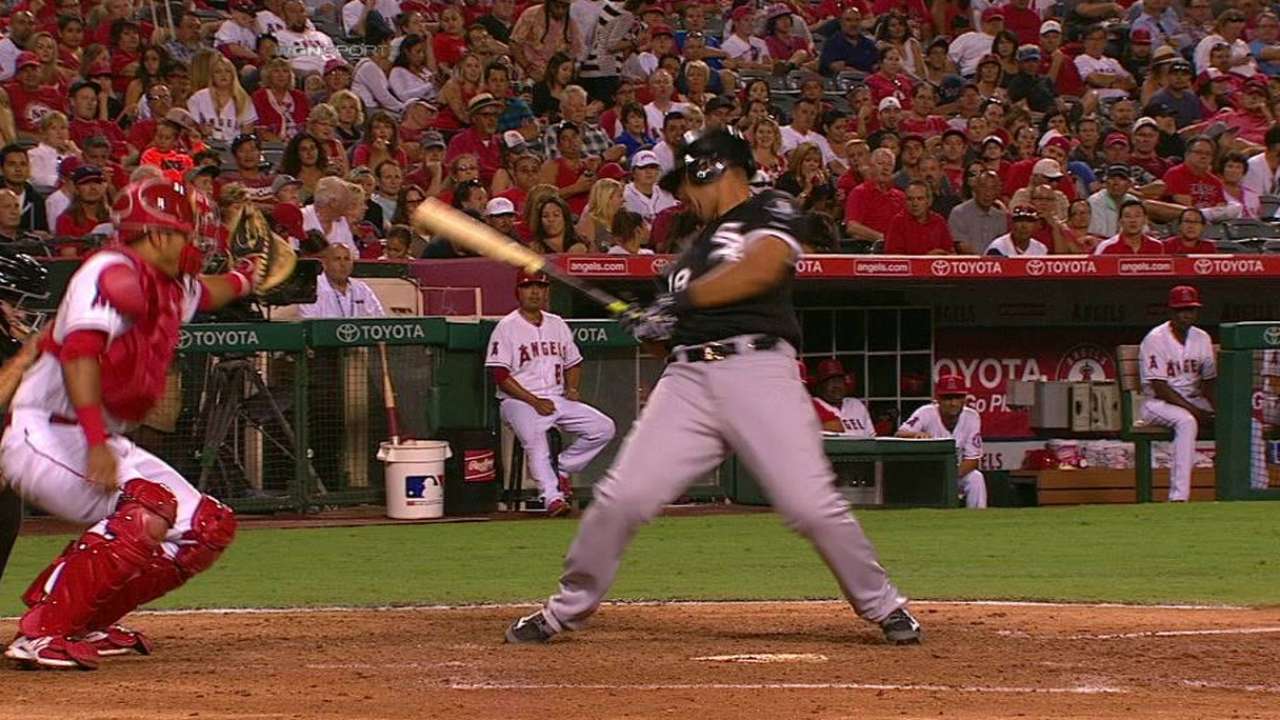 ANAHEIM -- Jose Abreu already has topped the amount of times he was hit by pitches as a rookie, and let's be honest: That's not the number the White Sox slugger was looking to improve upon from his impressive 2014 campaign.
Abreu entered Tuesday night's matchup against the Angels having been hit 14 times, which ranks fourth in the Majors behind Anthony Rizzo (24), Brandon Guyer (17) and Jung Ho Kang (15). The White Sox first baseman was hit twice in Monday's loss, by Angels starter Andrew Heaney in the third and by reliever Fernando Salas in the seventh.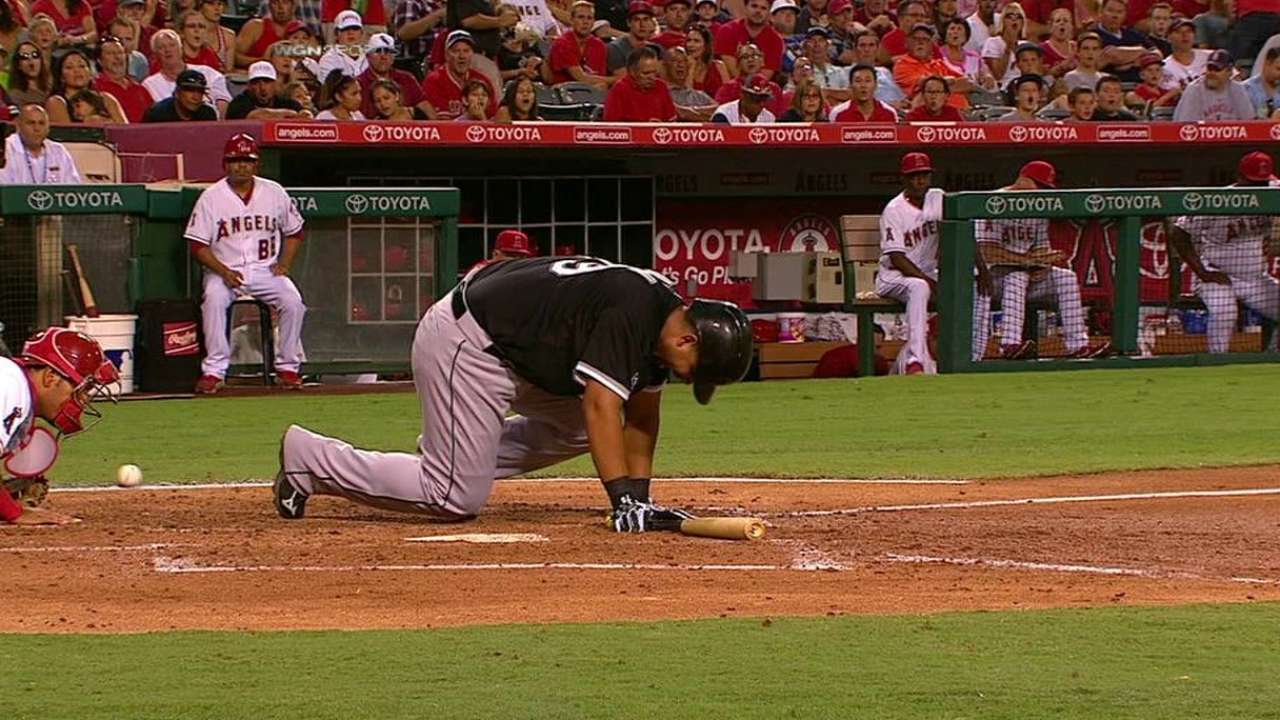 One school of thought is that when the top player on a team gets hit a couple of times, some sort of retaliation follows regardless of intent. There clearly was no intent on either pitch that made contact with Abreu, and he simply considers the situation an unwanted part of the game and an offshoot of the way pitchers approach him.
"I've been taking too many hits to my body," said Abreu through interpreter and White Sox Spanish language broadcaster Billy Russo. "But I think that's because they are trying to pitch me inside. I don't see it as intentional. I have to make my adjustment also. I have to try to hit that ball and try to be safer with balls hitting me. I'm OK. I know it's not intentional.
"I don't like that. Nobody likes to get hit, but that's part of baseball and part of the game. You have to keep going. You have to try to forget that and try not to feel fear. That's going to change your approach. You have to take it like something normal. On the other side, I think the pitchers don't want to hit you."
White Sox manager Robin Ventura agrees with the lack of intent, especially Monday night. But he would like to see Abreu wear more protection for the HBP and foul balls off his body.
"They pitch him inside and he fouls it off his feet and shins a lot," said Ventura, who also mentioned an elbow guard for Abreu. "You wish he would wear something a little more, but he doesn't like it.
"There are parts, I think, that if you thought it was something else, it would be different. He's on there [close to the plate]. He likes to stand in there and stay inside it."
Like many other players on the White Sox, Abreu is dealing with the dog days and heat of August as they try to make a somewhat remote playoff push toward the American League's second Wild Card spot. Abreu pointed to a Sunday game on Aug. 9 in Kansas City as the worst of these dog days.
Playing in the playoffs has been Abreu's target since the offseason, when he told MLB.com that he was preparing for more than 162 games. But if the White Sox ultimately fall short, Abreu is more encouraged by the base the White Sox are building as opposed to not hitting their '15 goal.
"I'm going to feel grateful because we tried and we are trying to build a competitive team for the future, and that's what you have to take it," Abreu said. "I'm going to feel good because we got some progress and that's important."
Scott Merkin is a reporter for MLB.com. Read his blog, Merk's Works, follow him on Twitter @scottmerkin and listen to his podcast. This story was not subject to the approval of Major League Baseball or its clubs.