Hammel uses delay to study mechanics
Right-hander 'out of sync' but feels fine physically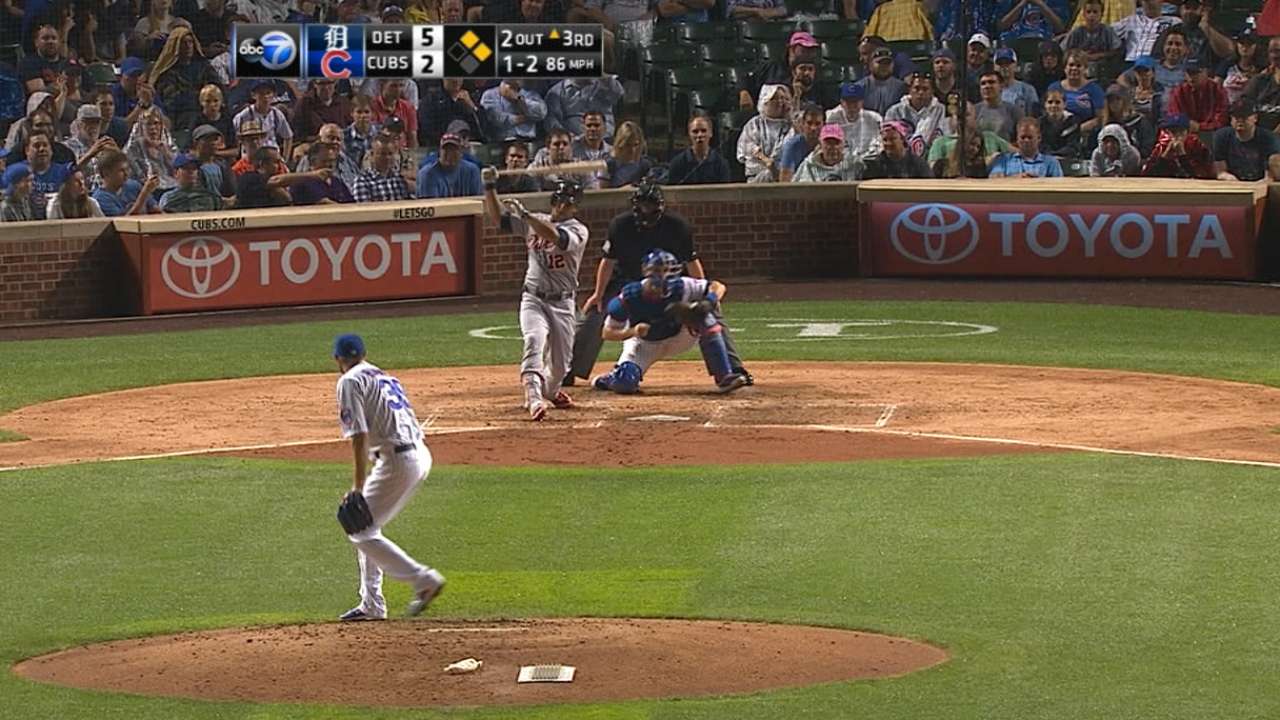 CHICAGO -- Tuesday night's rain delay was two hours and 17 minutes, and long enough for Cubs pitcher Jason Hammel to look at video and see what's wrong.
Hammel served up three home runs over three innings, including two in the first, in the Cubs' 10-8 loss to the Tigers at Wrigley Field. The right-hander did not return after the lengthy delay -- he'd thrown 62 pitches -- and did not get a decision as the Cubs rallied to tie the game in the seventh before losing.
"His stuff is really good when you talk about velocity," Cubs manager Joe Maddon said. "For me, it's almost like, to describe it, he's trying way too hard. I think he's trying to overthrow a little bit to compensate."
Maddon, Hammel and pitching coach Chris Bosio talked during the delay, which came during the bottom of the third inning.
"Effort-wise, I don't feel like I'm doing anything different and I'm not trying to overthrow," Hammel said. "Sometimes less is more. It's disappointing to go out there and have good stuff like I did tonight and just get hit around the yard. It was one of those nights where it seemed like they knew what was coming."
Hammel served up nine hits in his abbreviated outing, the most since June 11, 2014, when he gave up 11. He came out of his July 8 start after one inning because of a tight left hamstring, and has been trying to get back on track since then.
"I've probably been out of sync for the last few starts, but physically I feel fine," Hammel said. "For whatever reason mechanically, just execution-wise, I'm not getting the ball down in the zone like I was before."
Before the All-Star break, Hammel had a 2.86 ERA in 17 starts. Since then, he has a 5.33 ERA in six outings. The Cubs are counting on the right-hander in their pursuit of a playoff berth.
"It's unacceptable right now," Hammel said of his latest outings. "We're in the middle of something special. You've got to have at least three [starting pitchers] doing their job every night. I want to continue to perform like I'm expected to. Tonight, it just didn't go my way."
Carrie Muskat is a reporter for MLB.com. She writes a blog, Muskat Ramblings. You can follow her on Twitter @CarrieMuskat and listen to her podcast. This story was not subject to the approval of Major League Baseball or its clubs.