Hand infection lands Johnson on DL
Move allows Tribe to activate second baseman Kipnis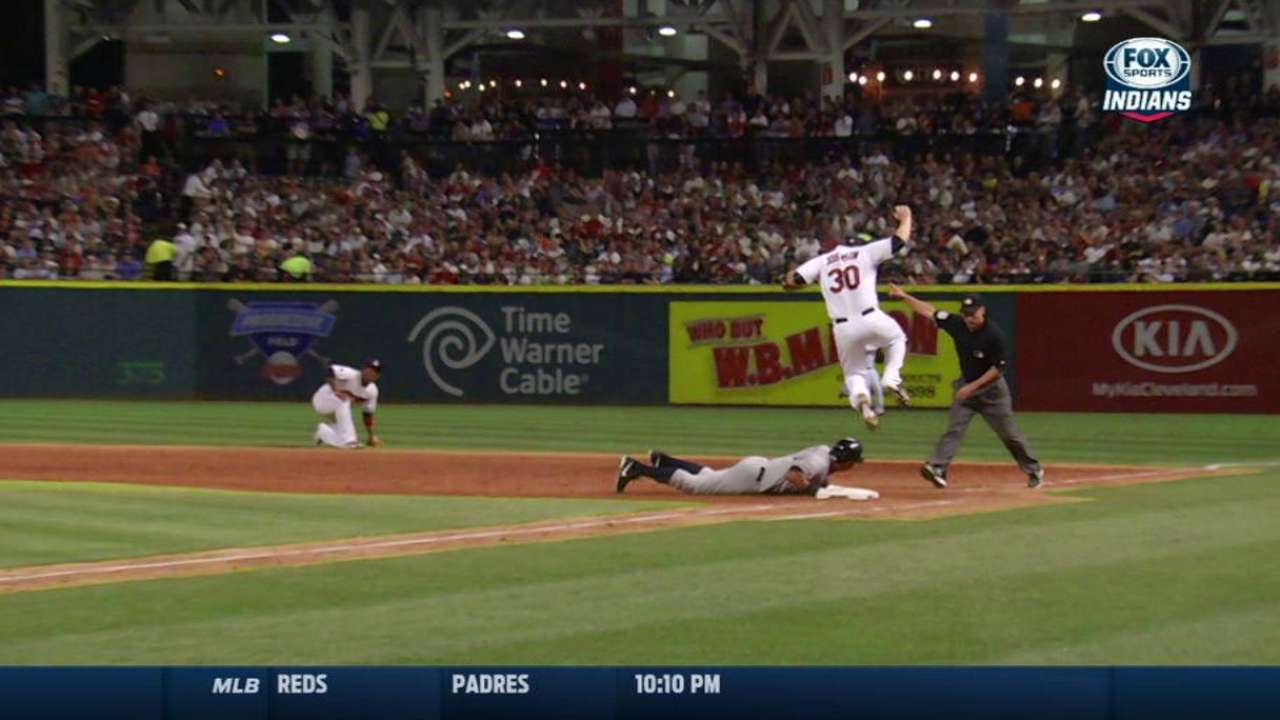 BOSTON -- Chris Johnson is in a state of disbelief over the events of the past few days. The Indians infielder never expected a bug bite on his left index finger to lead to a trip to the disabled list, but that was the news he received on Tuesday at Fenway Park.
With the affected and infected finger still swollen, hindering Johnson's ability to grip a baseball bat or put on a glove, Cleveland has placed him on the 15-day disabled list. The move allowed the Indians to activate second baseman Jason Kipnis from the DL after a bout with a right shoulder issue.
"It's crazy. I can't believe it," Johnson said before Tuesday's game in Boston. "I come in, I feel like I'm swinging the bat pretty good and then boom."
Johnson played first base for the Indians on Friday in Minnesota, but he woke up in his hotel room on Saturday morning with what initially looked like a pimple. Cleveland's medical staff determined that Johnson had been bitten by some type of bug, and the bump continued to worsen over the weekend. Johnson had it treated at a Minneapolis hospital on Sunday and has been on antibiotics for the past couple days.
The Indians plan on sending Johnson back to Cleveland on Wednesday in order to see a specialist.
"C.J. showed up today, and I think he felt like it was a little bit better," Indians general manager Chris Antonetti said. "Man, it didn't look that much better to me. The trainers and I visited, and they had talked to the doctors back in Cleveland. It looks like it was probably going to [sideline him until] this weekend. That's a week, and you're not even really sure. So we talked to him, and we're going to DL him.
"We'll send him back to Cleveland, where he can kind of change his focus from trying to grip a bat to getting that thing better. He can see the doctors back in Cleveland and maybe be a little more aggressive with what they're doing. And then, when it's appropriate, he'll start doing baseball activities."
Johnson, who was acquired in a trade with the Braves on Aug. 7, has hit .429 (9-for-21) with three doubles through his first six games with the Indians. He was understandably frustrated by the trip to the DL, but Johnson said he understood the team's decision.
"The swelling's not going down," Johnson said. "The antibiotics aren't getting the swelling out of my hand, and I can't just sit around and take a roster spot if I can't do anything, because I can't grip a bat or catch a ball. We've got some guys banged up, so we need some bodies. It stinks, but I've got to get it better."
Jordan Bastian is a reporter for MLB.com. Read his blog, Major League Bastian, follow him on Twitter @MLBastian and listen to his podcast. This story was not subject to the approval of Major League Baseball or its clubs.