Play Ball initiative proves to be roaring success in Irvine
City hopes to increase youth participation in the sport of baseball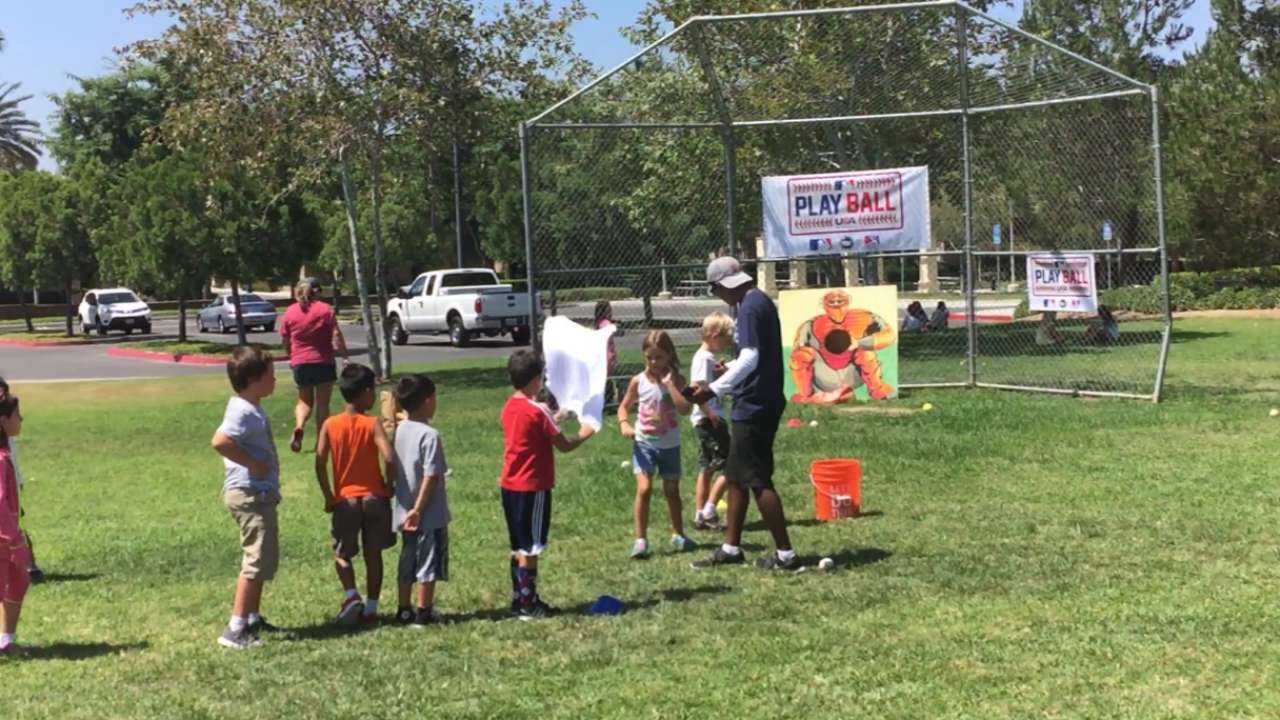 The children of Irvine, Calif., came out in droves on Tuesday for the latest event in the Play Ball initiative. Around 200 kids between kindergarten and fourth grade came out to the Main Field at Woodbury Elementary School for the chance to get out in the sun and learn introductory baseball skills.
More than 100 cities around the country have participated in Play Ball. The children participated in activities such as guessing how fast they can throw the ball, baserunning relays and practicing target practice.
"This is a great opportunity for students to get out and be exercising, to be into physical fitness and to be interested in sport," said Alan Battenfield, the principal of Woodbury Elementary School. "There's no pressure in it. It's basically just for fun. It's fun, it's healthy and the kids have a great time."
Dominic Recchia, the community services program coordinator for the city of Irvine, said that the Play Ball events have become popular, and he hopes to see baseball grow exponentially. There were a few kids on Tuesday who showed great potential, though Recchia took joy in teaching to all skill levels.
"The kids seem to enjoy it," said Recchia of getting out on the field and learning the basic fundamentals. "They like to see themselves have success and do things they've never done before. It's neat to see their faces the first time they hit the ball, or when someone throws it to them and they catch it."
Woodbury Elementary is located just 13 miles from Angel Stadium in Anaheim, but baseball has not been among the most popular options for youth participation. Darin Loughrey, community services superintendent for the city of Irvine, reiterated how excited the city was to be part of Play Ball.
"We were all in," said Loughrey. "I love baseball and baseball is a great opportunity to get kids in this community excited about sport. What we're doing today is introducing children to the game at a very basic level. Oftentimes, children in this community are introduced to other sports such as soccer and tennis. Baseball isn't as popular in Irvine, but we see this as an opportunity to expose children to the sport."
California is a hotbed of college baseball programs, and the University of California Irvine Anteaters are just across town from Woodbury Elementary. The next generation of students have plenty of athletic options, and thanks to Play Ball, baseball might be on their agenda in a bigger way than ever before.
"It's the one sport you can play by yourself or with a couple buddies at a park. You just need one ball," said Brian Fishel, community services program coordinator in Irvine. "Small events like this, small little activities gain some interest for the kids. Hopefully they can go back and tell their parents what they learned. It just goes back to playing catch with your mom, your dad or your grandparents in the backyard."
Spencer Fordin is a reporter for MLB.com. This story was not subject to the approval of Major League Baseball or its clubs.