Yanks pay surprise visit to Prospector Theater
As part of HOPE Week, club reps share in message of teamwork at special establishment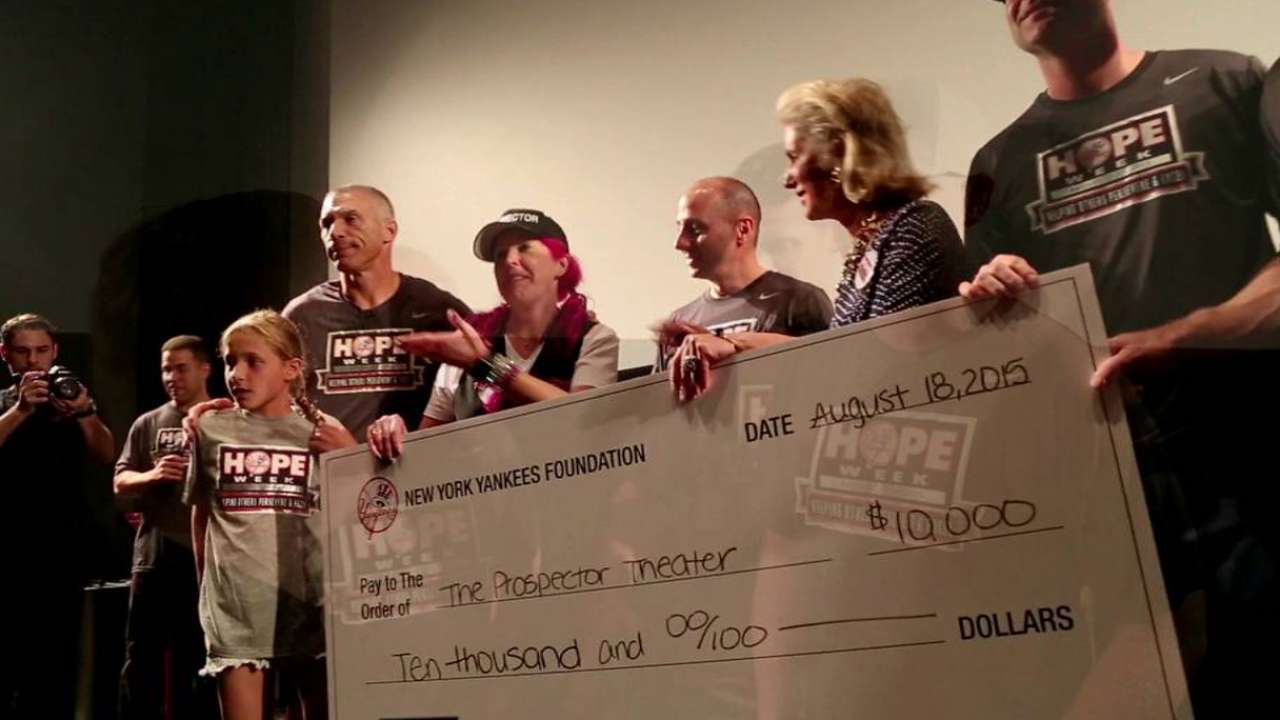 The same values of teamwork that help a big league team through its grueling schedule can easily be translated to the workplace, and as part of their annual HOPE Week, the Yankees helped deliver that message to the employees of a most special Connecticut establishment on Tuesday morning.
The Prospector Theater in Ridgefield, Conn., was the inspired dream of Valerie Jensen, who grew up with a sister who has Down Syndrome and saw first-hand how difficult everyday tasks could be. Driving by a vacant 1930s-era building scheduled for demolition, Jensen said she envisioned a movie theatre that would be staffed primarily by individuals with disabilities.
Officially opening its doors last November, the Prospector employs more than 100 special-needs employees, referred to as "prospects." It operates much like a traditional theatre, showing popular new movies like "Ricki and the Flash" and "Straight Outta Compton." Yet the facility's biggest stars are off-screen.
"I think it's magnificent what Val has done," Yankees manager Joe Girardi said. "She's created a place that truly gives people a lot of hope. It gives them a safe place to go. I know for a lot of our players, the safest place is on the field. Val has given a lot of people a lot of hope, a lot of love and just created a wonderful atmosphere."
Jensen gathered her entire team on Tuesday for what was advertised to be a presentation concerning professional development. When the lights went up, Girardi, general manager Brian Cashman, general partner/vice chairperson Jennifer Steinbrenner Swindal, catcher Brian McCann and infielder Chase Headley surprised the crowd and were greeted by roaring applause.
The players and staff spoke about the importance of teamwork, learned about their jobs, enjoyed a tour of the building and shared lunch before traveling to Yankee Stadium, where the "prospects" were guests of the team for Tuesday's game against the Twins.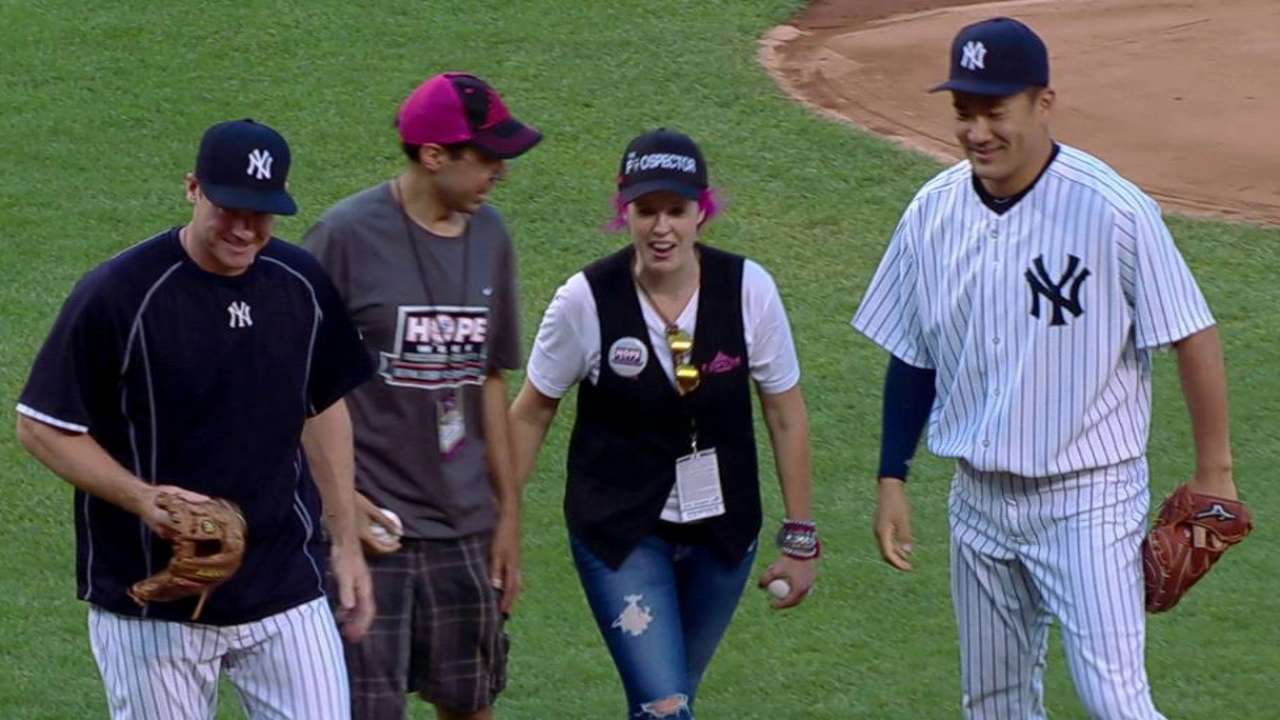 "We throw up this huge beacon of light and show what is possible, what is capable and what the right thing to do is," Jensen said. "The Yankees being here helps to show us that people are listening, that people are looking out into the horizon and saw that beacon of light. They came to us, so I'm hoping that others will recognize the value and importance of making room for people with disabilities."
Jensen said that it serves as recognition that the Prospector Theater is on the right course in a mission that helps "prospects" find their "sparkle" by using repetition, modeling and games to teach necessary skills like personal hygiene and speaking to customers.
"By the time they come into our audiences, they are polished and look like they're professional athletes," Jensen said. "Some people look at that and say, 'It's very easy for them at the Prospector Theater.' They don't see the thousand hours that we put in of tears and crying and failing and falling, building back up. That's where the real joy and sparkle is."
The Prospector Theater is staffed by individuals with disabilities looking to gain workplace experience. #sparkle pic.twitter.com/5g9BQghx5M

— New York Yankees (@Yankees) August 18, 2015
The Prospector also has a coffee shop, restaurant, production studio and landscaping department, helping create jobs within jobs. Jensen said that though the theatre has enjoyed success, serving as the only movie house in a 10-mile radius, it is still struggling to muster support from town leadership.
The Yankees will try to help on that front. As part of HOPE Week, the organization made a $10,000 donation that should keep the film projectors and popcorn machines humming.
"I've been around some special-needs people in the past, and the confidence that the workers have here, it's special," Headley said. "You can see the things that they're accomplishing through the success of the building itself, but just the interpersonal skills are phenomenal. It's really neat to be able to see the confidence that I'm sure this facility is growing inside of it."
Girardi said that the Prospector Theater serves as an example of what can be accomplished by people who have love in their hearts and are willing to give back to the community.
"When you talk about teamwork, I think it's people that you can count on every day to be there for you," Girardi said. "I think that atmosphere is here. You're going to have your good days and your bad days, but your teammates are going to be there to pick you up. They believe in you. That's the atmosphere I believe every workplace strives for."
Bryan Hoch is a reporter for MLB.com. Follow him on Twitter @bryanhoch, on Facebook and read his MLBlog, Bombers Beat. This story was not subject to the approval of Major League Baseball or its clubs.