Hague called up to deepen Blue Jays' bench
First baseman replaces starter Hutchison on 25-man roster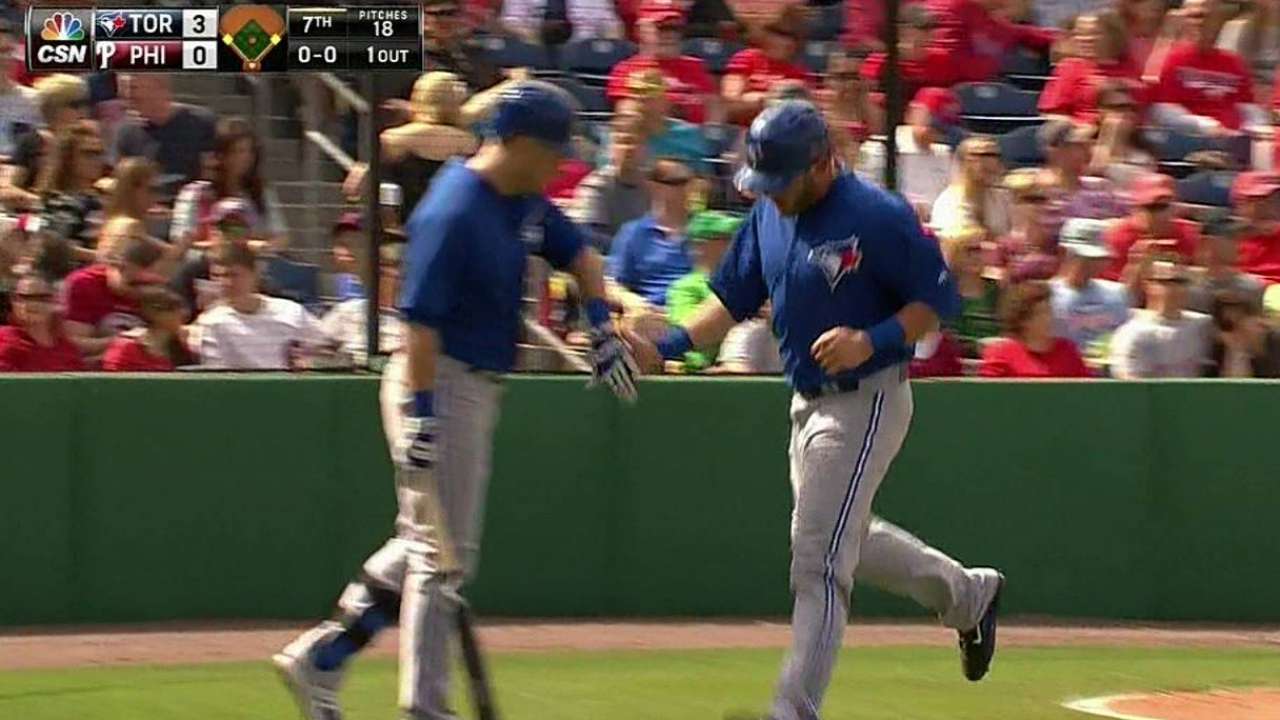 PHILADELPHIA -- Upon his arrival in the visitors' clubhouse at Citizens Bank Park, first baseman Matt Hague found himself in the odd position of squaring off against David Price in a video-game showdown.
"I asked him if [a rookie playing video game hockey] was allowed," said Hague, who joined the team on Tuesday after he was called up to replace Drew Hutchison on the 25-man roster. "He said it was, and we dropped the sticks. He beat me pretty bad."
The Blue Jays made a pair of moves over the past two days in large part due to a quirk in the schedule that will allow them to go to a four-man rotation over the next two weeks. Hutchison, who got the 3-1 win against the Yankees on Sunday, was the odd man out and was the second pitcher to be optioned in two days, after reliever Aaron Loup was sent down on Sunday. Toronto decided to deepen the bench with Hague and outfielder Ezequiel Carrera.
"[Hutchison] was going to be the guy," manager John Gibbons said. "But it wasn't an easy [decision].
"With all the off-days, we had to do it. You never want to send anyone out that's been a main part of your team, but the schedule dictated that. He'll make one start down there [Sunday] and then come back [in the second game] against Detroit [on Aug. 29]."
Hague has had a great season with Triple-A Buffalo, where he's hit .348 with a .909 OPS. The 29-year-old leads the International league in batting average, on-base percentage (.427), RBIs (83) and hits (161).
"Right now, I'm just hoping to contribute," said Hague, who hit just .222 with seven RBIs in 33 games with the Pirates from 2012-14. "You see how they've set the tone up here and you're itching to help out. It's fun to be a part of something like this and you want to help.
"I haven't paid much attention to [the excitement in Buffalo that has included 'MattVP' chants and Twitter hashtags]. I appreciate all the Twitter things, but the reality is I have to stay in the moment and get me to this point."
Michael Radano is a contributor to MLB.com. This story was not subject to the approval of Major League Baseball or its clubs.