Molitor urging better judgment on basepaths
Twins near bottom of Major Leagues in stolen-base percentage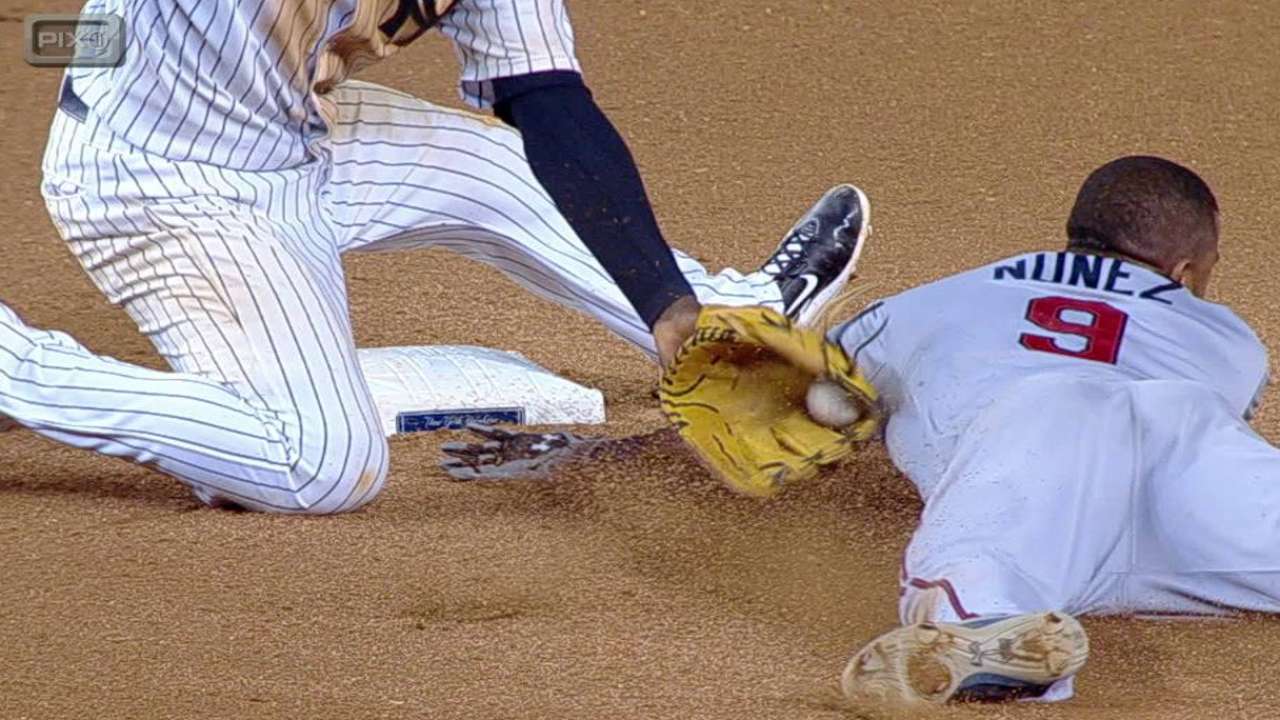 NEW YORK -- Twins manager Paul Molitor was regarded as one of the best baserunners of his generation, and one of his top priorities in Spring Training was to help the Twins with their basestealing this season.
But the Twins have been successful in 60 percent of their stolen-base attempts, which ranks as the third-lowest mark in the Majors. It's a drop from last season, when they were successful 73 percent of the time.
Molitor said he hasn't fully analyzed why the figure is so low, but he said he'd like to see it improve.
"I haven't broken it down totally and looked at missed hit-and-runs, 3-2 counts and all those other things that factor into those percentages," Molitor said. "But like I said earlier this year, I wasn't overly pleased with some of the selections some of the guys made with green lights in terms of recognizing slide-steps and picking the right pitches. Sometimes it's just a little bit ill-advised."
As Molitor went on to note, the Twins were caught stealing three times in Monday's 8-7 loss in 10 innings to the Yankees, as Brian Dozier was caught on a pitchout, while Torii Hunter and Eduardo Nunez were also thrown out by catcher Brian McCann.
"Last night we made three outs on the bases in a game that went to extra innings," Molitor said. "We had miscommunication on a sign, we had a pitchout and then we had a guy that probably didn't get his best jump and still tried to figure out how to do it. So those are things you evaluate. We probably could and should be better."
Molitor said he doesn't have a specific benchmark he'd like his team to reach, but the league average is 70 percent, while the Red Sox lead baseball with a 79 percent success rate.
"I think you'd be lucky as a team to be at 80 percent because the best basestealers are usually somewhere in there," said Molitor, who had a 79.3 percent success rate during his Hall of Fame playing career. "As a team, I think you'd like to be around the three-quarter mark, and even a bit below would be acceptable."
Rhett Bollinger is a reporter for MLB.com. Read his blog, Bollinger Beat, follow him on Twitter @RhettBollinger and listen to his podcast. This story was not subject to the approval of Major League Baseball or its clubs.