Bird gets opportunity as Tex rests bruised leg
First baseman to sit out Wednesday as well; prospect drives in first Major League run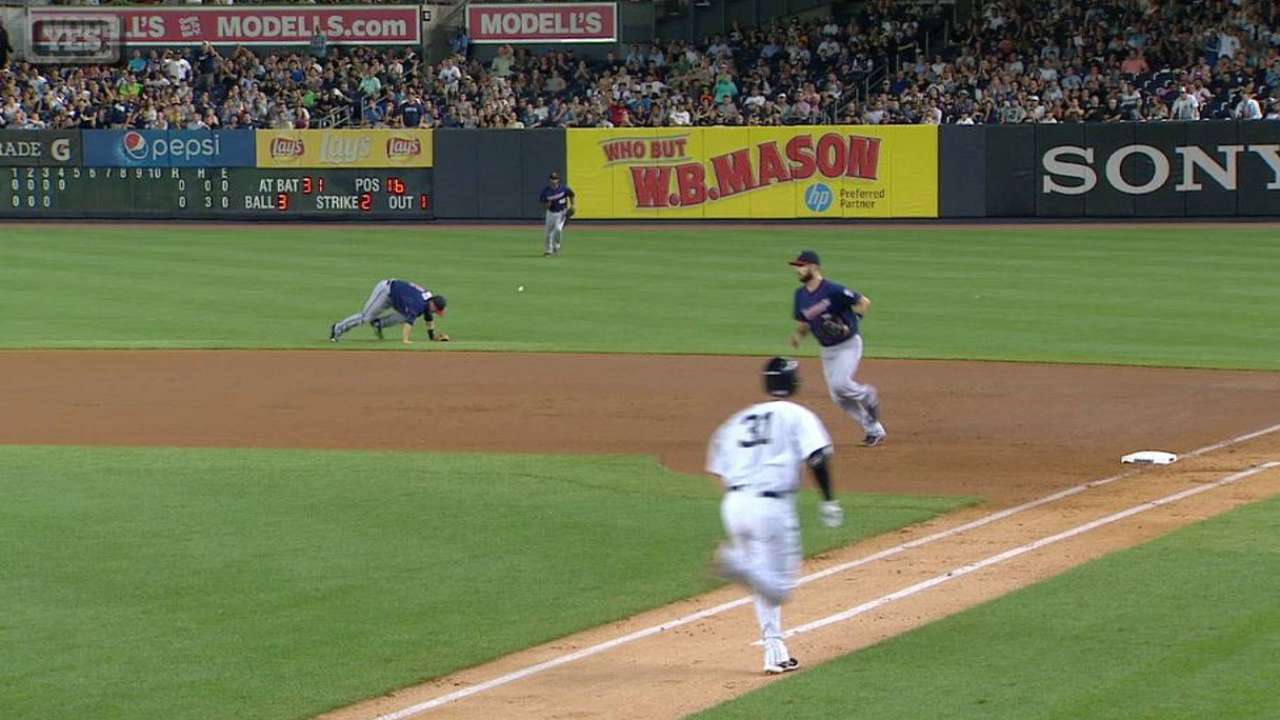 NEW YORK -- The tests came back negative, but Yankees manager Joe Girardi said after Tuesday night's 8-4 win over the Twins that Mark Teixeira again won't be in the lineup for Wednesday's series finale.
"He's still really sore. You won't see him tomorrow," Girardi said. "I mean, you might see him, but you won't see him in a game."
As of Tuesday, Girardi ruled out the possibility of a potential disabled list stint for Teixeira, who has a bone bruise after fouling a pitch off his right leg in the sixth inning of Monday night's game.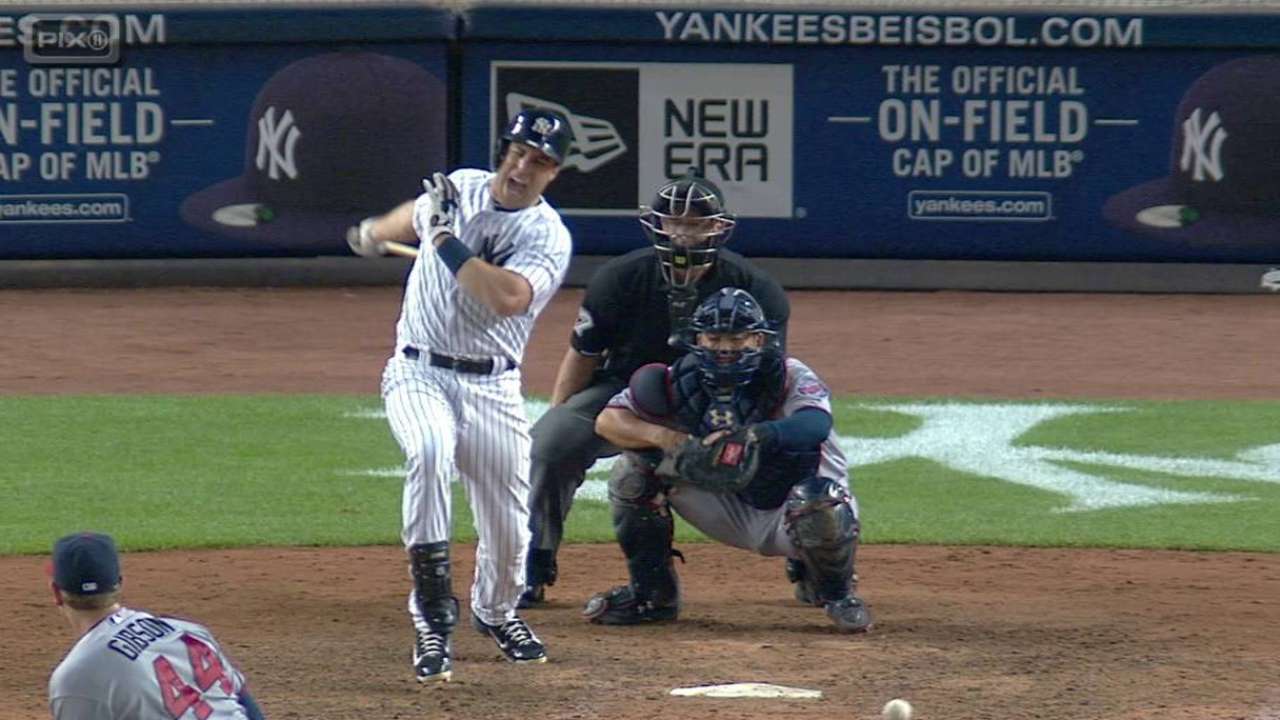 General manager Brian Cashman was thankful it was a bruise, and not a break.
"He took an X-ray [Monday] night, and then he woke up [Tuesday] and it wasn't any better, so right away the alarms went off: 'Oh man,''' Cashman said. "We've been in situations where you do a CT scan and peel the onion a little further, so we did all of that to make sure that we weren't dealing with something that was more of a problem."
One day after making his Yankee Stadium debut, Greg Bird got the nod to start Tuesday as he took over first-base duties in Teixeira's place -- and he recorded his first Major League RBI, driving in Carlos Beltran with a single in the fourth off Mike Pelfrey to plate the game's first run.
Bird has played in four games with the Yankees -- including his Major League debut Thursday and replacing Teixeira as a pinch-runner in the sixth inning Monday night, when his leadoff double in the 10th sparked the winning rally. He started the year in Double-A Trenton and was promoted to Triple-A on July 4. Just over five weeks later, he was in the big leagues.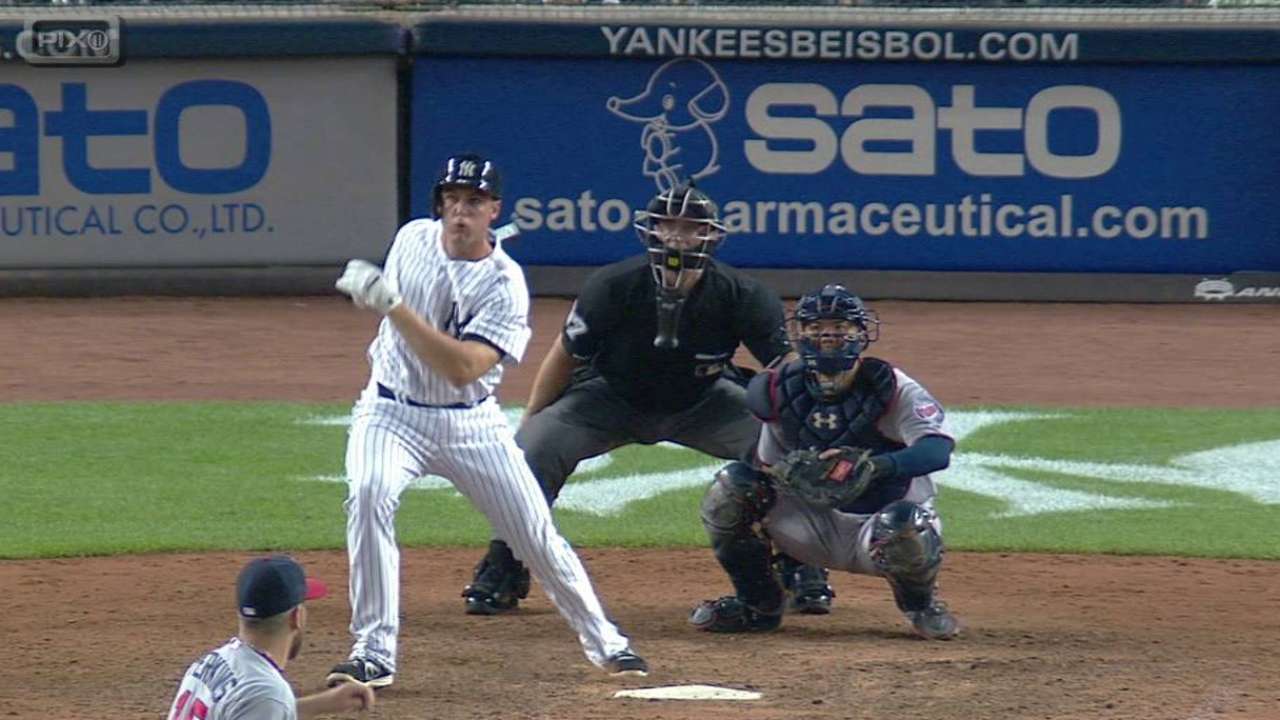 "The one thing I've heard is you just never know. Once you get to Double-A, all bets are off. You can go any day," Bird said. "So, for me, it's just kind of getting ready and taking it day by day, but knowing that there's always a chance that you never know what could happen."
Bird is the Yankees' No. 4 prospect, as ranked by MLBpipeline.com. He was also one of the four untouchable prospects for whom Cashman refused to field trade offers. Before Tuesday's game, Cashman indicated that he had no concerns with Bird filling in for Teixeira.
"I have full confidence in Plan B," Cashman said. "Certainly it's exciting to see a young guy get an opportunity. He came up with a big hit [Monday] night."
Girardi said he and Bird had never actually had a discussion about Bird being untradeable, but that it certainly should give the 22-year-old a wave of confidence. Girardi added that it gave him some comfort knowing Bird had a couple of games under his belt going into Tuesday's start.
"It's got to make a player feel pretty good, that the club feels that high about your abilities in the short term and the long term," Girardi said. "There usually aren't too many of those in a system. I would think it would make you feel pretty good about yourself."
As for Bird, his mother has always told him he had an eye for hitting, and a coach earlier in his career instilled the value of discipline in him. As for the hype, it isn't something he lets get to him.
"It's good for the confidence. I'm confident in what I do every day and the work that I put in and how I prepare," Bird said. "Everything else is kind of out of my hands."
Grace Raynor is an associate reporter for MLB.com. This story was not subject to the approval of Major League Baseball or its clubs.