MLB.com Columnist
Roger Schlueter
Stats of the Day: HRs big slice of Pujols' pie
Slugger's 32 account for 47.1 percent of his RBI total on the season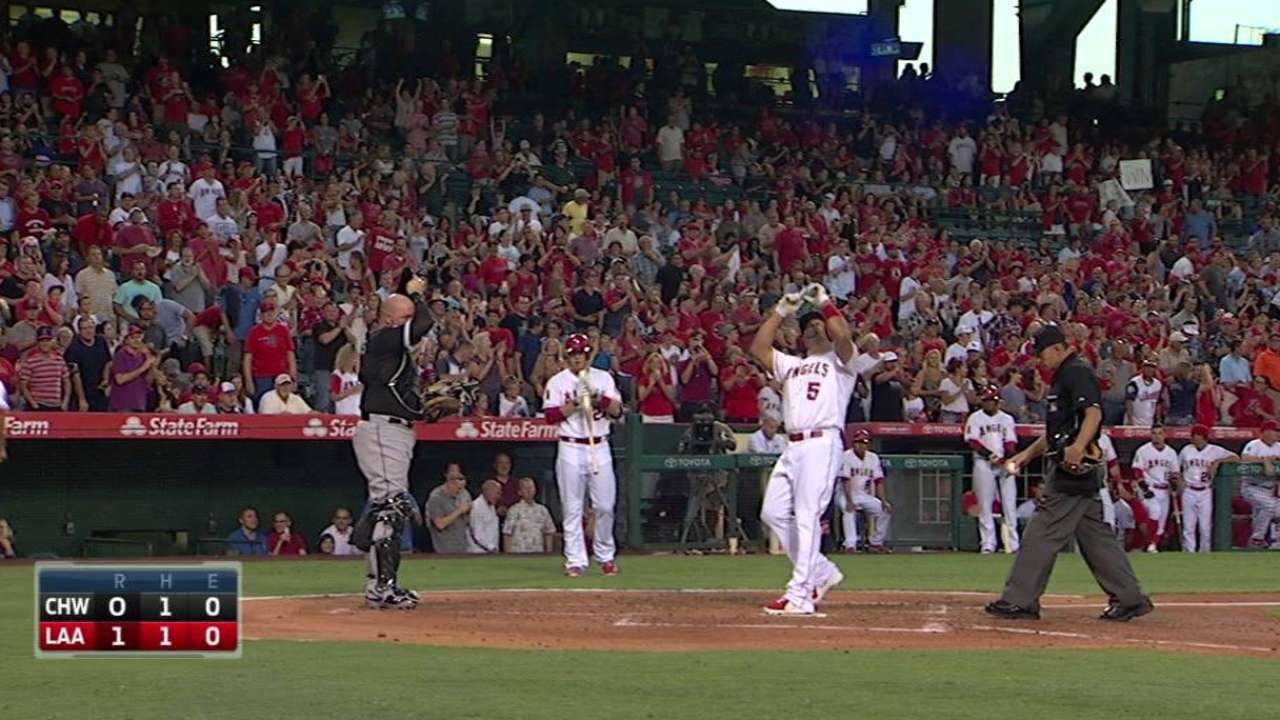 Here are four interesting items from around the big leagues on Monday …
• In the Angels' 2-1 win over the White Sox, Albert Pujols drove in one run on his 32nd homer of the year. Pujols' RBI total stands at 68, making him one of five players this season with at least 20 homers and a homer tally representing at least 45 percent of his RBI total: Joc Pederson (23 HR & 47 RBIs, 48.9 percent), Luis Valbuena (21 and 43, 48.8 percent), Nelson Cruz (36 and 74, 48.6 percent) and Mike Trout (33 and 71, 46.5 percent). Pujols' totals put him ahead of Trout on that list, with 47.1 percent.
• The Yankees' 8-7 win over the Twins saw them plate three runs on a Brian McCann homer in the first. For the season, New York has scored 99 runs in the first inning, and owns a .901 OPS in that initial frame. The 99 first-inning runs are the most in the Majors, ahead of the Royals' 86. At this rate, the Yanks would finish with 137 first-inning runs. A tally that high was last produced by the 2008 Mets, and has been reached by seven other teams since 1920.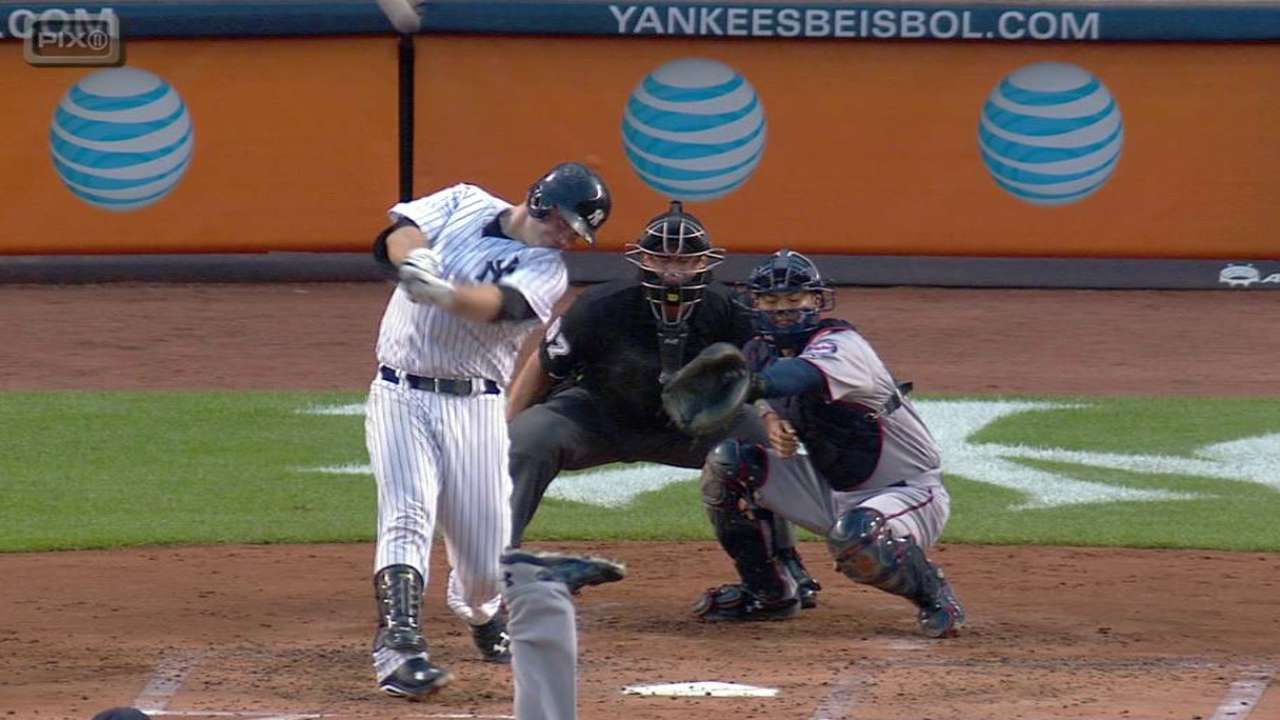 • In the Indians' 8-2 win over the Red Sox, Michael Brantley delivered his league-leading 36th double of the season. Brantley had 45 two-base hits in 2014; another 45-double campaign in 2015 would make him the first Indians player since Lou Boudreau in 1940-41 to have at least 45 in consecutive seasons.
• Michael Wacha (one run in seven innings) and two Cardinals relievers combined to limit the Giants to one run as St. Louis topped San Francisco, 2-1. The Cards' team ERA stands at a Major League-low 2.58, with the No. 2 mark of 3.20 owned by the Mets. No team has finished a season below 2.60 since the 1972 Orioles posted a 2.54 ERA, and only four other teams since 1920 have done this. Three of those four are Redbirds clubs (1942, '43 and '68), with the 1967 White Sox the other representative.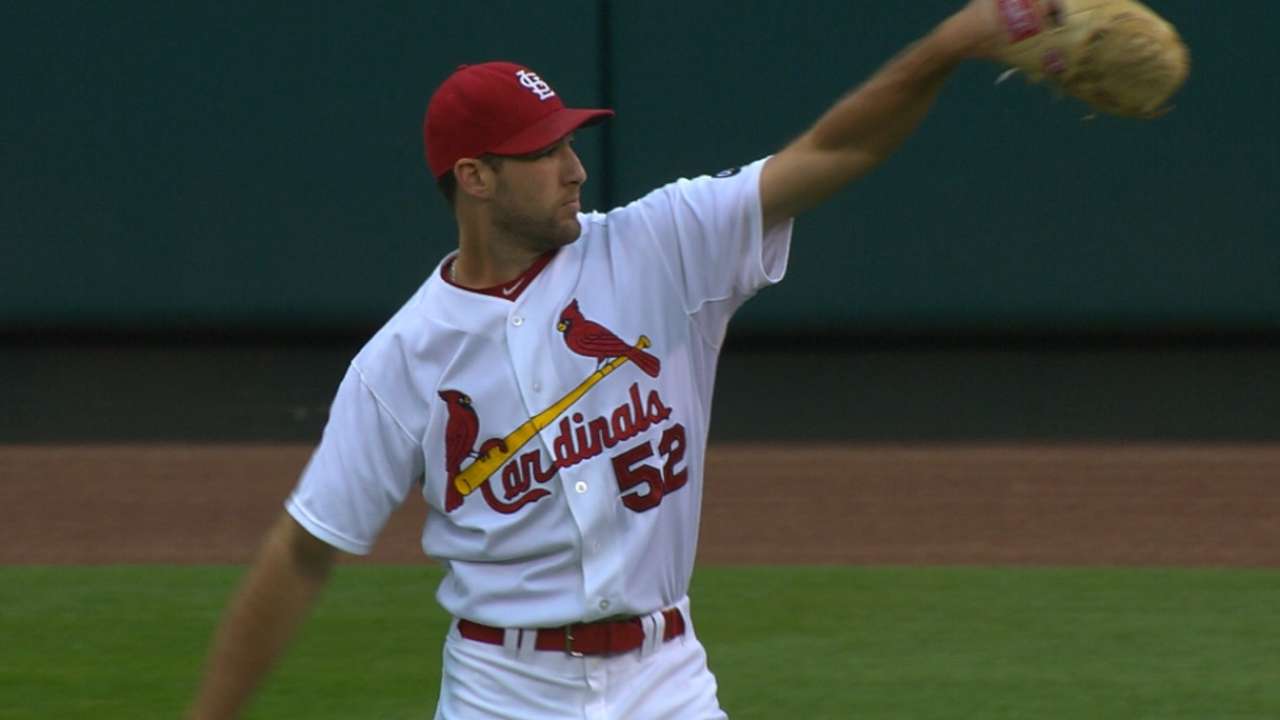 Milestone watch for Tuesday
• Hisashi Iwakuma gets his chance to match Johnny Vander Meer. In 1938, Vander Meer became the first and only pitcher to hurl back-to-back no-hitters.
• Double delight: Jimmy Rollins needs one double for 500. He would be the fifth switch-hitter to reach the milestone, joining Pete Rose, Eddie Murray, Chipper Jones and Roberto Alomar. Adrian Beltre is one double shy of tying Jones (549) on the all-time list. Among players with at least half of their games at third base, those 549 represent the third most, with George Brett's 665 and Wade Boggs' 578 ahead.
Roger Schlueter is a contributor to MLB.com. This story was not subject to the approval of Major League Baseball or its clubs.