In Yankee Stadium debut, Bird catalyst in win
Club's No. 4 prospect drills leadoff double in 10th to represent eventual winning run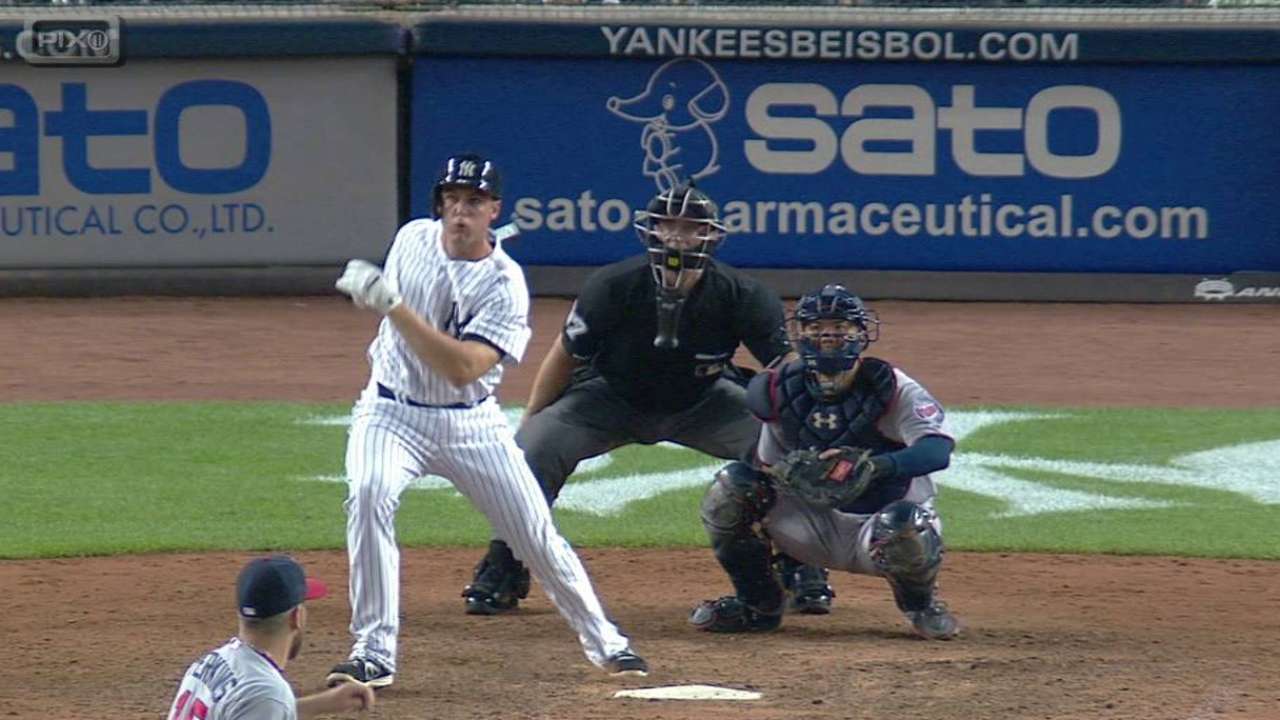 NEW YORK -- Greg Bird had been to Yankee Stadium once -- for a tour. It was a day in May, the Yankees were on the road, and the empty clubhouse was dark. Everything was quiet.
On Monday, Bird, 22, walked into Yankee Stadium for the second time. This time, it was to make his home debut with the team that called him up Thursday, and this time he left to celebration instead of silence. In the Yanks' 8-7 walk-off win over the Twins, it was Bird's leadoff double in the 10th that sparked the offense and eventually represented the winning run.
Bird advanced to third base on a Brian McCann double, and then was replaced by pinch-runner Brendan Ryan when Chase Headley came to the plate with the bases loaded. Moments later, Ryan scored the winning run when Headley sent a chopper to Twins shortstop Eduardo Nunez, who booted it and threw to first because he had no play at home.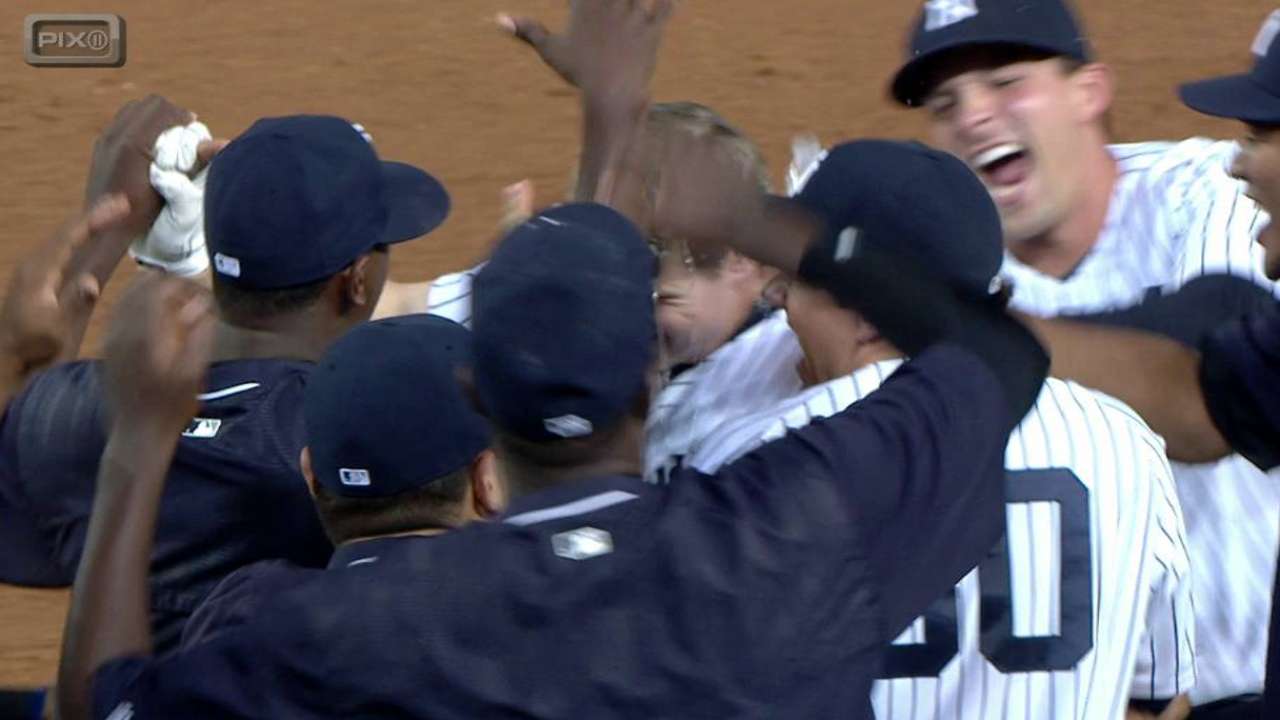 "I'm just trying to help this team win. I'm trying to have a good, quality at-bat there. Looking for something to hit, and just kind of let the rest take care of itself," Bird said. "Not trying to do anything special, just help these guys win games."
The double gave Bird his first career extra-base hit and his first knock at Yankee Stadium. He entered the game in the sixth inning as a pinch-runner after Mark Teixeira fouled a pitch off his right leg and exited with bruising.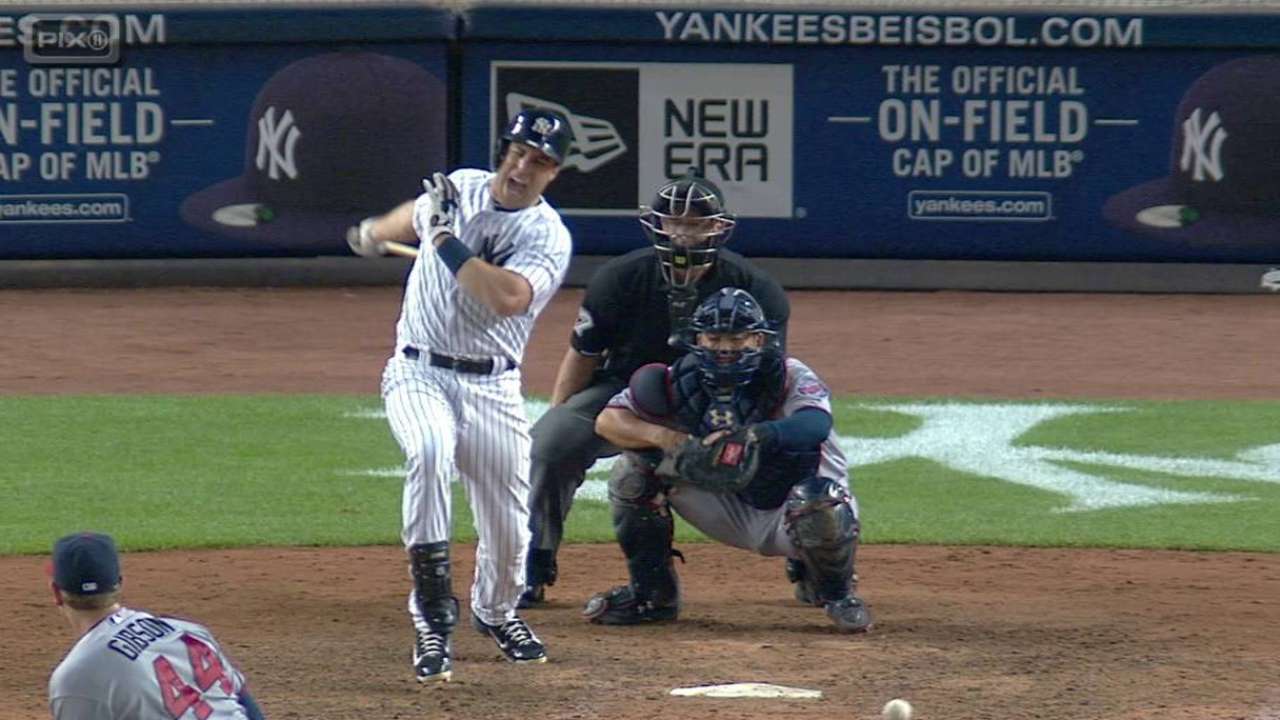 "Awesome," Headley said. "Greg Bird, to come into that situation, he's had great at-bats since he's been here. We know his reputation."
A catcher in high school, Bird was selected by the Yankees in the fifth round of the 2011 Draft. He has since morphed into a first baseman and is the Yankees' No. 4 prospect, as ranked by MLBPipeline.com.
Bird started the season in Double-A and was promoted to Triple-A Scranton/Wilkes-Barre, where he hit .301 with 23 RBIs and six homers in 34 games.
"We've all been impressed by Birdy. He's got a really good swing and doesn't seem to let anything bother him," Teixeira said. "We got to see him a lot in Spring Training this year, so hopefully we're going to see more good things."
Bird was among a group of four prospects that general manager Brian Cashman refused to field offers for in advance of this year's Trade Deadline, shooting down proposals for Bird, right-hander Luis Severino, outfielder Aaron Judge and shortstop Jorge Mateo. In Bird's case, McCann is happy the Yanks held on to this big chip.
"We all know he can hit. And that's why he's one of those prospects that you leave alone. He's untouchable," McCann said. "He's an exceptional talent."
Grace Raynor is an associate reporter for MLB.com. This story was not subject to the approval of Major League Baseball or its clubs.