Flowers miffed by deflating called third strike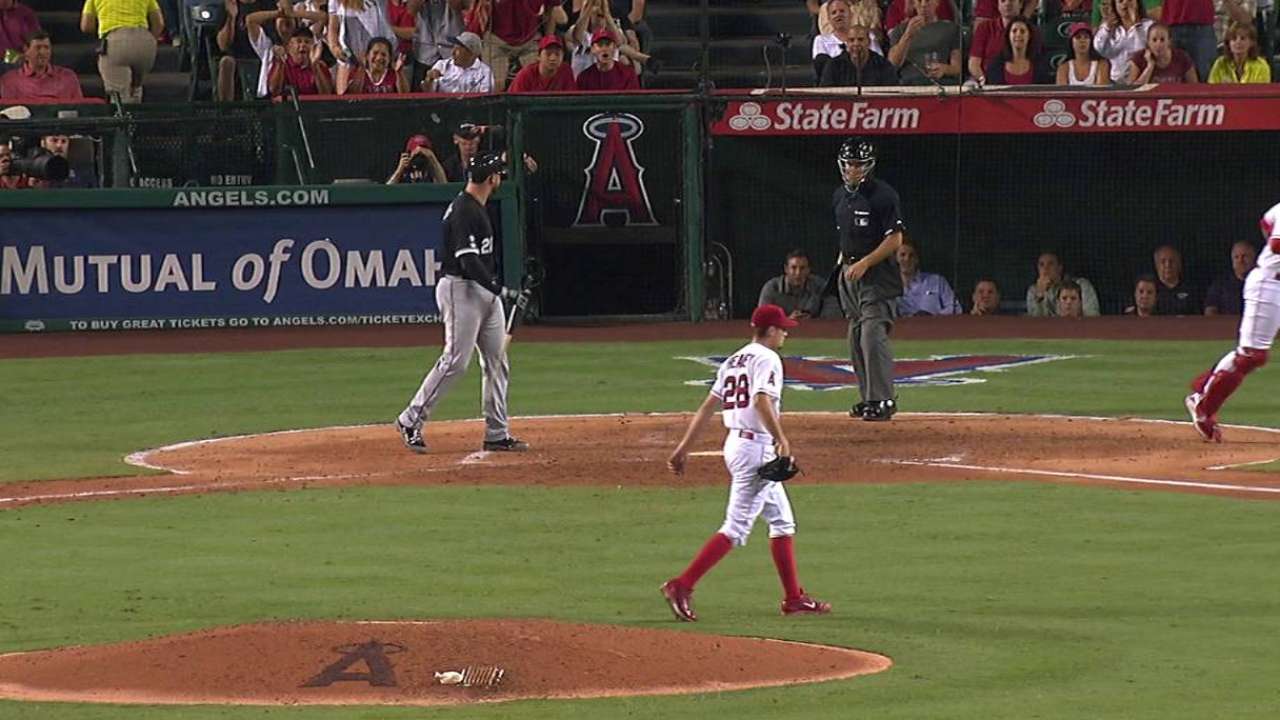 ANAHEIM -- Albert Pujols and C.J. Cron hit solo homers to beat the White Sox by a 2-1 margin Monday night, handing the South Siders their third setback in four games. But in reality, this contest really was decided in the sixth inning for Robin Ventura's crew.
After the first two hitters were retired by Angels starting pitcher Andrew Heaney, Trayce Thompson and Alexei Ramirez singled and Tyler Saladino was hit by a pitch to load the bases in a 1-1 deadlock. Tyler Flowers came to the plate, the same Flowers who struck out with runners on first and third and two outs in the second, after the White Sox put the first two on base in that inning.
Flowers worked the count full, fouling off a changeup before taking a called third strike to end the rally. The White Sox had two baserunners over the final three innings.
The White Sox starting catcher has a .215 average with a .261 on-base percentage, so every failure is magnified. It jumps out even more in these sorts of game-changing situations.
But while Flowers acknowledged his strikeout in the second "hurt," he felt as if home-plate umpire Ed Hickox took that last at-bat away from him. MLB.com's Gameday had the called third strike at the bottom of the zone.
"I had two balls called strikes on me, the last one included, in what turns out to be the biggest situation in the game," Flowers said. "That definitely should have been a 2-2 ballgame at least.
"[Carlos Perez] reached for a 2-0 away and he calls that a strike. You kind of think, 'All right, that's the one he's going to give,' and then he gives 3-2. I don't like blaming it on umpires, but that one was taken away from me. I didn't really have a chance."
This loss to open a seven-game West Coast road trip, dropping the White Sox 5 1/2 games behind Baltimore in the race for the second American League Wild Card spot, certainly can't all be put on Flowers. Both Ramirez and Saladino couldn't drive home the runners in the second before Flowers, and after a Johnny Giavotella error scored the White Sox lone run in the third, they stranded two more runners when Thompson flied out to center.
That Flowers at-bat in the sixth had the most significance because it had the possibility to give the White Sox control in a low-scoring game. Instead, Flowers fanned for the 89th time in 260 at-bats and the White Sox fell back to six games under .500.
In Flowers' opinion, it was an at-bat that shouldn't have ended the way it did.
"Especially when you are somewhat struggling, and you are really trying to grind it out," Flowers said. "To battle and feel like you do everything right and then it's taken away from you, yeah that kind of sucks. That's my spot right there to contribute after not coming through the first time. That's my spot, and I felt like I did the job. Didn't get the call."
"We had opportunities today. We had guys getting on. We just couldn't do anything with it," White Sox manager Robin Ventura said. "We needed one to fall in there and get something going."
Scott Merkin is a reporter for MLB.com. Read his blog, Merk's Works, follow him on Twitter @scottmerkin and listen to his podcast. This story was not subject to the approval of Major League Baseball or its clubs.