MLB.com Columnist
Mike Bauman
Cards still flying high despite DL woes
Piscotty, Bourjos step up, deliver for St. Louis with men down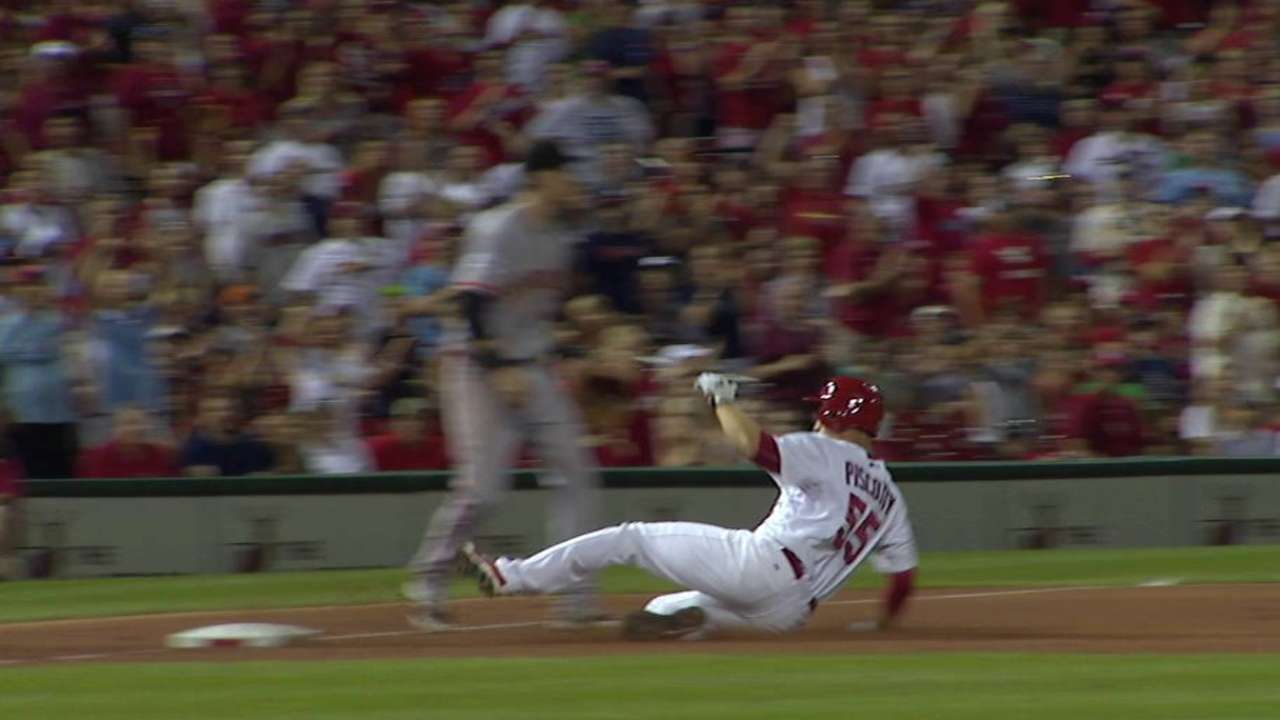 ST. LOUIS -- The St. Louis Cardinals now have an entire outfield on the disabled list.
But they also have the best record in the Major Leagues. There aren't too many clubs that can pull off that kind of contrast, trumping adversity with success. In fact, there may only be one.
With outfielders Matt Holliday and Jon Jay already on the DL, slugging center fielder Randal Grichuk was added Monday with an elbow injury, described as a muscle strain, combined with a low-grade ligament sprain.
Injuries to key Cardinals personnel extend, of course, well beyond the outfield. Ace of the staff Adam Wainwright has been out since late April. Setup man Jordan Walden has been out since late April. First baseman Matt Adams has been out since late May.
On other clubs, this sort of situation would be an occasion for a "woe is us" chorus or two. With the Cards, whining is forbidden. Each injury is viewed as unfortunate, but it is also viewed as an opportunity for another player to step forward and make his own impact.
Obviously, the Cardinals' impressive organizational depth makes possible all these journeys above and beyond adversity. But their attitude also has something to do with this sort of success.
"With the ups and downs that this club has experienced over the last few years, I think everybody looks at it when something bad happens, it creates opportunity for somebody else," general manager John Mozeliak said on Monday. "You've seen people taking advantage of it.
"I can tell you that from my seat, I'd prefer not to see the injuries. But it is part of the game, and I think a lot of times it's a statement of your year in how you handle those."
"Same message from the beginning," manager Mike Matheny said. "Somebody's got to go out and play the spot. We have capable, qualified players go out and do something special, just do their thing."
Without Grichuk, the Redbirds defeated the Giants, 2-1, on Monday night. St. Louis' pitching, as usual, was superb, with Michael Wacha giving up one run over seven innings. Kevin Siegrist and closer Trevor Rosenthal covered the last two innings.
Grichuk won't be easy to replace. His kind of power isn't a readily available commodity. Grichuk had 15 homers in 289 at-bats and a slugging percentage of .561. He was climbing up the exit velocity charts.
Monday night, the Cards compensated for his departure by placing Jason Heyward, previously a Gold Glove winner in right, in center field. Stephen Piscotty, who could also see time in center, started in right.
"Right now, you see Jason [Heyward] working out there," Matheny said. "It's a position he can play, he's got all the tools. You'll see Stephen out there; you might see him at first base. He's a pretty versatile player."
Piscotty is only 25 games into his Cardinals career, but he is already making an impact. He scored the winning run in the eighth inning on Monday night, after belting a one-out triple. Piscotty has a slash line of .341/.374/.506.
"It feels good to contribute and it's just so much fun," Piscotty said.
Beyond that, Piscotty gets what being a Cardinal is all about.
"I remember when we were in the Minor Leagues, whenever the TV is on and the Cardinals are on, we're watching it," Piscotty said. "So we have an idea. We know the level of play that's expected, and we're prepared for it."
Piscotty, 24, drafted by St. Louis with a supplemental first-round pick in 2012, looks like, sounds like, and plays like another Cardinal who can be of considerable help.
This is especially good, given the Cards' injury situation, which did not improve Monday night. Heyward left the game after the second inning with what was described as left hamstring tightness. Matheny characterized taking Heyward out as precautionary and indicated that there was no sign of a serious injury.
"Jason wanted to go back out to play defense, but we made the proactive move, just getting him out when we could," the manager said.
There was a happy center-field ending on Monday night. Tommy Pham, just called up from Triple-A Memphis to take Grichuk's place on the active roster, replaced Heyward in center. Pham moved to left when Peter Bourjos, one of the best defensive outfielders in the game, played the ninth in center. Bourjos responded with a running catch on the warning track on a drive by Hunter Pence and a game-ending catch up against the wall on a drive by Buster Posey.
The loss of Grichuk made for one other move. Recently acquired Brandon Moss moved from first base to left, and Mark Reynolds took over at first. Looking on the bright side, Moss has not hit as the Cardinals would have expected, and regular playing time could help that cause.
Mozeliak said he believed that Grichuk would spend 15 to 20 days on the disabled list.
"Our biggest concern right now is the muscle strain," the general manager said. "Short-term, we've got to let the muscle heal; otherwise, then, I do think you expose the ligament to possible greater risk."
The record says that while Grichuk is out, some other Cardinal -- or Cardinals -- will step up. Monday night, that was Piscotty with the eighth-inning triple and then Bourjos with the ninth-inning defense.
Other teams talk about developing depth and producing a "next man up" ethic. The Cards actually do both. That's how they've risen above the injuries to a 76-42 record. Well, that and the 2.58 team ERA. One way and another, the Redbirds keep winning.
Mike Bauman is a national columnist for MLB.com. This story was not subject to the approval of Major League Baseball or its clubs.