Twins' youth handles intensity of Bronx battle
Club drops 'draining' extra-inning game, but Sano, Rosario show signs of maturity on stage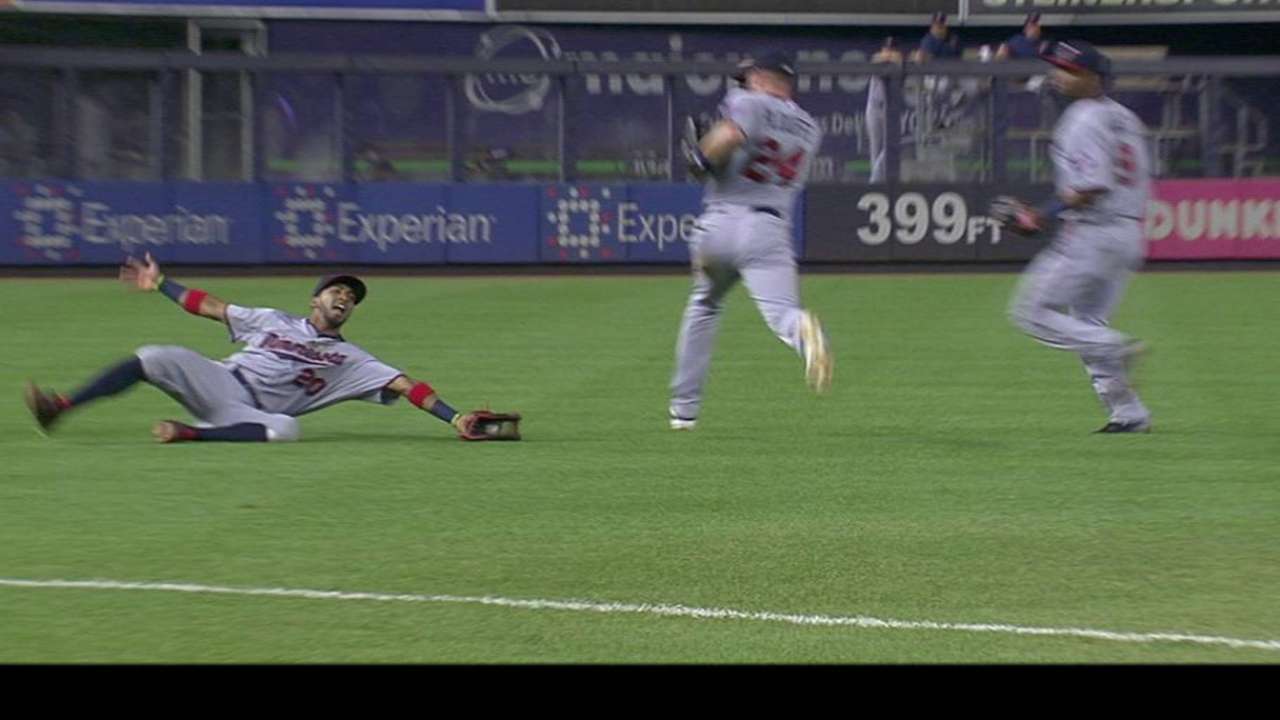 NEW YORK -- Before Monday's game against the Yankees, Twins manager Paul Molitor was asked if he thought any of the club's younger players such as Miguel Sano or Eddie Rosario would be intimidated by playing at Yankee Stadium.
Molitor said he didn't think that would be an issue, and he proved to be correct, as Sano and Rosario combined to go 5-for-10 with a homer, three RBIs and two runs scored with the offense picking up 16 hits. But it wasn't enough for the Twins, who lost a hearbreaker, 8-7, in the 10th.
Molitor, though, said he believed his players left it all on the field and that they can learn from the defeat that dropped the club 2 1/2 games out of the second American League Wild Card spot.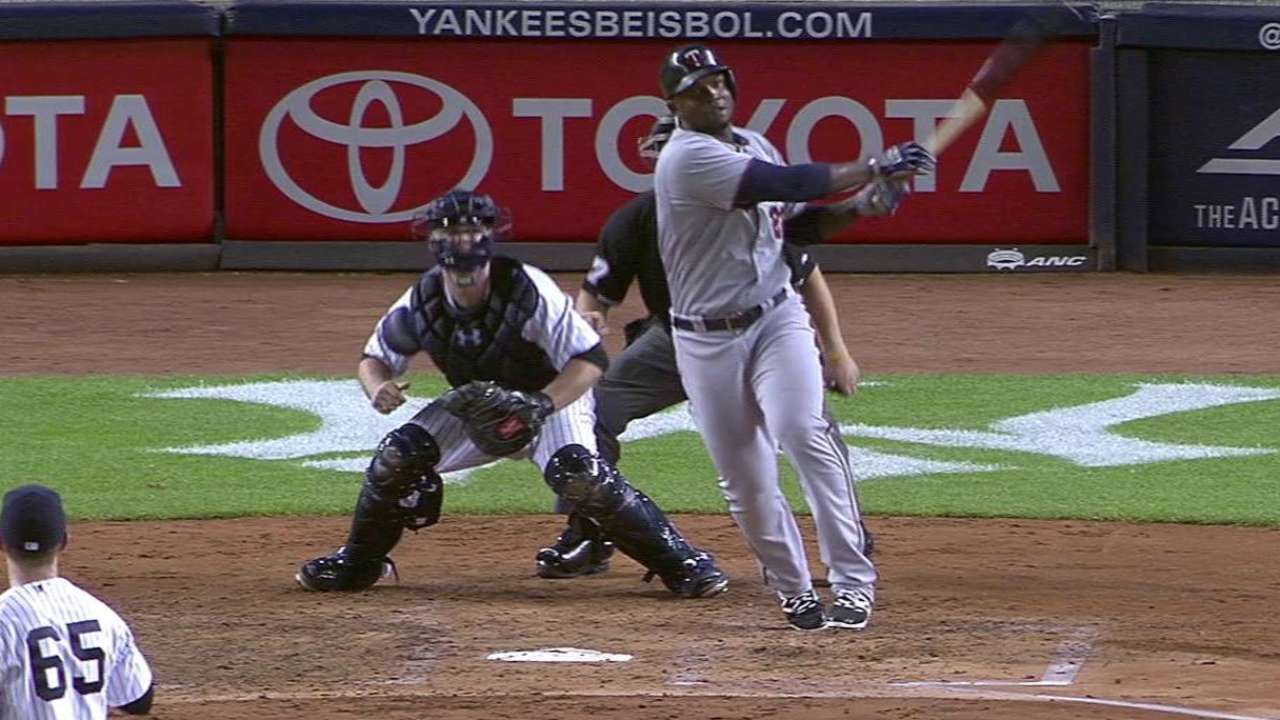 "It was a draining game, and I think the players will feel drained, but that's a good thing," Molitor said. "But we're at the stage of the season where the only option is to move ahead. We have to regroup."
Sano, 22, stayed hot, going 3-for-5, including a two-run blast in the third to tie the game. Rosario, 23, went 2-for-5 with a go-ahead RBI single in the third and also made two impressive plays defensively in the third -- throwing out Jacoby Ellsbury at home and making a sliding catch in shallow center that was originally ruled a trap but overturned via instant replay.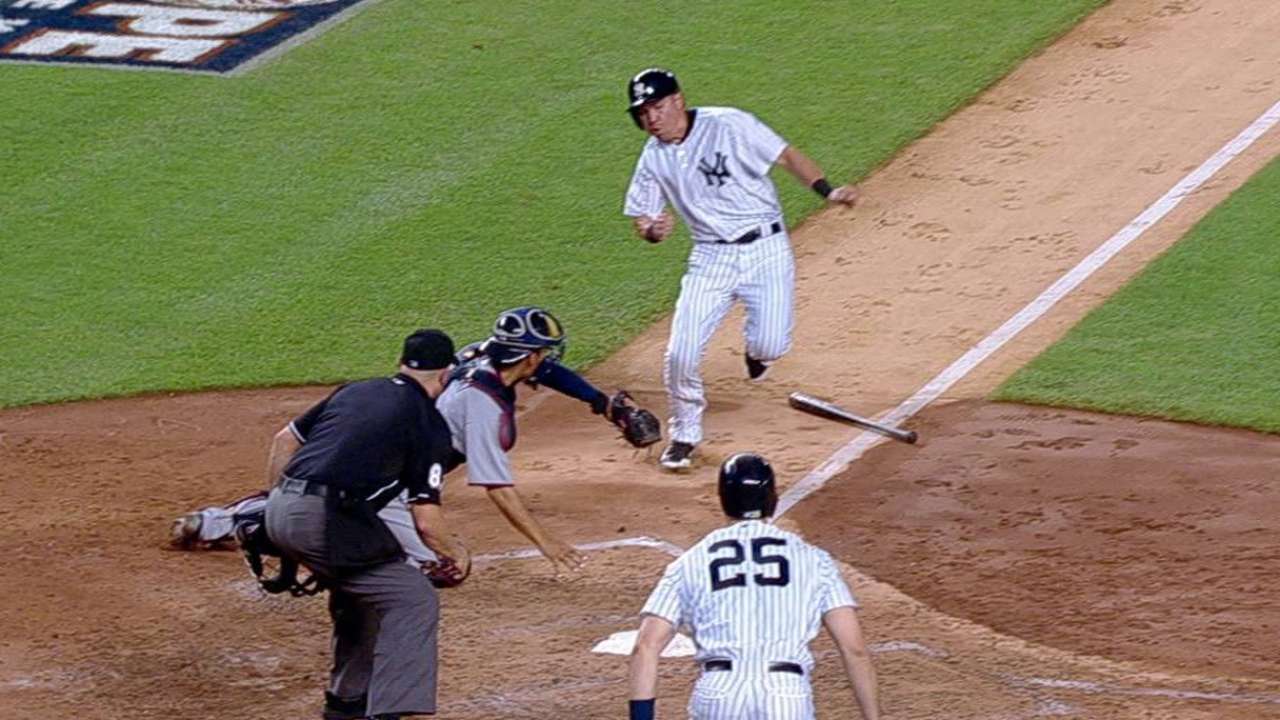 Molitor liked the effort of his players, especially their offensive barrage with Twins right-hander Kyle Gibson struggling through five-plus innings, and believes playing on a big stage in mid-August with the Twins still in the Wild Card hunt will only help them going forward.
"There were just big at-bats throughout the game whether we were on offense or defense," Molitor said. "There were a lot of good things. And clearly there were some things that weren't so good. But it's a game with the heat and the intensity of the game, I think everyone will feel the effects of that one."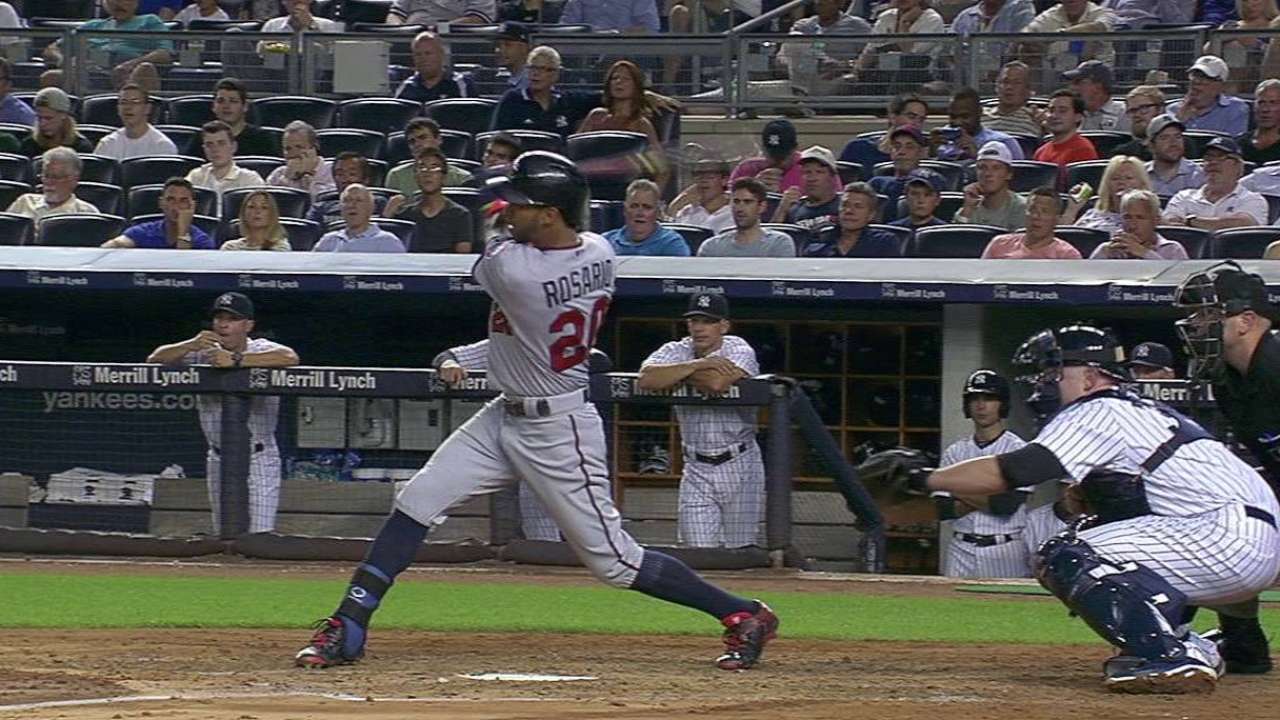 But as Molitor noted, it ended with a tough blow, as closer Glen Perkins loaded the bases with nobody out, only to allow Chase Headley's grounder to shortstop Eduardo Nunez, who booted it and threw to first because he didn't believe he had a play at home.
It was a rough way to end it for the Twins, who dropped the first game of their critical 10-game road trip through New York, Baltimore and Tampa Bay.
"That wasn't very fun," said Perkins, who allowed consecutive doubles to start the 10th. "I got ambushed by the first guy [Greg Bird]. I didn't think he was going to swing. I made a good pitch, and he went out and got it. And it just snowballed from there. It's a tough one."
Rhett Bollinger is a reporter for MLB.com. Read his blog, Bollinger Beat, follow him on Twitter @RhettBollinger and listen to his podcast. This story was not subject to the approval of Major League Baseball or its clubs.