Nicolino gets string of rookies off to good start
Solid start by lefty precedes Conley, Flores as Marlins give young hurlers chance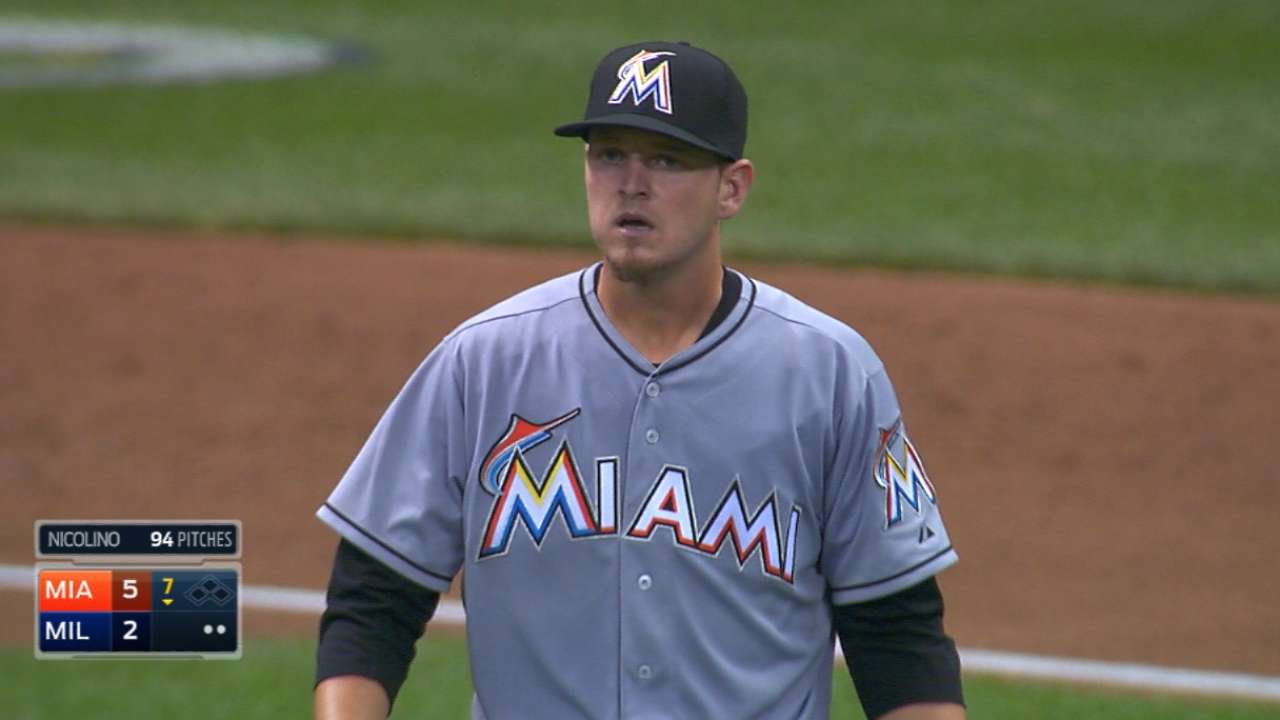 MILWAUKEE -- Due to multiple injuries to their starting rotation, the Marlins are now turning to three rookies to not only fill in, but also prove they belong in the big leagues.
Rookie left-hander Justin Nicolino was first to audition on Monday, and he passed one of several upcoming tests. Nicolino allowed two runs and scattered six hits over 6 2/3 innings in the Marlins' 6-2 win over the Brewers at Miller Park.
"He's a guy that's not afraid of results," manager Dan Jennings said. "He throws the ball over the plate. I thought he utilized his pitches very well. He used the changeup, absolutely outstanding."
Nicolino's start was the fourth of his career. The lefty fired seven innings of shutout baseball on June 20 against the Reds, but he was touched for five runs in four innings against the Dodgers in his next outing.
Monday was part of his second chance of sorts after spending time at Triple-A New Orleans -- he joined Miami's rotation last Tuesday -- and his offspeed pitches had Milwaukee hitters off balance for much of the night.
"Being able to use offspeed in any count is something you have to do up here," Nicolino said. "Tonight I had better command of it. To me, when I have command of those pitches, it's easier to get those outs."
Nicolino's ability to pitch to contact and the lack of the velocity on his fastball caught the attention of Brewers manager Craig Counsell.
"We just couldn't string together sequential offense tonight," Counsell said.
Counsell referred to Nicolino as a "standard lefty," which is actually rare nowadays in an era of power pitching. Nicolino bucks that trend with his average fastball velocity and pinpoint command, and Counsell was asked whether that might actually help him.
"I think every night in the big leagues you see something a little different. That's what makes them big leaguers," Counsell said. "He's kind of a guy that has a decent changeup. He used a cutter inside. Just something you see from a lefty. Standard fare from a lefty. He made enough pitches tonight."
It will be Adam Conley's turn on Tuesday against Milwaukee. Like Nicolino, he's both left-handed and in his rookie season. The Marlins will turn to yet another first-year hurler in their next series against Philadelphia, as right-hander Kendry Flores will take the spot of David Phelps, who was placed on the 15-day disabled list on Monday.
"Definitely didn't envision that, but this is an opportunity for these guys," Jennings said. "It's here for them to go out and take advantage of it."
Brandon Curry is an associate reporter for MLB.com. This story was not subject to the approval of Major League Baseball or its clubs.