In uneven first start, Barnes shows promise
Red Sox righty solid early, then allows 5 runs in 4th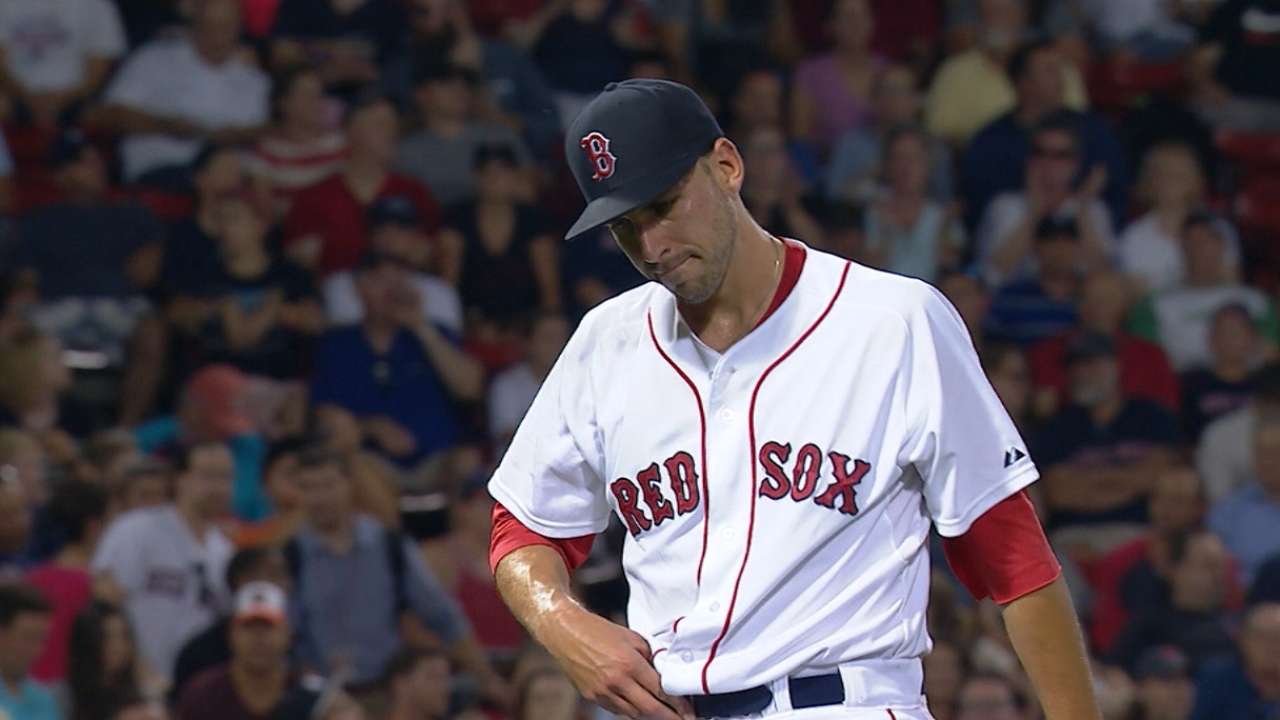 BOSTON -- In a way, Matt Barnes was starting his Major League career for the second time Monday night at Fenway Park. The Red Sox righty had already made his debut as a reliever last year, and had worked in that role 26 times over the past two seasons.
But this time, he was the starter -- which is the role the Red Sox envisioned when they selected him with the 19th overall pick in the 2011 MLB Draft.
Barnes showed some flashes -- but a five-run fourth inning in an eventual 8-2 loss to the Indians spoiled his night.
Overall, Barnes gave up six hits and six runs over five innings, walking three and striking out seven.
"I thought Matt threw the ball really, really well," said Boston interim manager Torey Lovullo. "He gave us everything we expected. He was commanding his fastball. Everything was crisp and downhill. He was effective. He did his job for us tonight."
Though Barnes would have liked a better result, he by no means felt overmatched in his surroundings.
"I felt really good out there. I felt like I had really good command of all three pitches," Barnes said. "The fastball, when I missed, it was around the zone. Curveball I felt really good with and I was able to use the changeup."
It wasn't as if the Indians hit a series of missiles against Barnes, even in the big fourth. The first run came home on, of all things, a safety squeeze by Abraham Almonte. The turning point was a double by Lonnie Chisenhall on which Hanley Ramirez didn't get a good jump. The ball went just over the left fielder's glove and off the Monster for two runs.
"Hanley is a work in progress. He's made improvements in the outfield. That was a tough play tonight," said Lovullo. "As we continue moving forward with Hanley, I think that's going to be a play he'll feel comfortable making. We have to understand where he's come from and where he's at right now. He's missed a number of games."
Since last September, Barnes has been on the Pawtucket-Boston shuttle. He looks forward to proving himself to the point that he can stay north of Rhode Island.
"Anytime I've come back up, that first inning you kind of have to get reacclimated to the setting," Barnes said. "It's a different backdrop, different atmosphere. The first inning I had to settle in a little bit, make some pitches."
Given some recent injuries to the rotation, the Red Sox started transitioning Barnes back to his old role a couple of weeks ago at Pawtucket.
"The two things that jump out are getting through the lineup more than once and being able to set guys up for the second and third time through," Barnes said. "The second thing is making sure your arm strength can carry through five or six innings."
"I wanted him to not try to overthrow," said catcher Ryan Hanigan. "When you come out of the 'pen, you can kind of just blow 10, 12, 15 pitches. I just wanted him to keep his composure and work more on his command. But honestly I thought he did well."
With the Red Sox in evaluation mode for the stretch run, Barnes will get some more opportunities in the rotation to prove he can be a building block.
"Sure, I think so," Hanigan said. "I think he had good stuff. He has three solid pitches. He's working in a little cutter-slider there -- we didn't use that very much. Being able to command his heater on all sides of the plate, all sides of the zone is big for his fastball command. And being able to throw strike breaking balls and also chase breaking balls, he did that.
"And then the changeup. The changeup is an equalizer, too. He's going to need at least three pitches to be a starter. With his stuff, he does. He's got them. Whatever role they're trying to find for him or introduce him as, he can do that."
Ian Browne is a reporter for MLB.com. Read his blog, Brownie Points, follow him on Twitter @IanMBrowne and listen to his podcast. This story was not subject to the approval of Major League Baseball or its clubs.