Book sheds light on Mauch's humane side
'The Little General' details little-known anecdotes of manager's compassion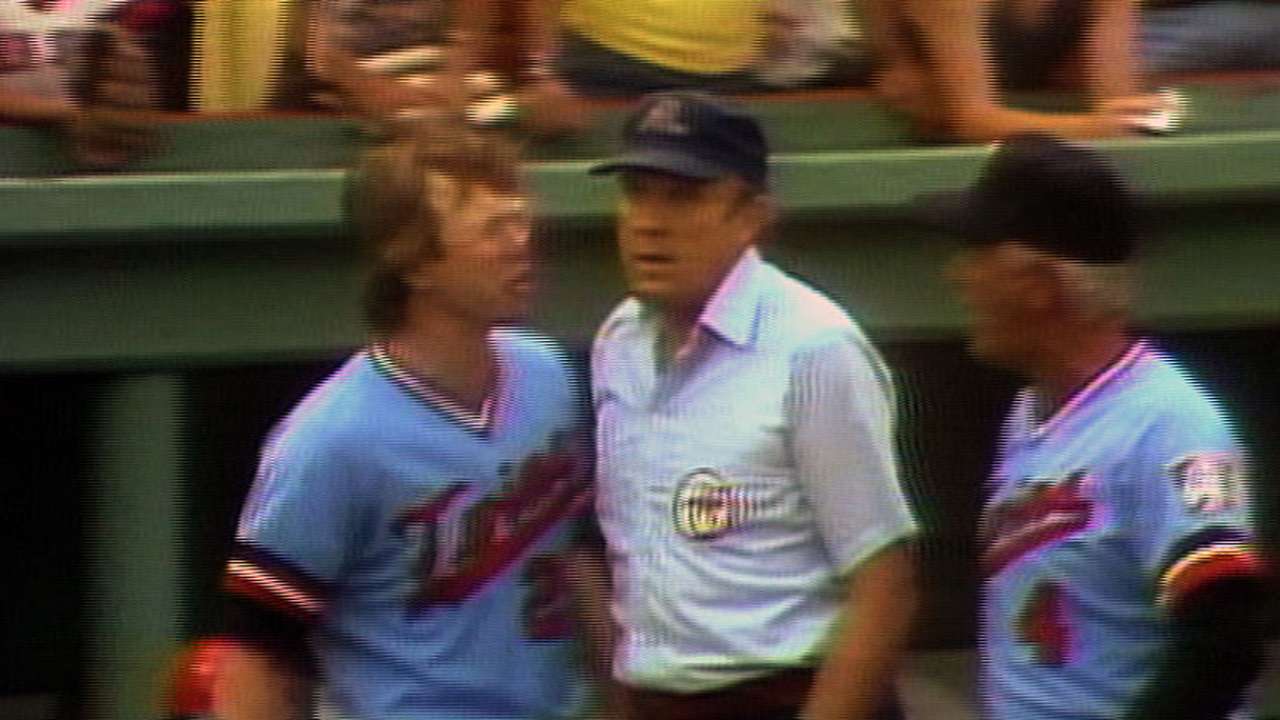 Mention Gene Mauch to most fans, and one-dimensional portraits will likely emerge. A stern, cold, old-school manager. The manager who misused his rotation down the stretch in 1964 as the Phillies squandered a 6 1/2-game lead with 12 to play. Or the guy who managed the most years in the big leagues, 26, without taking his team to the World Series.
In "The Little General: A Baseball Life," Mel Proctor introduces the more well-rounded human being who is widely considered to have possessed one of the best baseball minds of his era.
Proctor, who has done play-by-play for the Rangers, Orioles, Nationals and Padres, got to know Mauch in 2002 while working for a small television station in Palm Springs, Calif. Proctor reached out to the former skipper during the World Series -- won in seven games by the Angels -- to see if he'd be interested in working as a studio commentator before and after each game.
Proctor wouldn't have been surprised, he wrote, to find a "bitter, old man." Instead, Mauch was a delight.
As the book clearly demonstrates, this wasn't simply a case of a person mellowing with age. Proctor thoroughly documents the early influences in Mauch's life. His early coaches in high school and American Legion ball were strict and demanding. Playing for Leo ("Nice Guys Finish Last") Durocher after signing with the Dodgers made an impact.
Like Ray Blades, whom he played for in the Minors, Mauch hated to lose and replayed games over and over in his mind. Future Hall of Fame manager Billy Southworth told him, "Don't fall in love with your players." But, his Little General persona aside, Mauch couldn't help himself.
One theme that runs throughout the narrative is how interested Mauch was in his players as people, even though that compassion might not have always been apparent. The story about how he overturned the postgame spread after a particularly tough loss and ruined the clothes of Tony Gonzalez and Wes Covington is part of his reputation. Less known is that he bought each player a new suit.
"Not many people knew that Mauch was a softie at heart, a deeply caring man who loved those around him and did everything he could to help them," Proctor writes. "As much as he wanted to hug a player, he held back. That approach wouldn't work. He had to be tough, authoritative, a father figure and someone to fear."
The number of former players quoted throughout the text on how much Mauch meant not just to their careers but their lives demonstrates that many saw through the act.
Mauch is still remembered for using Jim Bunning and Chris Short on two days' rest as the '64 Phillies faded and for heartbreakingly close calls with the Angels in 1982 and '86. Evidence is presented here suggesting that the Phillies wouldn't have been anywhere near contention without Mauch's inspired use of his entire roster.
Mauch is, after all, 12th on the all-time managerial wins list with 1,902. His reputation for baseball smarts was such that he was quickly hired by the Expos after leaving Philadelphia and by the Twins after leaving Montreal. He closed his managerial career leading the Angels for six years.
Occasionally, Mauch would steal a game by knowing the rule book as well as or better than the umpires and opposing team. And he'd go to any length if he thought it gave his team a better chance to win.
Example: In August 1964, the Phillies were scheduled to face Sandy Koufax in the finale of a series at Connie Mack Stadium. Koufax had no-hit the Phils in June, so Mauch convinced general manager John Quinn to postpone the game due to "threatening weather," even though the skies were clear at game time. As a bonus, the makeup game was scheduled for Sept. 8, a Jewish holiday that year, which meant that Koufax wouldn't pitch on that day, either.
For all of his brilliance, Mauch never made it to the World Series. For some, the story ends there. Fortunately, Proctor has come along to tell the rest of the story of one of baseball's most intriguing personalities.
Paul Hagen is a reporter for MLB.com. This story was not subject to the approval of Major League Baseball or its clubs.