Clevenger marks homecoming with big homer
Baltimore native relishes chance to contribute in playoff race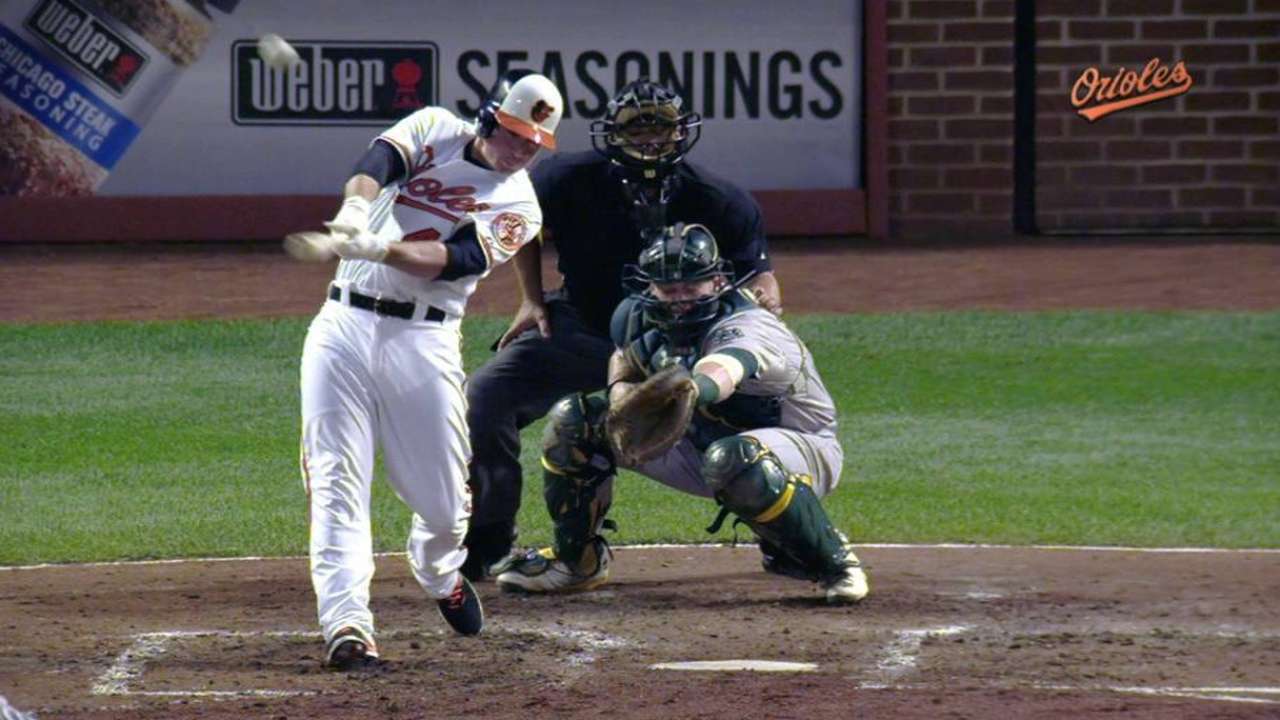 BALTIMORE -- Steve Clevenger was born on Aug. 5, 1986, in Baltimore. He went to high school at Mount St. Joseph in Baltimore. He was traded to the Orioles in July 2013, ultimately ending up in Baltimore.
The Orioles' catcher then fulfilled a lifelong dream of most kids who grow up in Baltimore playing baseball: hit a home run at Oriole Park at Camden Yards. Clevenger provided a three-run blast to right field off of Sonny Gray on Monday to lift the Orioles to a 4-2 victory and their first four-game series sweep of the season.
"I wasn't thinking about it right away until I got back into the dugout," Clevenger said. "I think it's awesome. Playing here in Baltimore is a dream come true for me. To be part of this team right now, help the team get a 'W' here in Baltimore and get it rolling -- it's great, it's an awesome experience."
It's been an up-and-down season with the Orioles for Clevenger, literally. He began the campaign on the Opening Day roster only to be optioned to Triple-A Norfolk the next day when Chris Davis returned from suspension. Clevenger was then called up on May 26 when the Orioles designated Ryan Lavarnway for assignment before being optioned again when Matt Wieters was reinstated from the 60-day disabled list.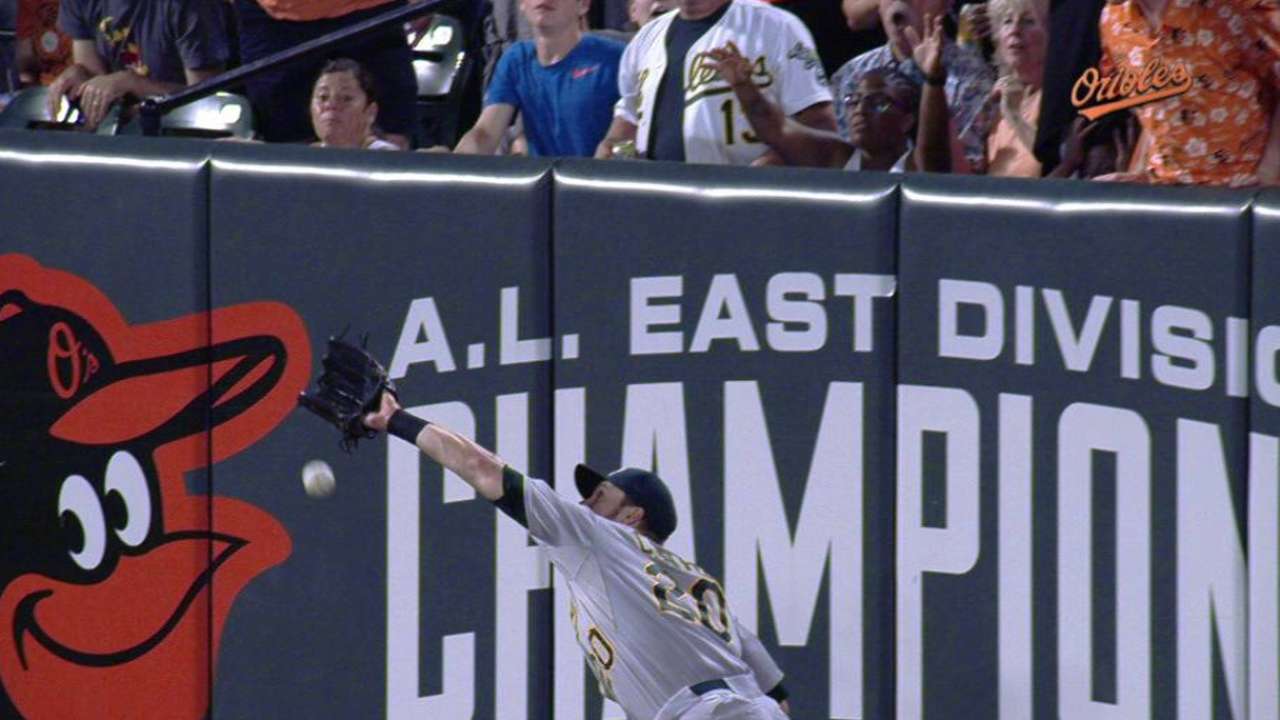 The timing hasn't been right for Clevenger, and while he's performed well, he's stuck behind two good players in Caleb Joseph and Wieters. With no foreseen roster move in the near future, now may be the time to really show his cards after being called up on Friday. He's been doing a pretty good job so far. Since his return, Clevenger has played in three games while hitting .385 with a double, a home run, three runs and four RBIs. He also collected a career-high four hits in Sunday's win.
"I hope Buck is paying attention a little bit," said Clevenger with a smile.
Clevenger showcased his value when he took an 0-2 pitch from Gray -- who leads the American League with a 2.04 ERA -- and put it into the left-field stands for a home run that gave Baltimore a 3-1 lead in the fourth. It was his first long ball since June 29, 2012, against Houston as a member of the Cubs.
"He's a premier pitcher in the league and that's why his numbers don't lie," Clevenger said. "He got me down, 0-2. He made a really good pitch and I just put a good swing on it. I was kind of looking in there, that part of the time and I just put a good swing on the ball."
Wieters could return from a right hamstring injury on Tuesday, and while there is no need for three catchers on a roster, it would be tough to send Clevenger back down to Triple-A if he keeps swinging the bat this way.
Clevenger's last two performances were good enough to be noticed by the Baltimore media, and he fielded postgame questions while sporting a shirt that read: "Just happy to be here. Hope I can help the ballclub," a quote from the movie Bull Durham.
"I think he's done way more than his fair share of what he needs to do to stay up," Orioles starter Chris Tillman said.
Connor Smolensky is an associate reporter for MLB.com. This story was not subject to the approval of Major League Baseball or its clubs.