Melvin, Fuld tossed as A's cap rough trip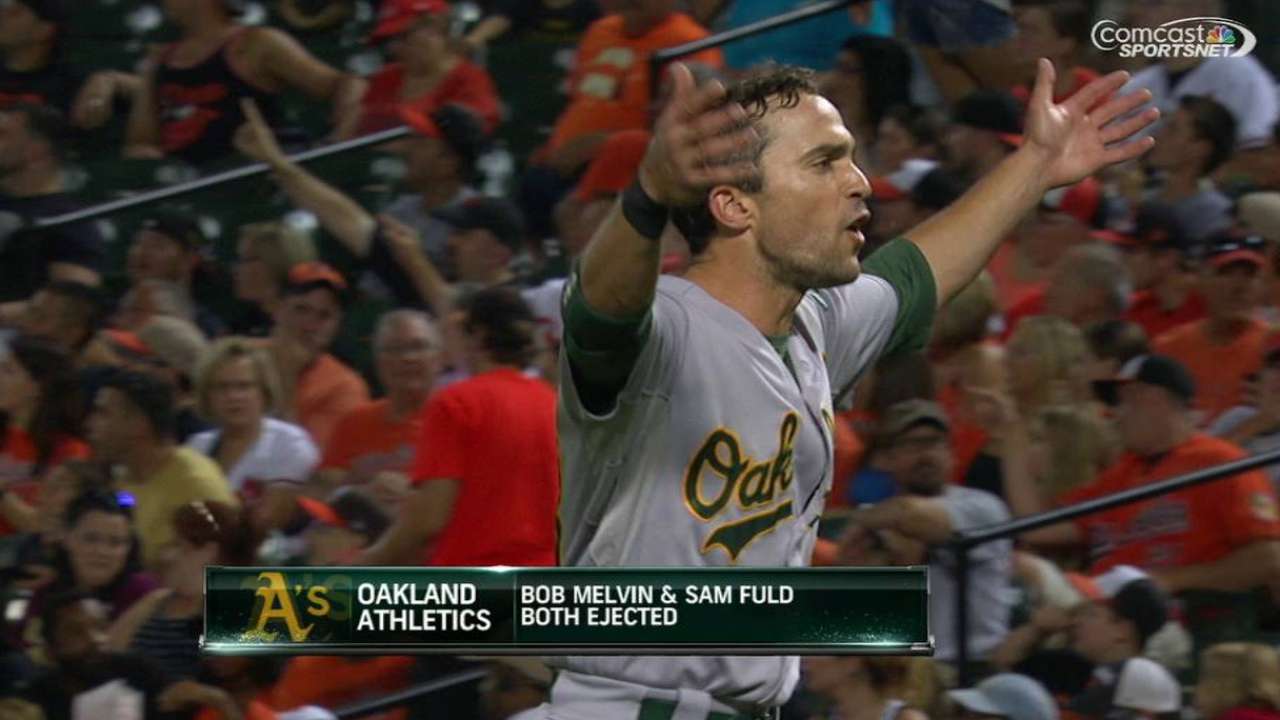 BALTIMORE -- A seven-game A's road swing culminated in a seventh loss Monday night, a 4-2 setback at Camden Yards unlike Sunday's 18-2 rout but equally tough to stomach, marked by identical hit and error totals (three) and a pair of ejections -- including manager Bob Melvin, who called his club's winless East Coast trip "embarrassing."
"It's obviously about as frustrating as you can get," Sam Fuld said. "It's painful and frustrating but we'll keep scratching and make the most of the remaining games we have."
First, the A's have to endure a cross-country flight in the middle of the night before waking up to a Clayton Kershaw sighting at the Coliseum on Tuesday.
"It's definitely going to be nice to go home, but it's tough," said Sonny Gray, who struck out five over 5 2/3 innings. "It's not fun when you go through stuff like we just did, but we get to go home and hopefully put this behind us."
The A's, sitting at an American League-worst 51-69, watched Fuld and Melvin get tossed by home-plate umpire Brian Knight in the middle of the fifth inning after Fuld was called out on batter's interference after a throw on his bunt hit him inside the baseline.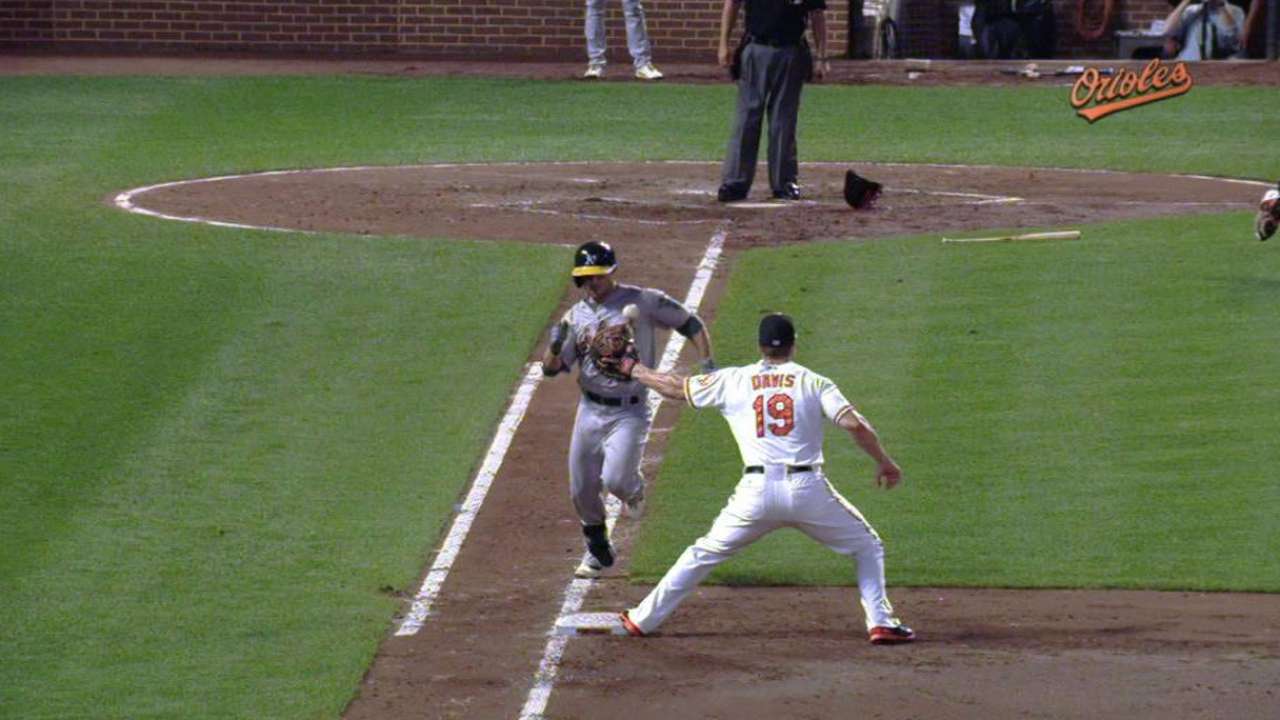 Three times, Fuld said, he asked Knight, "What am I supposed to do?" The first two times he admitted to using expletives but didn't the third time, when he was ejected. Melvin emerged from the dugout a second time shortly thereafter.
"I went out there to argue and he said he was in the line and I said he wasn't in the line and he told me to go look at it," Melvin said. "So the reason I was late getting out there was because I went into look at it, saw that he was wrong and went out there and found out that Sam had been thrown out and I told him, 'You were wrong,' and he threw me out."
The ejections reflected the growing frustration felt by an A's club that couldn't pull out a win with their ace on the bump in the series finale. Gray, who was held out of his last start in Toronto because of back spasms, remained the AL ERA leader (2.04) after allowing one earned run in 5 2/3 innings, but he was also on the mound for the three unearned runs that scored on Steve Clevenger's three-run homer following a critical Eric Sogard two-out error in the fourth.
Offensively, Oakland mustered just three hits -- including home runs from Danny Valencia and Mark Canha -- and was outscored, 52-20, on the trip.
"Especially when you have your ace on the mound," Melvin said, "you want to play clean defensively. At the plate, we're not stringing much together, not putting much pressure on the other pitching."
"I would say this road trip was a combination of running into two hot teams while we're not playing our best ball of the year," Stephen Vogt said. "That sums it up. I don't think it was anything more or less than that.
"We obviously didn't play well. On the other hand, we ran into two teams playing really, really well. That's a bad combination for us. I thought we threw the ball well at times, played good defense at times and hit well at times. Just never all together in a game. It's a tough road trip."
Jane Lee is a reporter for MLB.com. This story was not subject to the approval of Major League Baseball or its clubs.