Bourn's center-field skills working out in left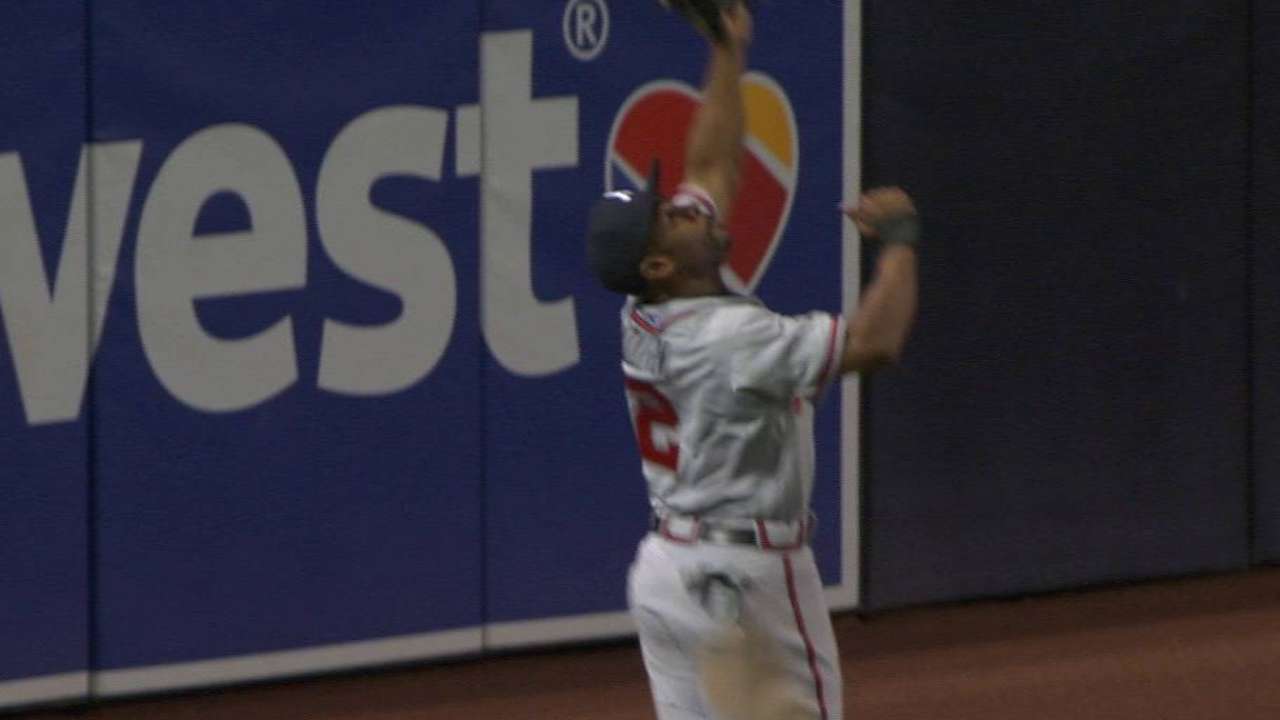 SAN DIEGO -- Given the vast experience he has had as a defensively sound center fielder, the Braves were not too concerned when they asked Michael Bourn to assume a regular role in left field after he was acquired from the Indians on Aug. 7.
Though Bourn had not previously played left field on a consistent basis since 2007, he has looked quite comfortable in his new environment. The fleet-footed outfielder further endeared himself to Atlanta's pitching staff during Monday night's 5-3 loss to the Padres, when he turned what had the makings of being a Derek Norris double into a double play.
"I'm going to the bullpen signaling for the left-hander, and it's a double play," Braves manager Fredi Gonzalez said.
As Gonzalez was preparing to remove starting pitcher Williams Perez, Bourn raced into left-center field, caught Norris' long drive on the warning track and then pushed himself off the outfield wall to position himself to throw the ball back toward the infield. Andrelton Simmons caught the relay and fired to first base to double up Jedd Gyorko, who had rounded second base with the assumption Norris had recorded an extra-base hit.
Bourn has recorded just two hits in the 24 at-bats he has compiled since joining the Braves. But he has impressed his teammates with his defense. During the first inning of Sunday's win over the D-backs, he ranged into foul territory and sacrificed his body to making a diving grab of David Peralta's foul ball before connecting with the wall's protective padding.
"It's just amazing how much room he can cover," Braves center fielder Cameron Maybin said. "That just improves the defense that much more. It helps our pitchers go out and feel comfortable making a pitch, knowing you have some pretty good defense behind you."
Mark Bowman is a reporter for MLB.com. This story was not subject to the approval of Major League Baseball or its clubs.