Hot-hitting Maybin joins rare Atlanta company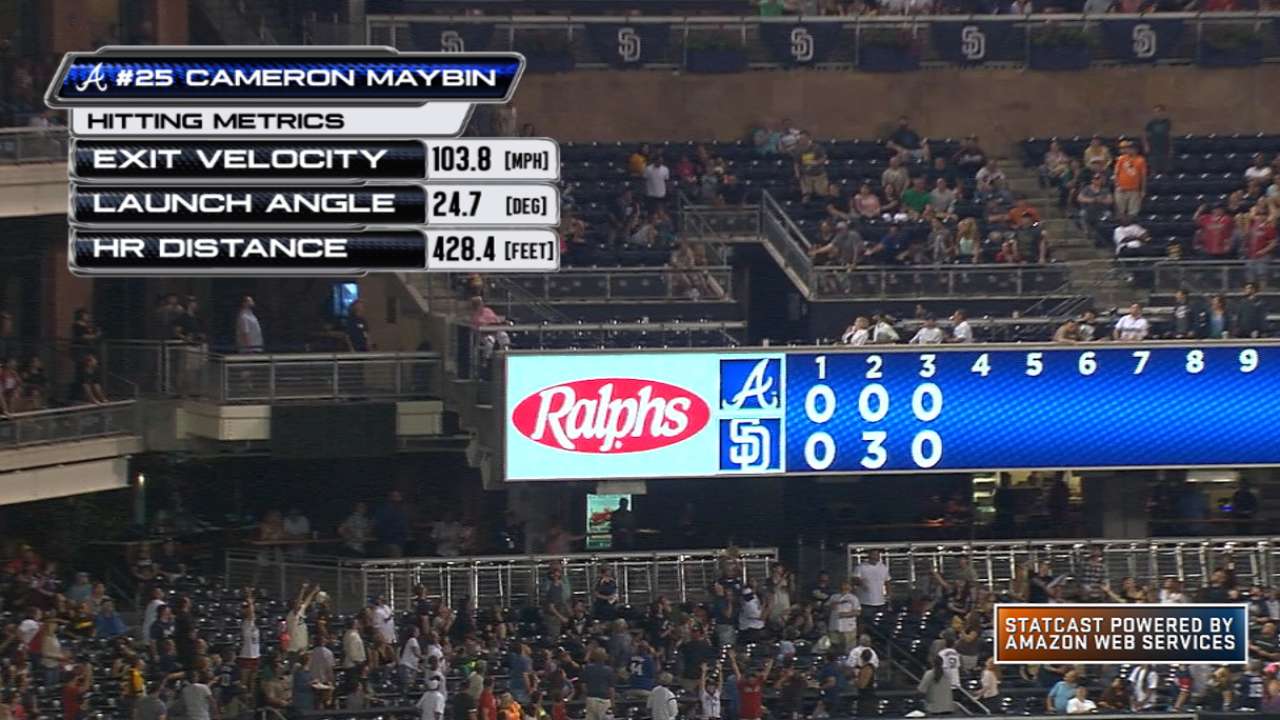 SAN DIEGO -- Cameron Maybin took advantage of the opportunity to show off in front of his old teammates and friends on Monday night.
Playing his first game back at Petco Park since being traded from the Padres to the Braves on April 5, the veteran center fielder highlighted his 31st multi-hit game of the season with a solo homer.
Though the home run was not enough to prevent the Padres from celebrating a 5-3 win, it added to the list of accomplishments Maybin has produced this season. Maybin now stands with Hank Aaron (1971) and Kelly Johnson (2008) as the only players in Atlanta Braves history to record at least two hits and at least one extra-base hit in five consecutive games.
"He's playing good baseball," said Braves manager Fredi Gonzalez, who has seen a rejuvenated Maybin hit .280 with a career-best 10 home runs and a .743 OPS this season.
While the stat that links Maybin to Aaron and Johnson might be viewed as quirky, this successful stretch has legitimized the hope that the 28-year-old's success this year is more than just a fluke.
After entering the All-Star break hitting .289 with a .774 OPS, Maybin hit just .188 with a .439 OPS in the first 19 games he played after the break. The frustrating stretch provided his critics a chance to believe he was simply regressing back toward the struggles he endured while hitting .246 with a .665 OPS while spending the previous four seasons with San Diego.
But as Maybin has batted .405 with seven extra-base hits, including two homers, over his past nine games, he has gotten back on track and strengthened the possibility that the Braves will opt to keep him this offseason with the hope that this year's success is indeed an indication that he is starting to live up to the tremendous potential that has surrounded him since his days as one baseball's top prospects.
"You're going to have little ups and downs, it's just about how long those down stretches are," Maybin said. "You never want to go through those, but I've had my fair share of knowing what it's like to go through those. I think this year -- growing as a player and maturing as a hitter -- with my approach, during those stretches I still feel like the consistency of the at-bats is still there."
Mark Bowman is a reporter for MLB.com. This story was not subject to the approval of Major League Baseball or its clubs.