Mitchell headed for DL with nasal fracture
Yankees starter exits in the second after taking liner off face, will be evaluated closely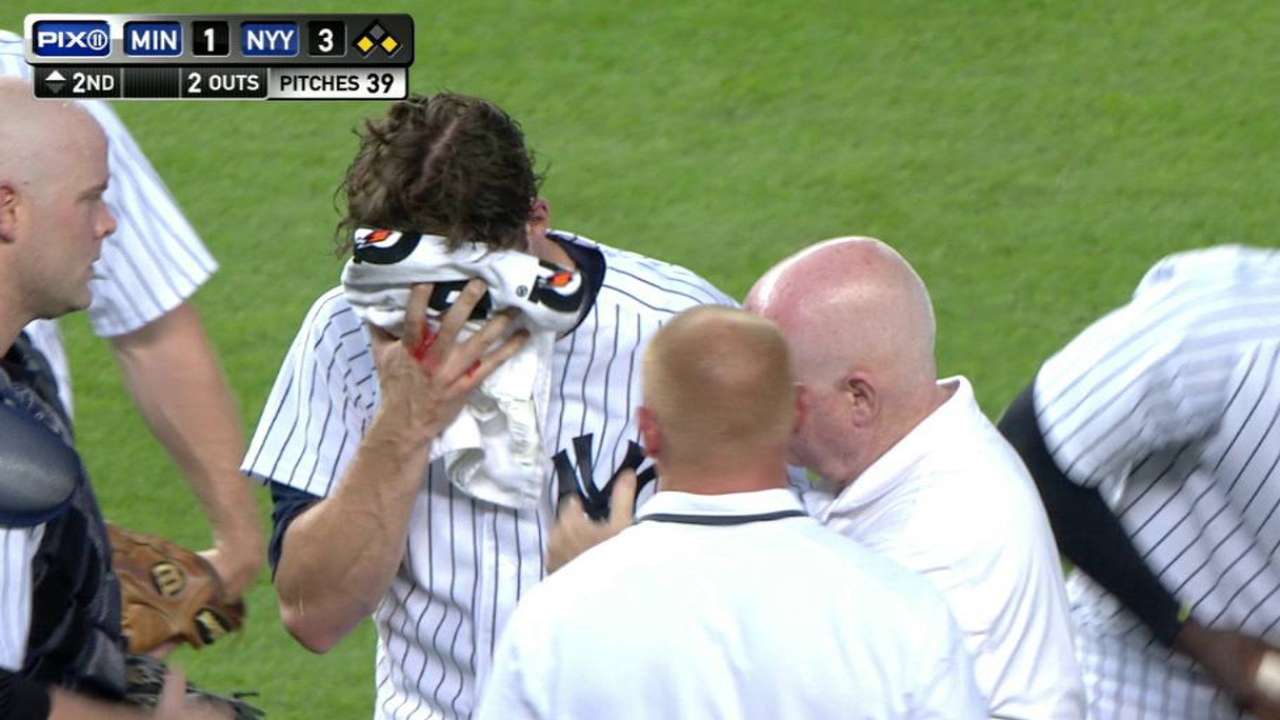 NEW YORK -- Yankees right-hander Bryan Mitchell sustained a small nasal fracture after being struck in the face by a line drive during his start against the Twins on Monday evening, leaving the game in the second inning before the Yankees walked off in the 10th for an 8-7 win.
Eduardo Nunez hit a hot shot back toward the box that appeared to catch Mitchell near the right eye. He tumbled to the ground and was immediately attended to by head athletic trainer Steve Donohue, who placed a towel over Mitchell's bleeding face.
"You're sick, sick to your stomach, praying for the best," Yankees catcher Brian McCann said. "You're just hoping for the best outcome. When I went out there, I was like, 'Are you all right?' And he said, 'I'm all right, I just need to get off the field.' So it was good that he was responsive."
Mitchell walked to the dugout under his own power while holding the towel to his face. The 24-year-old was taken to New York-Presbyterian Hospital for a full evaluation, where physicians determined that he had sustained the fracture.
He returned for the conclusion of the game but did not speak to reporters. He is expected to be placed on the 15-day disabled list prior to Tuesday's game.
"It's really scary," Yankees manager Joe Girardi said. "It seems like your heart just drops into your stomach, and you're scared for the kid. You see blood coming out. He has a small hairline fracture in his nose, and we're going to monitor him pretty closely for the next 24 hours. But he's back in the clubhouse, and that's good to see."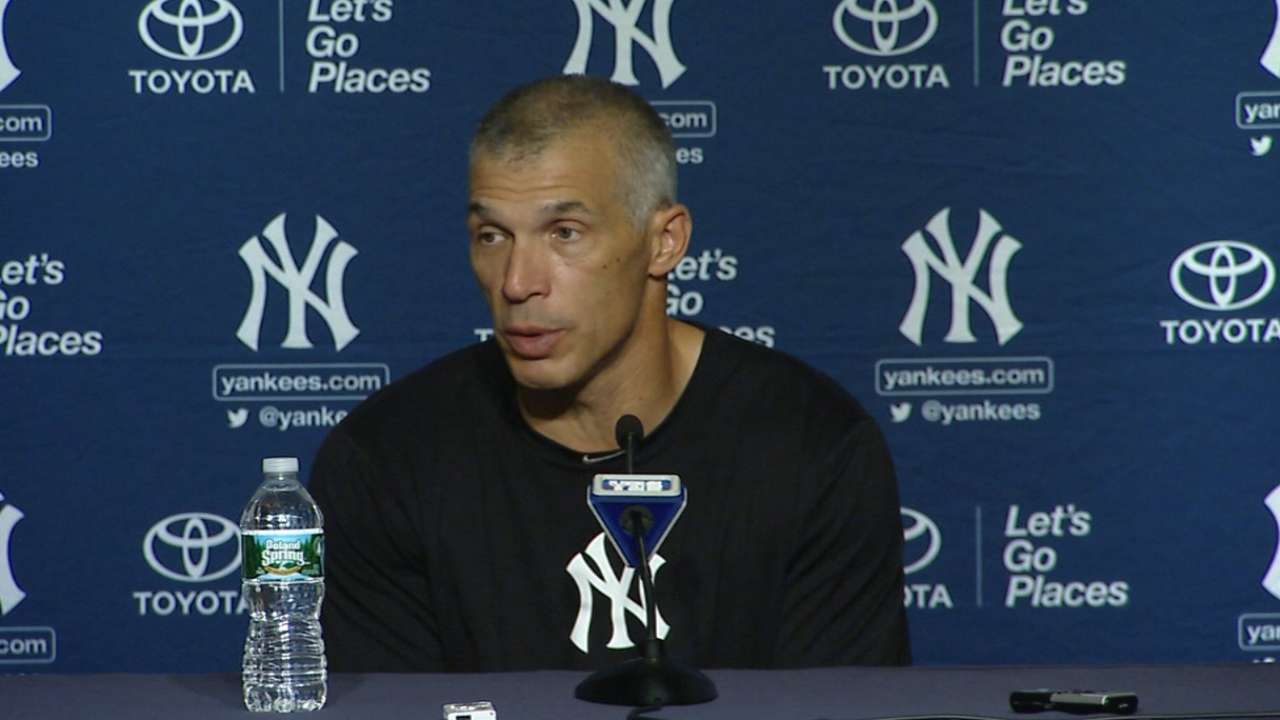 Mitchell and Nunez were teammates during their time together in the Yankees' organization.
"I feel bad for him," Nunez said. "You don't wish that on anybody. I hope everything is OK for him. I hope to see him soon again. I was very scared. Once I saw him on the mound bleeding I was very scared for him. Hopefully, he's OK and will get better soon."
"I'm very thankful that it's not worse than it is. It could have been a whole lot worse," Yankees outfielder Brett Gardner said. "He looked good before he got hit like that. He's got a great arm and he's got a bright future. I'm excited to get him back here soon."
Mitchell was making the start in place of left-hander CC Sabathia, who had his outing pushed back a day to provide rest to the Yanks' rotation. Nunez was credited with a run-scoring single on the play as Eddie Rosario came in to score the Twins' first run, making it 3-1 in favor of the Yankees at the time.
• Yanks push back CC, tab Mitchell vs. Twins
Rookie right-hander Caleb Cotham relieved Mitchell, who was making his second start of the season and the third of his career. Cotham said that the injury was particularly concerning because Mitchell sustained a concussion in a weight-lifting accident back in July, while they were with Triple-A Scranton/Wilkes-Barre.
"I don't think it was too serious, but the second time might be worse," Cotham said. "I think it's good that he got away with it and it nipped his hat. It's good that he's OK. I talked to him. He said he's feeling fine. I think he's doing well, all things considered."
Bryan Hoch is a reporter for MLB.com. Follow him on Twitter @bryanhoch, on Facebook and read his MLBlog, Bombers Beat. This story was not subject to the approval of Major League Baseball or its clubs.