Inbox: Looking ahead to playoff rosters
Beat reporter Anthony DiComo answers Mets fans' questions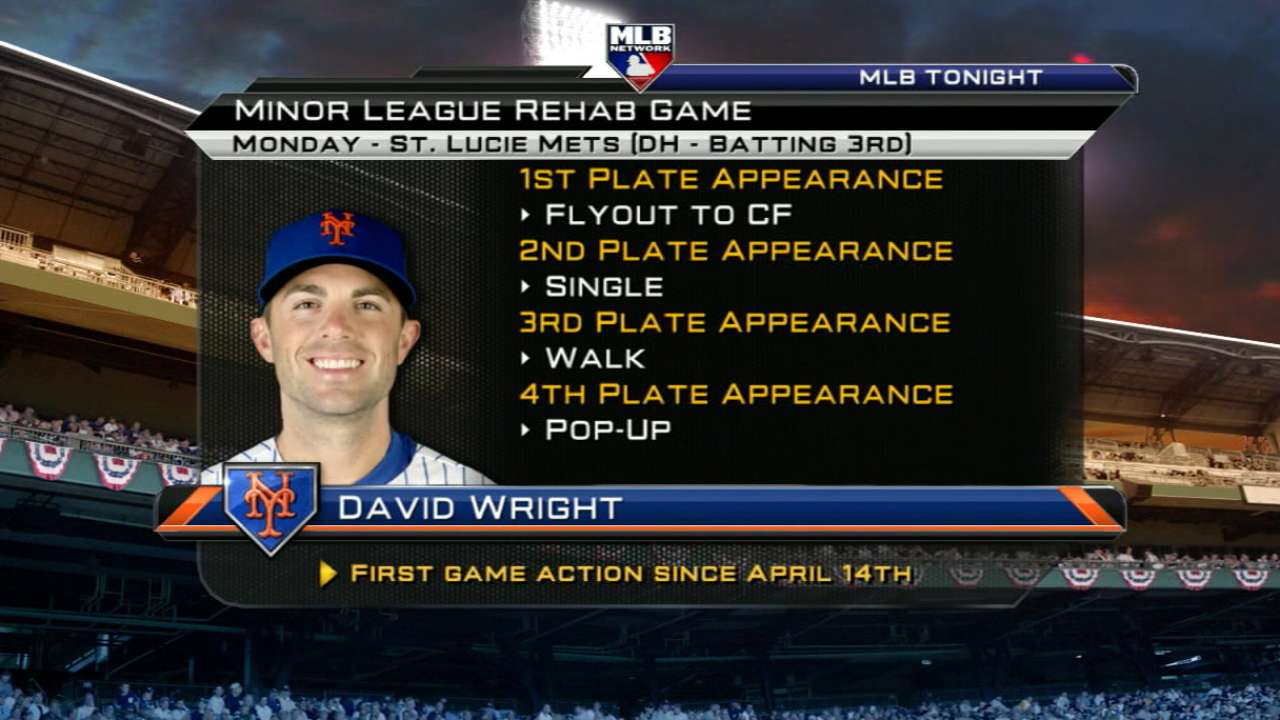 It's the latter half of August and the Mets are in first place. I'll repeat that, just in case the first time didn't stick: It's the latter half of August and the Mets are in first place.
Typically, around this time of year, this site's Inboxes tackle questions regarding September callups and hot prospects. Not this year. Now fans are asking about rotation issues and playoff rosters. This is the fun stuff. So without further ado, let's get to it:
What role do you see David Wright filling when (if?) he returns -- bench, platoon, starter, etc.?
-- @fun_fetti via Twitter
It isn't an "if" anymore with Wright; barring some unforeseen setback, he'll join the Mets as soon as this weekend in Colorado. But the question you ask regarding his role is legitimate.
As much as Wright has said he wants to be an "everyday player" upon his return, the Mets have already nixed that idea. They know he'll need frequent days off -- at least one or two a week -- to lessen his risk of aggravating his back and spending October on the bench. But Wright is still a seven-time All-Star, the heart and soul of this franchise, and will play third base more often than not.
The Mets aren't going to bench their $138 million captain if he's healthy. Wright is not a platoon player at this stage of his career, nor anything close to it. But manager Terry Collins will be more adamant in resting him. And with Daniel Murphy, Juan Uribe and Kelly Johnson all capable of playing third base, he has the means to do it.
Wright, by the way, will probably hit second in the order when he returns. That gives the Mets a potential top four of Curtis Granderson, Wright, Lucas Duda and Yoenis Cespedes.
How many starters would the Mets need, come a possible playoff berth, and who do you think they would be?
-- @mets_official via Twitter
If the playoffs happen, is Bartolo Colon on the squad?
-- @dbuck15 via Twitter
I'll answer these two together because they're essentially asking the same thing -- and much of it will depend upon how Matt Harvey, Jacob deGrom and Noah Syndergaard finish September, as well as how Jon Niese and Colon are pitching at that time. Most teams use four-man rotations in the playoffs, giving the Mets a pretty obvious one given how well Harvey, deGrom, Syndergaard and Niese have performed. That would probably bump a healthy Steven Matz to the bullpen as a potentially devastating lefty specialist, though a strong September could have him breathing down Niese's neck.
As for Colon, it would be an awfully tough sell to ask a 42-year-old career starter to come out of the bullpen, opening the door for him to whiff on the roster altogether. But there are plenty of examples of longtime starting pitchers having success as postseason relievers, from Orlando Hernandez to Tim Wakefield and others. Veteran leadership is important. If Colon spends most of September pitching like he did Friday against the Pirates, a roster spot would be his to lose.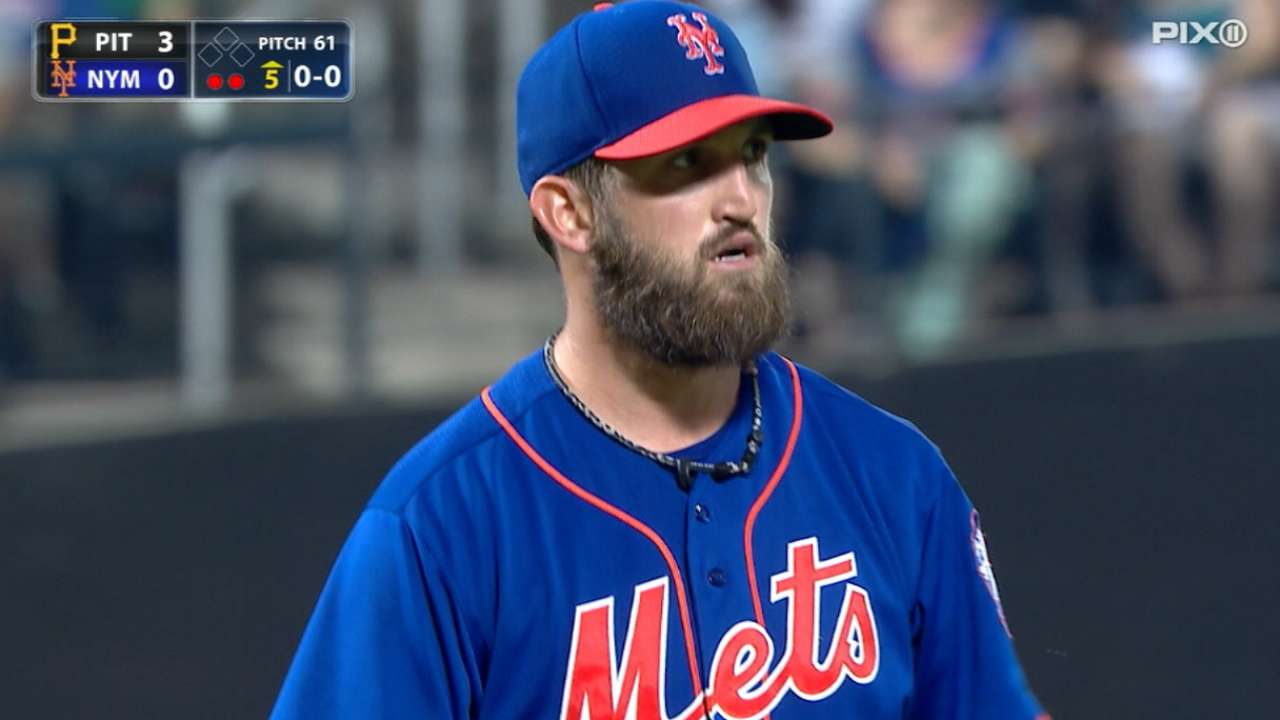 How are Harvey, deGrom and Syndergaard going to pitch throughout the playoffs with those innings limits?
-- @ItsjustJimmy via Twitter
It's my understanding that as long as those three make it through September unscathed, the shackles will come off in October. From there, it will simply be a matter of those three proving they are healthy and effective every time out. I suspect the Mets will only grow truly concerned if the club makes it deep into October and the innings really start piling up. But read that sentence again. At that point, they'd be playing deep into October. If you get deep into October, you try to win a World Series and worry about everything else later.
Since it's very unlikely that Yoenis Cespedes will return next season, what type of outfielder do you see the Mets getting to replace him? A middle-of-the-order guy?
-- @JsUp36 via Twitter
I'm not sure that's a reasonable expectation, because by springtime, Michael Conforto should be ready to play every day in the big leagues -- or at least very close to it. Assuming the Mets aren't ready to give up on Juan Lagares after one bad half-season (they're not), that gives the Mets an outfield of Conforto, Lagares and Granderson, with Michael Cuddyer there to fill in regularly at the corners and first base.
Is it a foolproof outfield? Certainly not. But with Granderson under contract for two more years, Cuddyer for one and both Lagares and Conforto both here long-term, it's hard to envision the Mets making a Justin Upton-sized splash on the free-agent market. More likely, I could see them dealing Lagares in a change-of-scenery trade, though they'd need to receive an everyday center fielder in return. No. 3 prospect Brandon Nimmo is close to contributing at the big league level, but not close enough that the Mets can rely on him next season.
I've had mixed feelings on Daniel Murphy, but he is proving valuable in the pennant race. Does he get extended a qualifying offer?
-- @eacisneros via Twitter
I received another question this week asking if Murphy might become the first player ever to accept a qualifying offer. Theoretically, it's feasible. The Mets will probably extend Murphy an offer, simply because there is so little risk involved in a one-year deal -- even one that may seem expensive. And Murphy is a homegrown Met who would relish a chance at a title here if the Mets don't win the World Series this year. (I can't believe I just typed that sentence.)
Yet the allure of free agency may prove difficult for Murphy to ignore. There's little doubt he would receive a multiyear deal on the open market, and the Mets -- who have Dilson Herrera waiting in the wings -- almost certainly won't be the team to give it to him.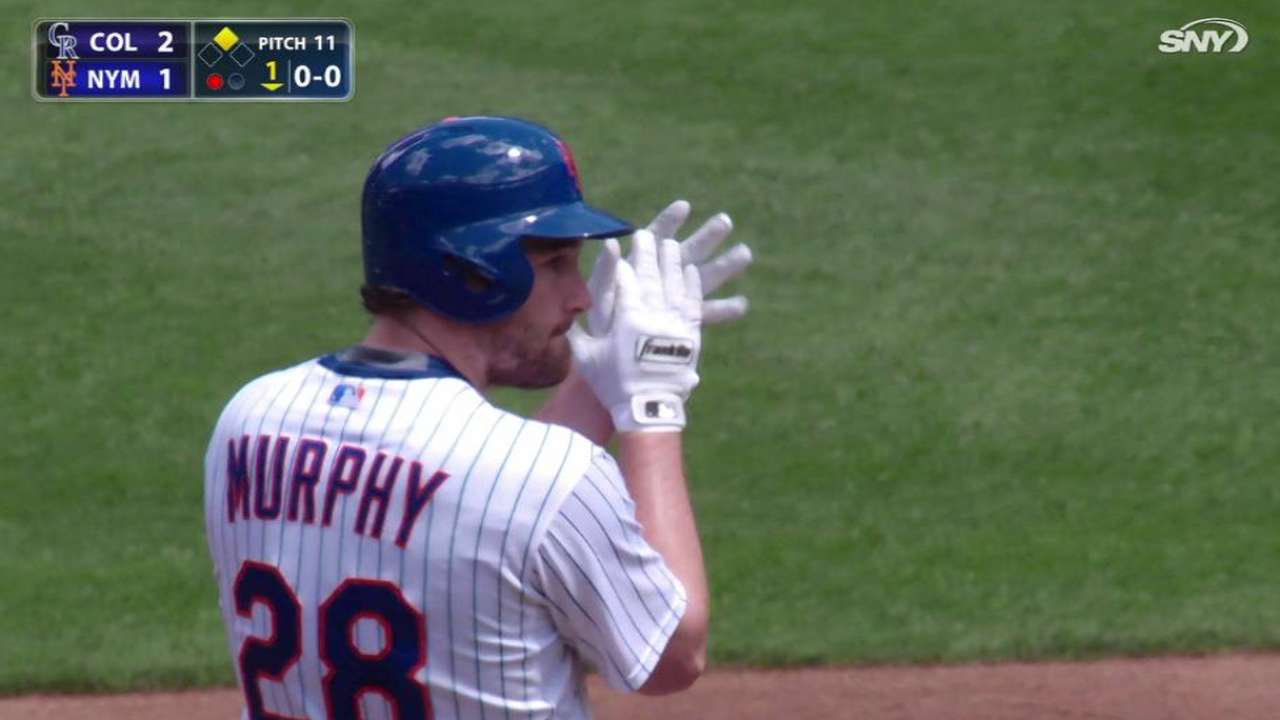 Anthony DiComo is a reporter for MLB.com. Follow him on Twitter @AnthonyDiComo and Facebook, and listen to his podcast. This story was not subject to the approval of Major League Baseball or its clubs.