Hanley returns from sore left foot
With vet back, Lovullo will juggle four outfielders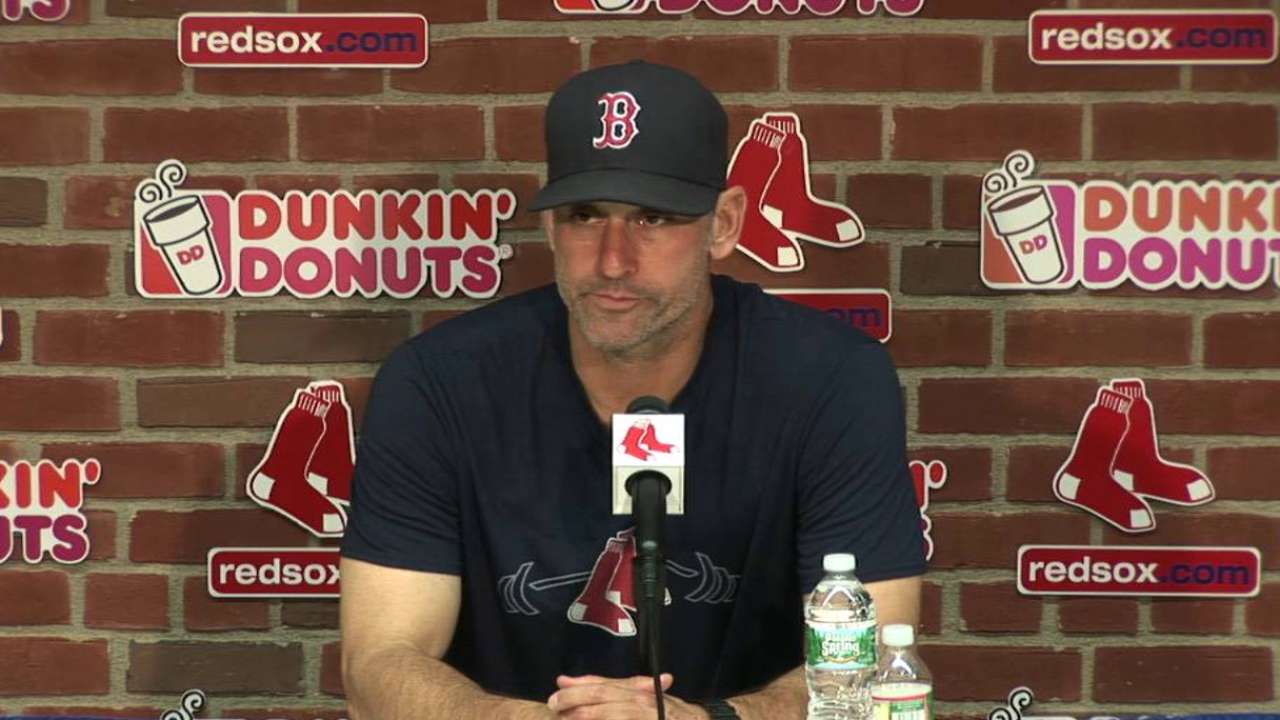 BOSTON -- After seven games on the sideline with a sore left foot, Red Sox slugger Hanley Ramirez was back in the starting lineup in Monday's 8-2 loss to the Indians. But while his bat will certainly provide a boost, the veteran's return to left field is not without its pitfalls -- namely the logjam it creates in Boston's outfield.
The week-long absence of Ramirez had allowed the club to start an outfield trio of Mookie Betts, Jackie Bradley Jr. and Rusney Castillo, all inexperienced players who could benefit from everyday at-bats heading into 2016. Moving forward, interim manager Torey Lovullo will have to mix and match all four.
"It's going to be a little bit of a challenge," Lovullo said. "We have four guys that can play three positions. And we're going to juggle it and make sure nobody misses out on consistent playing time. The dog days are upon us. We're going to be able to schedule some guys for some well-needed rest and off-days. But the bottom line is we want all four of those guys to play and contribute at this point."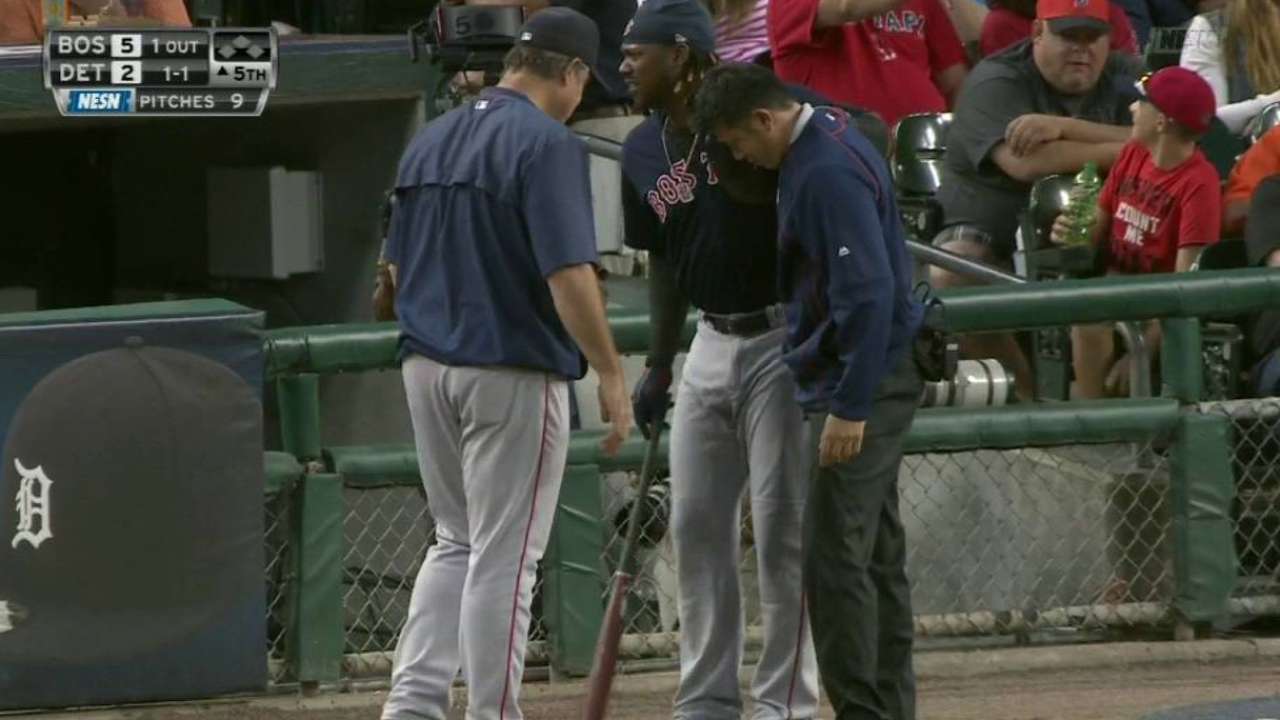 The 22-year-old Betts has thrived in his first full season, providing the Sox with a solid threat in the leadoff spot and making several highlight-reel plays. Through 102 games, he has saved 11 runs on defense while compiling the second-best WAR (2.9) on the team, according to Fangraphs.
And while Ramirez's defensive limitations confine him to left field, where he has struggled since moving to the position this season, Lovullo believes his experience warrants consistent starts.
"I think it's perfectly clear that those guys, they deserve it," Lovullo said. "They've had great seasons. Especially in Mookie's case. He's put himself on the map, and we don't want to take anything away from that."
That array leaves the hot-hitting Bradley and Castillo vying for one spot on most days, and both make compelling cases for playing time. Bradley Jr. went 9-for-16 with seven extra-base hits in the Seattle series and also possesses an excellent glove. The team will also want to further size up Castillo, who signed a seven-year, $72.5 million contract last September.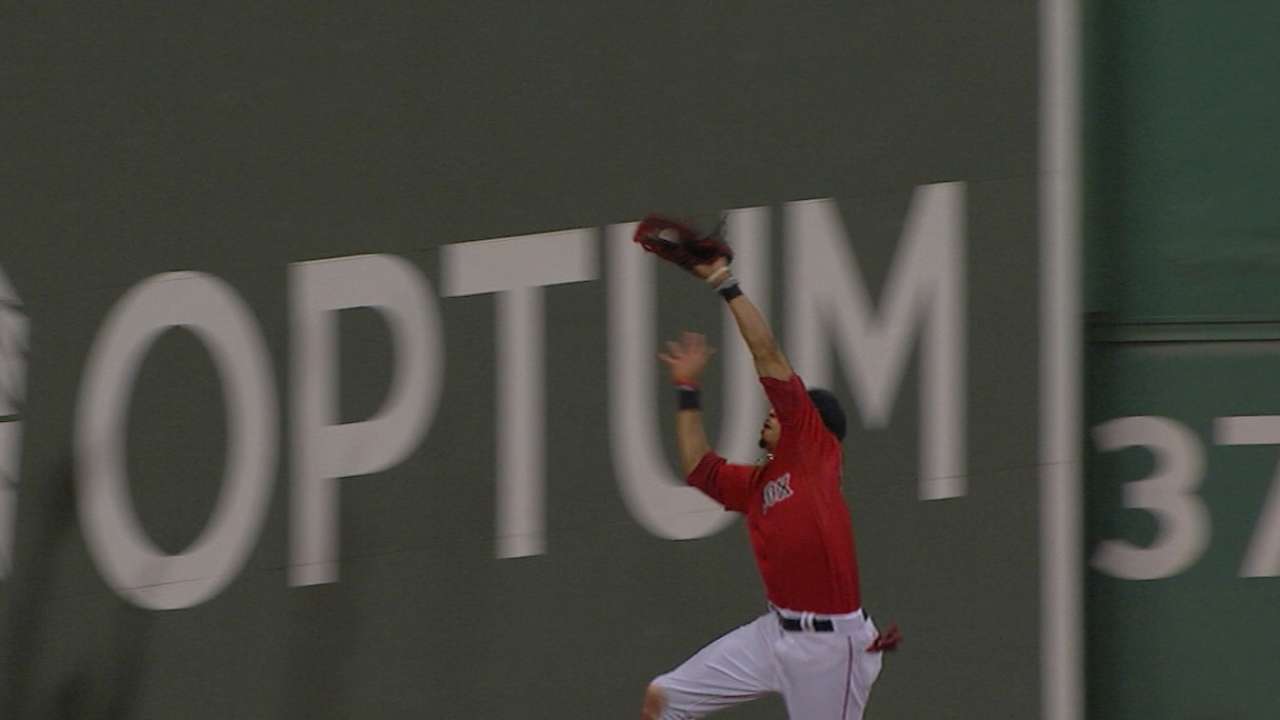 "We're going to put [Ramirez and Betts] in a situation where they might need a down day, or they might need some rest and we'll rotate Jackie and Rusney in there," Lovullo said.
Alejandro De Aza, the team's fifth outfielder, appears unlikely to play many games under the current setup. FOX Sports reported on Monday that the Dodgers had expressed interest in the 31-year-old journeyman, who has slashed .313/.362/.520 in 53 games with the Sox this season.
Worth noting
• Third baseman Pablo Sandoval, who missed Sunday's game after being hit on the right elbow by a Felix Hernandez fastball Saturday, was back at the hot corner Monday.
• The Red Sox optioned righty reliever Ryan Cook to Triple-A Pawtucket and recalled righty Heath Hembree to take his place. Hembree was shelved on the disabled list for over a month with shoulder inflammation, but he has welcomed a promising season in Pawtucket, posting a 2.27 ERA in 29 appearances.
"[Hembree] battled some shoulder issues here with us the last time. He's rehabbed that," Lovullo said. "We've been told his velocity is back up to where it was and we're excited to see what he can do."
• Second baseman Dustin Pedroia (hamstring strain) hit on the field for the first time since suffering his injury July 23. He has an MRI scheduled for late this week that should give the Sox a better sense of his recovery timeline.
"He's right on schedule as far as his rehab and strengthening. He's ready to take the next step," Lovullo said. "And what that is is determined by what happened today. So he'll come in [Tuesday], fill in a couple gaps and we'll push forward with him."
Alec Shirkey is an associate reporter for MLB.com. This story was not subject to the approval of Major League Baseball or its clubs.