Hart set to start another rehab assignment
Harrison, Mercer showing progress with Triple-A Indianapolis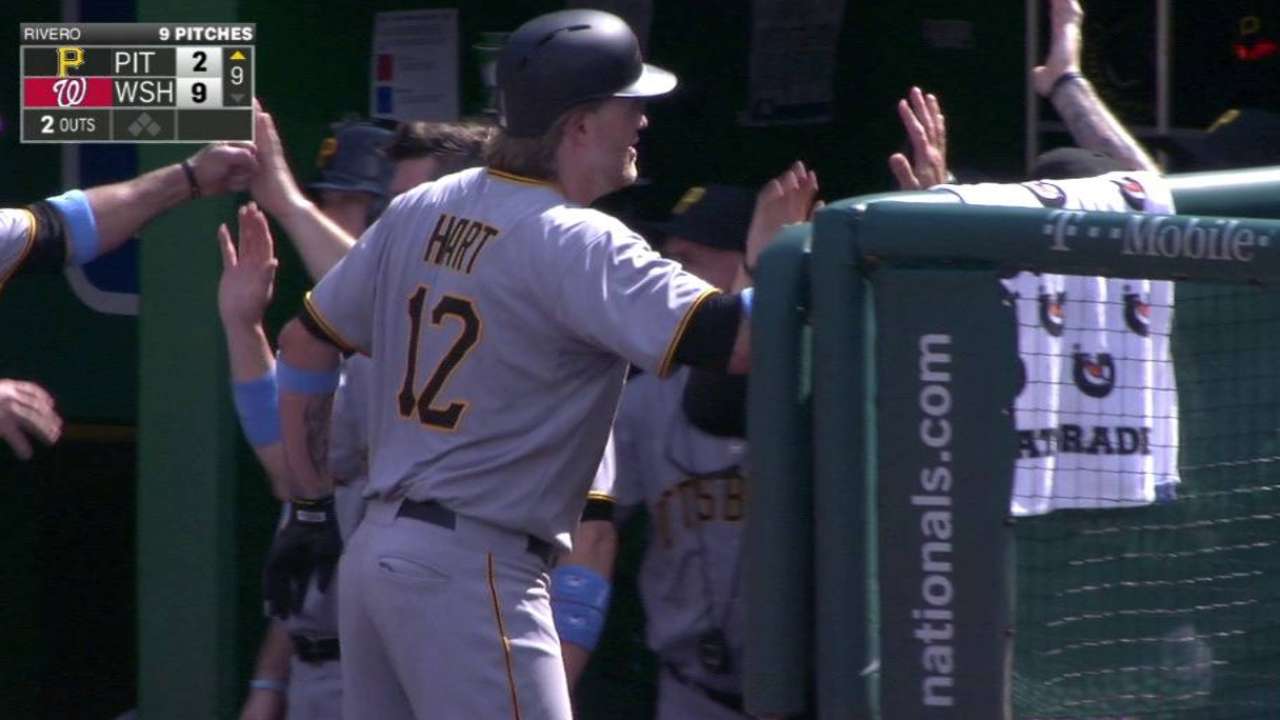 PITTSBURGH -- Injuries have limited Corey Hart to only 57 plate appearances this season, but he's holding out hope he can still help the Pirates down the stretch.
Hart returned to PNC Park on Monday after spending the past month at home in Arizona resting his injured right knee. The next step for Hart is a Minor League rehab assignment with Triple-A Indianapolis, starting Thursday.
If Hart responds well, he could rejoin the Pirates at some point after rosters expand in September.
"We're going to let it play out," Pirates manager Clint Hurdle said. "We've got to give it some time. The goal is to see if he can do it."
Hart was placed on the disabled list June 24, retroactive to June 22, with a left shoulder impingement. That injury healed quickly, allowing Hart to start a rehab assignment on June 30.
A few days later, Hart's knee began to ache. He played his last Triple-A game on July 11 and has been sidelined since then, recovering and working out at home as he prepared for another comeback.
"I kept trying to push through and made it worse," Hart said. "That was the hard part. Hopefully that's behind me. I'll go to Triple-A and try to do as much as I can to prove that I can stay healthy and stay on this roster. That'll come. Hopefully I can get there and work it out.
"These guys are playing well, so it'd be nice to get back with them."
Signed to a $2.5 million deal in December, Hart has hit .222 with two homers and nine RBIs in 35 games for the Pirates.
Hart will likely see a few familiar faces when he joins Indianapolis later this week. Shortstop Jordy Mercer (left knee) and utility man Josh Harrison (left thumb) are also rehabbing with Indianapolis.
Both have played four games, but Harrison appears closer to making his return. He played back-to-back nine-inning games Saturday and Sunday, while Mercer played seven innings each day.
"They're making some progress. They're getting better," Hurdle said. "Without complication, I would anticipate them here before Sept. 1."
Around the horn
• Aramis Ramirez started putting in pregame work at first base last week, and Hurdle has been impressed by what he's seen so far from the veteran third baseman.
"As far as moving around over there, he doesn't look out of place by any means," Hurdle said. "There's nothing that has happened so far to say, 'This can't happen.'"
• Class A West Virginia left-hander Stephen Tarpley was named the South Atlantic League's Pitcher of the Week on Monday. Tarpley, acquired along with lefty Steven Brault in the Travis Snider trade, is 10-2 with a 2.14 ERA over 16 starts this season.
Adam Berry is a reporter for MLB.com. Follow him on Twitter at @adamdberry. This story was not subject to the approval of Major League Baseball or its clubs.