Yost: KC fans more vocal than Cards
Border skirmish ensues as teams' fans take to social media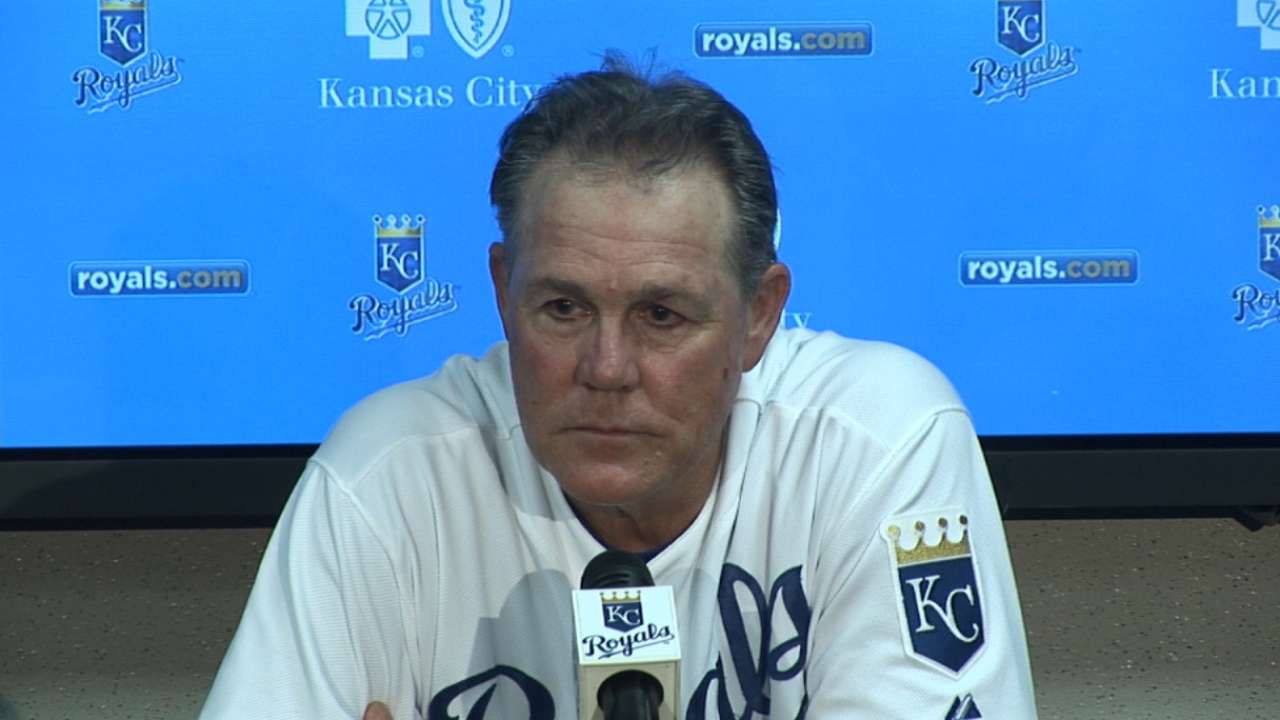 KANSAS CITY -- What a difference a year has made at Kauffman Stadium. It was almost a year ago here that Royals outfielder Alex Gordon hit a walk-off homer against Twins closer Glen Perkins, and all that did was trigger a plea from manager Ned Yost for the city and its fans to get behind the club.
"I mean, what, 13,000 people got to see a great game?" Yost said last Aug. 26, with more than a hint of sarcasm.
Yost went on to explain that night how much electricity and energy big crowds at Kauffman Stadium could generate for his team.
"This was a fun night," Yost said then. "I just wish there could have been more fans out here to enjoy it with us."
The comments rattled much of Kansas City's fan base, though Yost insisted he was not taking a shot at the team's loyal following.
"I just wanted everyone to be able to enjoy our success," Yost said.
These days, though, there is no need for pleading for fan support. Over the weekend, the Royals topped the two-million mark in attendance for the first time since 1991. The club is projected to beat the franchise attendance record of 2,477,700, set in '89.
That energy and electricity that Yost referred to a year ago is present at The K on a nightly basis, including during Kansas City's pulsating 4-3, 10-inning win over the Angels on Sunday night, when more than 36,000 fans seemed to will the Royals to a win.
Yost was asked about the fans after the game, and in his response, he saluted his fan base, while at the same time infuriating the red-wearing faithful across the state -- not that the Royals-Cardinals rivalry needs much flame-fueling.
"The Missouri fans are great," Yost said. "The St. Louis fans are great, but not as vocal and exciting as our fans."
Uh-oh.
When the quote was tweeted out, Cards fans, the self-proclaimed BFIB (best fans in baseball), predictably rushed to their defense, and heated words started flying through cyberspace.
Here are a few:
Oh boy. Shots fired. #BFIB https://t.co/J5RIjCBJ3f

— Nicholas Weber (@WeberN) August 17, 2015
@FlannyMLB Wait until you start losing again. #Royals fans will disappear like they did from 1986-2013

— Charlie (@Redbird_Charlie) August 17, 2015
The inferiority complex in Kansas City continues. It's so, so cute. https://t.co/KdDxYOuNCq

— Alex Bausch (@CFN_Intern) August 17, 2015
The vocal and exciting fans that started paying attention last October? https://t.co/sQ4LHgrnmr

— Matt Stern (@sternm4795) August 17, 2015
And Royals fans responded:
Shots fired!! He basically called STL fans old and boring.....I heard he said 1738 is STL fans median birth year https://t.co/SbWTvlOxw4

— Sports Junkies (@SprtsJunkiesSTL) August 17, 2015
@FlannyMLB Cards fans just mad that the self-titled "best fans in baseball" aren't even the best fans in the STATE. #ForeverRoyal

— Gavin Hull (@GavHull) August 17, 2015
Take that, #BFIB. https://t.co/ogCFTTk29i

— Victoria Walsh (@MightieMinx) August 17, 2015
So, how much would everyone enjoy a Cardinals-Royals World Series?
Jeffrey Flanagan is a reporter for MLB.com. Follow him on Twitter at @FlannyMLB. This story was not subject to the approval of Major League Baseball or its clubs.