MLB.com Columnist
Lyle Spencer
Hernandez seeks everyday role for Dodgers
Thriving in utility role, 23-year-old has started games at five positions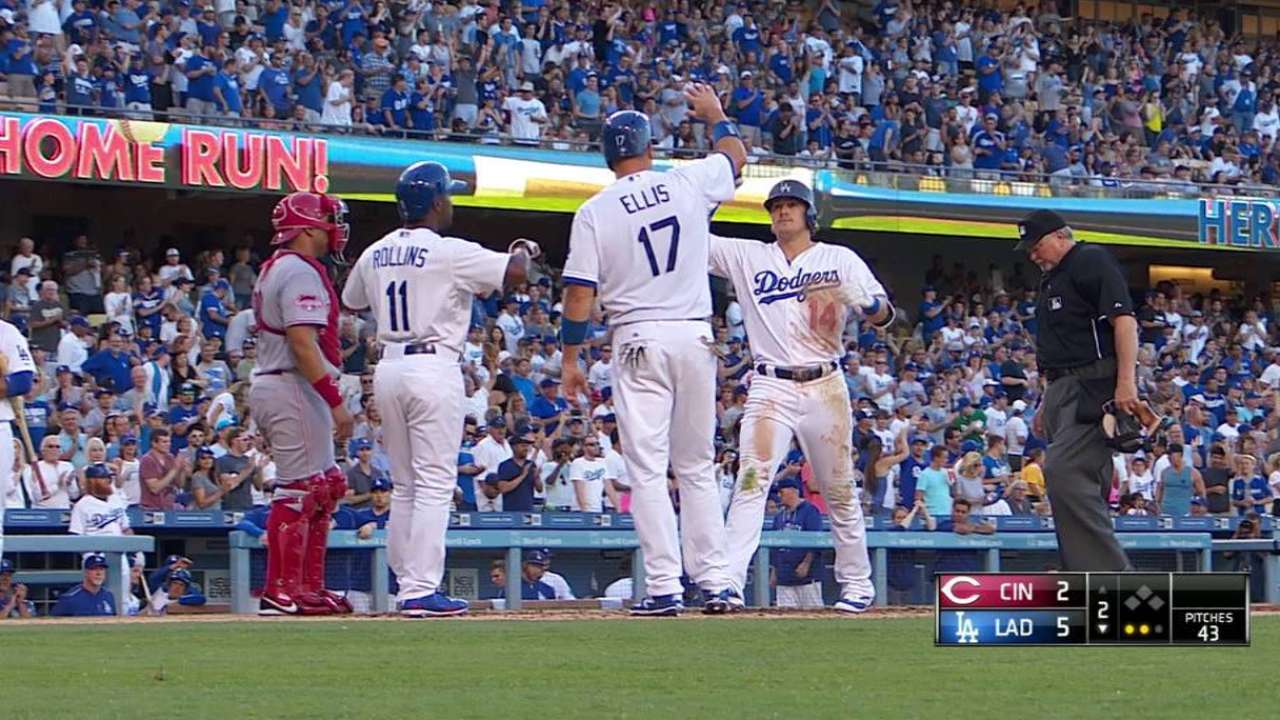 LOS ANGELES -- All-purpose, multidimensional athletes are pure gold to Major League managers. The Dodgers' Kiké Hernandez appreciates his value as a man for all positions, but his clearly stated mission is to shed that label for a more appealing fit: everyday player.
"I don't like it," Hernandez said when asked about his utility-man persona. "I'm only 23, and I believe I have a really long career ahead of me. I believe I can play every day. But being a utility guy is what got me to the big leagues."
Los Angeles is Hernandez's third organization. Houston drafted and signed him out of high school in 2009. Hernandez made his MLB debut last season and was hitting .284 in 24 games when the Astros sent him to the Marlins. Miami shipped him to the Dodgers in a seven-player blockbuster last December.
Hernandez has found a home in Southern California, making a name for himself -- his first name is Enrique, but he goes by his nickname, which is pronounced Key-KAY -- as a driving force in the heat of a pennant race.
Appearing in 60 of his team's 118 games, Hernandez has posted a .300/.352/.513 slash line, with six homers, 18 RBIs and 22 runs scored in 150 at-bats. He's hitting .360 with runners in scoring position.
By his own description, Hernandez was a "late bloomer." Growing up in Puerto Rico, Hernandez took a while to, well, grow up.
"When I was 16, I was 5-foot-5 or 5-foot-6," Hernandez said. "My senior year of high school, I grew five inches and weighed 160 [pounds]. Now I'm 210."
It's all muscle, and Hernandez has been throwing it around in very positive ways for the Dodgers all season. Filling in all over the field before settling in at second base with Howie Kendrick nursing a hamstring strain, Hernandez is taking advantage of his first real opportunity to show he's worthy of a regular job.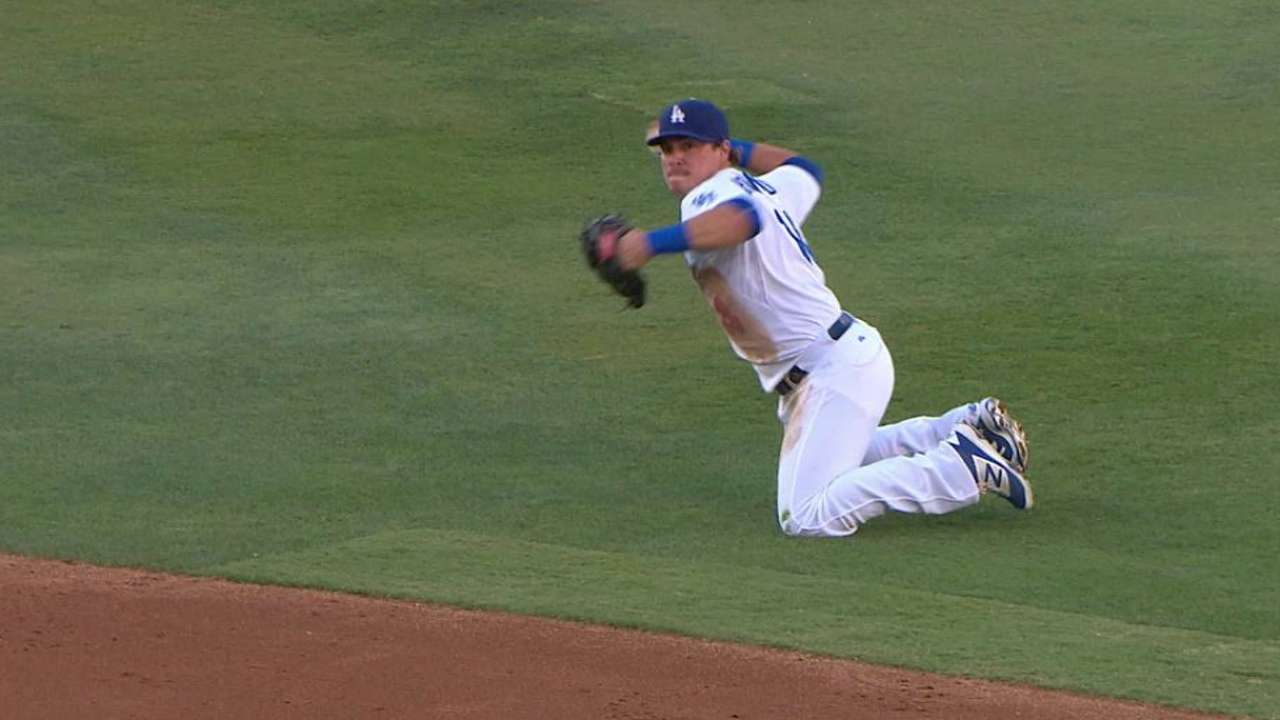 A shortstop as a kid, Hernandez believes his best position now is second base. With Kendrick's looming free agency, Hernandez is making a strong argument as an option there if the former Angels star departs.
Los Angeles views Jose Peraza, acquired from Atlanta, as another potential alternative at second.
"They traded for me because they thought I was a good player," Hernandez said. "The fact that I'm getting consistent at-bats is making it easier to produce.
"If, when Howie comes back, they want to still give me playing time, that's great. But I've been doing this for two weeks; Howie has been doing it a long time. Obviously, when Howie comes back, he's going to be playing every day."
Dodgers manager Don Mattingly has become a Hernandez fan.
"You talk about all the different things [Hernandez] can do, and you automatically throw him into that utility-guy role," Mattingly said. "That's maybe a little unfair. These guys in those roles played every day in the Minors coming up. Kiké looks like a guy right now that you could play every day."
Hernandez has made 12 starts this season at second base, 11 at shortstop, five in left field, eight in center and one in right. He was given training in moving around long before he realized its value by his father, who also coached him in his Puerto Rico youth.
"I would be playing shortstop," Hernandez said, "and he would move me to center field when a really good hitter came up. He liked to move me around. I got used to playing different positions."
No matter where he played, Hernandez said, "I always hit the ball really hard for my size."
Popular with teammates and fans, Hernandez brings a vibrant personality to the clubhouse. With the timely aid of a nutritious piece of fruit, he gave the Dodgers their answer to the Angels' Rally Monkey.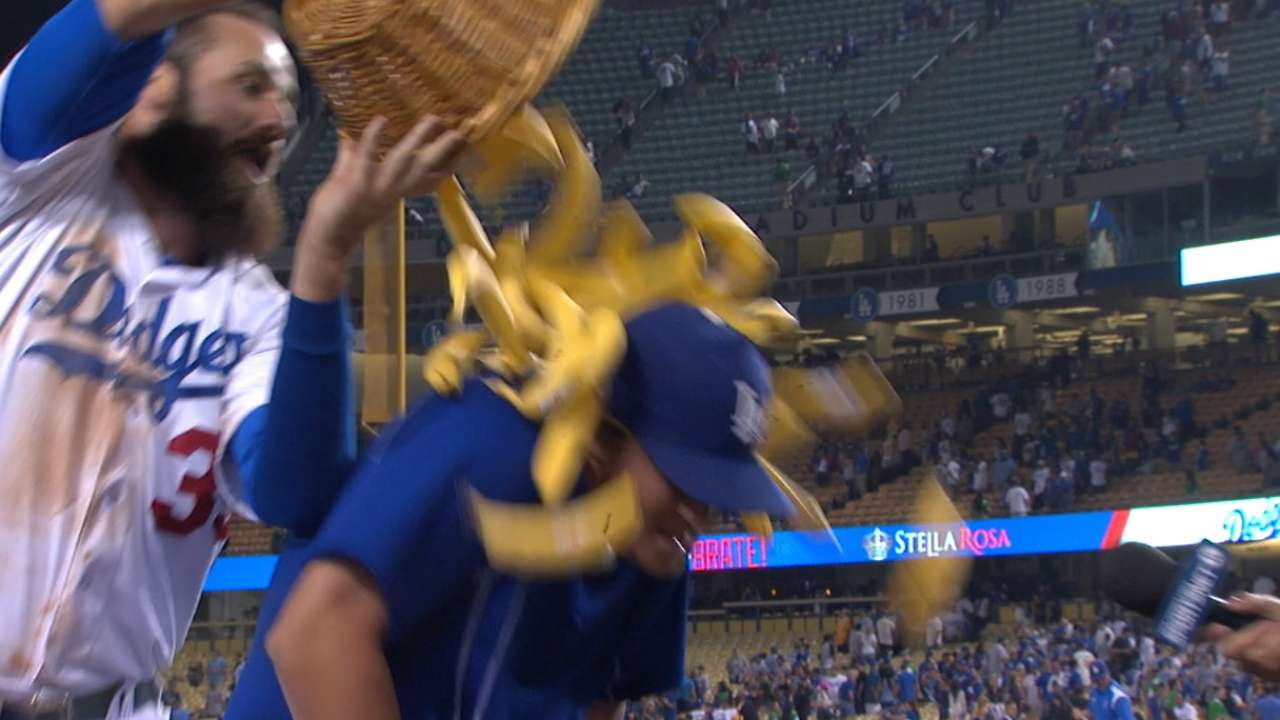 In the midst of a team scoring drought in May, Hernandez grabbed a banana in the dugout and waved it around. Los Angeles promptly scored a run, snapping out of its doldrums.
"I'm on the bench. I've got to help my team somehow; we've got to come up with something," Hernandez said after the game. "So I look around and the first thing I see is a banana. I said, 'This banana is going to be a rally banana.'"
Taking their cue in the afterglow of a walk-off victory, Dodgers players bombarded Hernandez with bananas in a departure from the familiar ice-bucket routine.
"He's a different cat," starter Brett Anderson said.
Cats scratch and claw. There's a lot of that in Hernandez's game.
Lyle Spencer is a national reporter and columnist for MLB.com. Follow him on Twitter @LyleMSpencer. This story was not subject to the approval of Major League Baseball or its clubs.