MLB.com Columnist
Jim Callis
Duffey headlines Prospect Team of the Week
Twins' No. 15 prospect tosses six innings of one-hit ball in twice
MLBPipeline.com's Prospect Team of the Week honors the best performances from the previous seven days. Any player currently on an organization Top 30 Prospects list on our Prospect Watch is eligible, including big leaguers.
Tyler Duffey's big league debut was not the stuff of dreams. The Twins right-hander lasted just two innings while surrendering five hits (including home runs by Jose Bautista and Josh Donaldson), two walks and six runs on Aug. 5 against the Blue Jays.
But Duffey bounced back strong last week, so strong that he headlines our Prospect Team of the Week for Aug. 10-16. Sent back to Triple-A Rochester, he allowed just one hit in six scoreless innings while striking out five at Buffalo on Tuesday. When Phil Hughes went on the disabled list with a sore back, Duffey got a second chance to show Minnesota what he could do.
Duffey made the most of it on Saturday, throwing six more shutout innings of one-hit ball to beat the Indians for his first Major League victory. Relying heavily on his curveball, he didn't allow a hit until Francisco Lindor doubled in the sixth. Duffey handed out an uncharacteristic five walks, but he extricated himself from trouble with seven strikeouts.
Suitably impressed, the Twins will give Duffey another start on Thursday against the Orioles.
C: Chance Sisco, Orioles (No. 8 prospect)
6 G, .478/.538/.652, 5 R, 1 2B, 1 HR, 2 RBI, 3 BB, 5 SO
After winning the low Class A South Atlantic League batting title with a .340 average in 2014, he has continued to produce this season. Sisco put up .308/.387/.422 numbers in high Class A to earn a promotion on Friday to Double-A Bowie, where he hit safely in his first three contests, including a 4-for-4 performance Sunday.
1B: Bobby Bradley, Indians (No. 7 prospect)
6 G, .318/.400/1.045, 5 R, 1 2B, 5 HR, 14 RBI, 3 BB, 9 SO
Bradley has homered in his past five games and comfortably leads the low Class A Midwest League in homers (25), RBI (82) and slugging (.526) in his first full professional season. One of just two first basemen to earn PTOW recognition three times this year -- the Astros' A.J. Reed is the other -- Bradley is batting .321/.397/.887 with nine homers in 14 August games and .259/.344/.526 overall.
2B: Carlos Asuaje, Red Sox (No. 24 prospect)
5 G, .294/.333/.647, 2 R, 2 HR, 4 RBI, 1 BB, 3 SO
After leading the SAL in slugging (.542) and OPS (.933) in his first full pro season a year ago, he has found the going tougher at Double-A Portland, where he's hitting .255/.345/.376. Asuaje still is showing the ability to make line-drive contact and get on base, and he homered twice last week. He and the Astros' Tony Kemp are only second basemen to garner multiple PTOW nods in 2015, with two each.
3B: Miguel Sano, Twins (No. 2 prospect)
6 G, .368/.458/.737, 3 R, 1 2B, 2 HR, 7 RBI, 4 BB, 6 SO, 1 SB
Missing 2014 while recovering from Tommy John surgery didn't set Sano back at all. He went deep twice and drove in six runs against the Rangers on Wednesday, and he is batting .280/.395/.528 with seven homers and 25 RBIs in 37 big league games. Sano is the only third baseman with three PTOW mentions this year, though he won't get another because he's six at-bats away from losing his rookie/prospect status.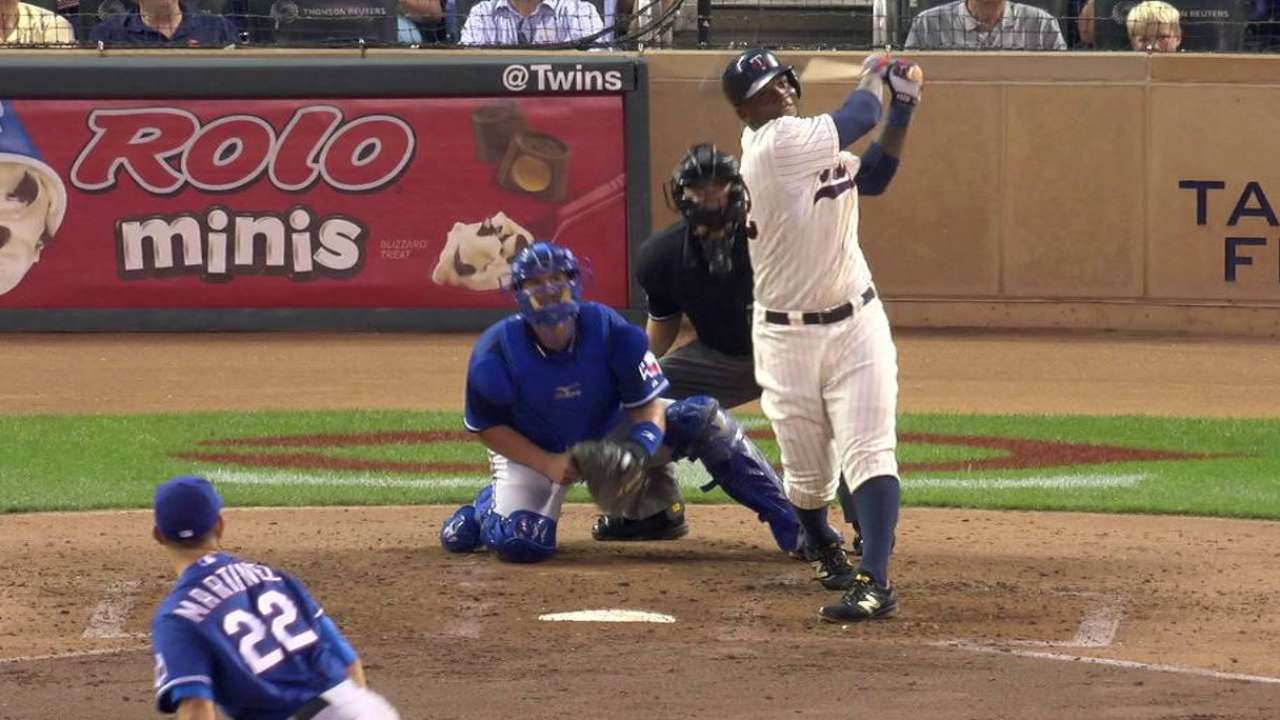 SS: Hoy Jun Park, Yankees (No. 19 prospect)
6 G, .400/.464/.840, 7 R, 1 2B, 2 3B, 2 HR, 7 RBI, 2 BB, 4 SO, 1 SB
New York gave seven-figure bonuses to seven position players during the 2014-15 international signing period, and Park has been the most impressive of that group. He has performed well as a 19-year-old in the Rookie-level Appalachian League, hitting safely in all six of his games last week to improve to .253/.353/.408 with 16 extra-base knocks and 10 steals in 44 contests.
OF: Andrew Benintendi, Red Sox (No. 6 prospect)
7 G, .407/.515/.852, 5 R, 1 2B, 1 3B, 3 HR, 3 RBI, 6 BB, 1 SO, 2 SB
He has shown why Boston used the seventh overall pick in the June on him, and why scouts considered him the toolsiest college player available in the 2015 Draft. Benintendi had the first multihomer game of his pro career on Tuesday and ranks among the short-season New York-Penn League leaders in hitting (.290), on-base percentage (.408), slugging (.540) and home runs (seven). He also has seven steals in eight attempts and an outstanding 25/15 BB/K ratio.
OF: Jesse Winker, Reds (No. 1 prospect)
7 G, .385/.448/1.000, 7 R, 1 2B, 5 HR, 9 RBI, 3 BB, 3 SO
He matched Bradley with homers in five straight games last week, falling one short of Derrek Lee's Double-A Southern League record. One of the best pure hitting prospects in the Minors, Winker batted just .229/.343/.314 in the first two months, but he has hit .310/.403/.542 with 10 homers in 47 games in the second half. He's now up to .275/.374/.433 overall.
OF: Bradley Zimmer, Indians (No. 1 prospect)
6 G, .400/.500/.850, 7 R, 3 HR, 7 RBI, 5 BB, 6 SO
Like Benintendi, Zimmer was the best all-around college player in his Draft class (2014), but he somehow lasted 21 picks, and he is beginning to look like a steal. He slumped briefly after a promotion to Double-A Akron in July, but has recorded six multihit games in his past 10 outings, including two homers last Wednesday. Zimmer is batting .298/.396/.499 with 16 homers and 39 steals in 107 games.
LHP: Jordan Montgomery, Yankees (No. 27 prospect)
1-0, 1.64 ERA, 2 GS, 11 IP, 11 H, 3 R, 2 ER, 3 BB, 16 SO, 1.273 WHIP
He had instant success at South Carolina, starring in the College World Series as a freshman in 2012 before serving as the Gamecocks' No. 1 starter the next two years, and Montgomery has done the same in pro ball. A fourth-round pick in 2014, he has gone 9-7 with a 2.97 ERA and 116 strikeouts in 118 1/3 innings between two Class A stops in his first full pro season. Montgomery has permitted more than three earned runs just once in 21 starts.
RHP: Tyler Duffey, Twins (No. 15 prospect)
2-0, 0.00, 2 GS, 12 IP, 2 H, 0 R, 0 ER, 5 BB, 12 SO, 0.583 WHIP
Only one of his 92 appearances in three years at Rice was a start, but he has made a successful transition to the rotation in pro ball. In 22 starts between Double-A and Triple-A this year, Duffey has gone 7-8 with a 2.54 ERA with 122 strikeouts in 138 innings. He's one of two right-handers to make the PTOW more than once in 2015, joining the Reds' Tyler Mahle with two appearances each.
Jim Callis is a reporter for MLB.com and writes a blog, Callis' Corner. Follow @jimcallisMLB on Twitter. This story was not subject to the approval of Major League Baseball or its clubs.