Perez ejected for first time in career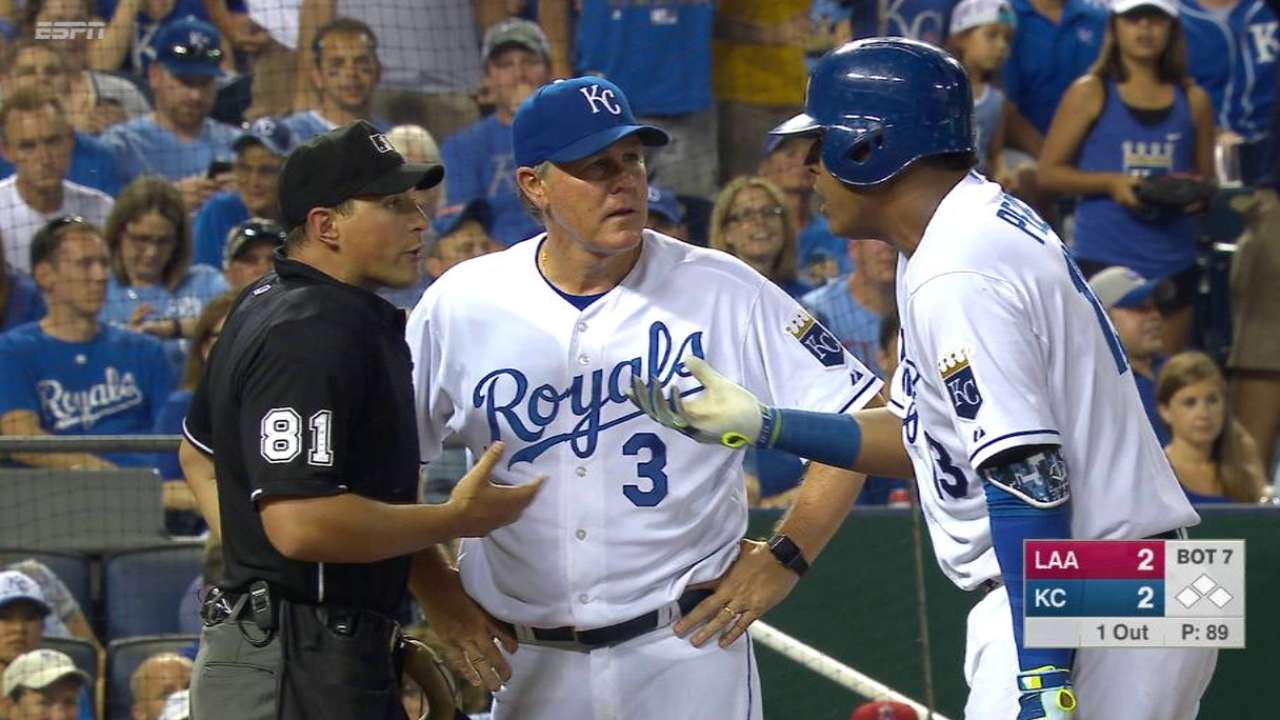 KANSAS CITY -- Catcher Salvador Perez was ejected in the bottom of the seventh inning of Sunday's 4-3 walk-off win after being called out on strikes.
Perez wasn't sure what he said to merit his first career ejection, from home-plate umpire Quinn Wolcott.
After being called out, Perez stood at the plate and tried to converse with Wolcott.
"He tried to tell me, 'Salvy, you got to go,'" Perez said. "I said, 'I just want to know where that pitch was.' He said, 'It got right on the corner.' I said, 'I think it's a little down. I'm 6-[foot]-4, the pitch is close to my ankles, I think that was down.' 'OK, Salvy, second time, you got to go.' 'I just want to know.' 'OK, Salvy, you're gone.'
"I don't say one bad word to that guy."
Other Royals had issues with the strike zone during the night.
"I don't know what happened with that guy tonight, because I've known him for a long time, and he's done a tremendous job behind home plate," Perez said. "I don't know what happened. I know this group of umpires the last four days, and they are really good. I don't know what's going on tonight."
The ejection put the Royals in a bit of a bind in the ninth, when backup Drew Butera had to face Angels closer Huston Street with one out and two on, trailing 3-2.
"I say, 'Please God, walk or base hit. Walk or base hit,'" Perez recalled thinking. "[Butera] got a walk. Pretty good guy, man. He's done a tremendous job for this team."
The Butera walk loaded the bases and set up Alex Rios' sacrifice fly, which tied the score at 3. The Royals won it the next inning.
Jeffrey Flanagan is a reporter for MLB.com. Follow him on Twitter at @FlannyMLB. This story was not subject to the approval of Major League Baseball or its clubs.