Morales comfortable when stakes high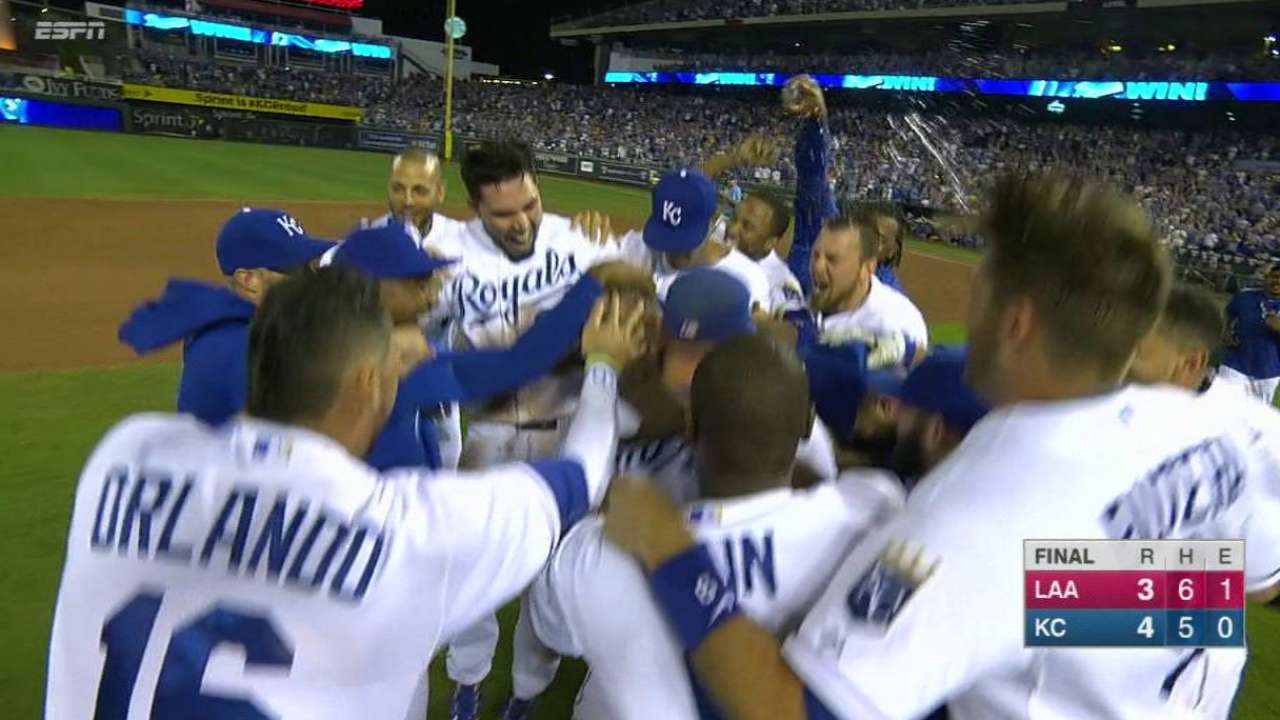 KANSAS CITY -- It seems as though everyone on the Royals' bench felt pretty good about Kendrys Morales' chances of coming through in the bottom of the 10th inning with the winning run on second base and two outs.
Even Morales did.
"I feel good in those types of situations," Morales said through interpreter Pedro Grifol following the Royals' 4-3 walk-off win on Sunday night. "I'm in full concentration in those situations."
With Ben Zobrist on second and two outs, Morales lined a single to left-center field, scoring Zobrist with ease.
"I was just looking to make hard contact, and thank God it came out OK," Morales said.
Catcher Salvador Perez, who had been ejected earlier for arguing balls and strikes, believes Morales comes through in those situations because of his preparation.
"A guy like him, really smart," Perez said. "Every time he misses an at-bat, he comes into the cage, looks at what the pitcher throws, and he gets ready for the next at-bat."
Manager Ned Yost has seen it all season.
"He's been a huge, huge piece to our offense," Yost said. "His production has been really, really valuable. He's a clutch hitter. A smart hitter. Very good from both sides of the plate. He knows situations, and he's really smart. He wasn't trying to do too much there. He wasn't trying to hit the gap. Didn't need to."
But as impressed as Yost was with Morales, he also mentioned the great at-bat by backup catcher Drew Butera in the ninth. Butera drew a walk to load the bases and set up Alex Rios' game-tying sacrifice fly.
"The big at-bat for me was Butera," Yost said. "He plays sparingly, and he works the count and gets on.
"Then you worry with the bases loaded that you might get the double-play grounder. But Alex is a fly-ball hitter. I had a lot of confidence in him getting the job done."
Jeffrey Flanagan is a reporter for MLB.com. Follow him on Twitter at @FlannyMLB. This story was not subject to the approval of Major League Baseball or its clubs.