MLB.com Columnist
Barry M. Bloom
Two No. 1 starting pitchers are better than one
Mattingly refuses to give Kershaw, Greinke top spot -- and they're fine with that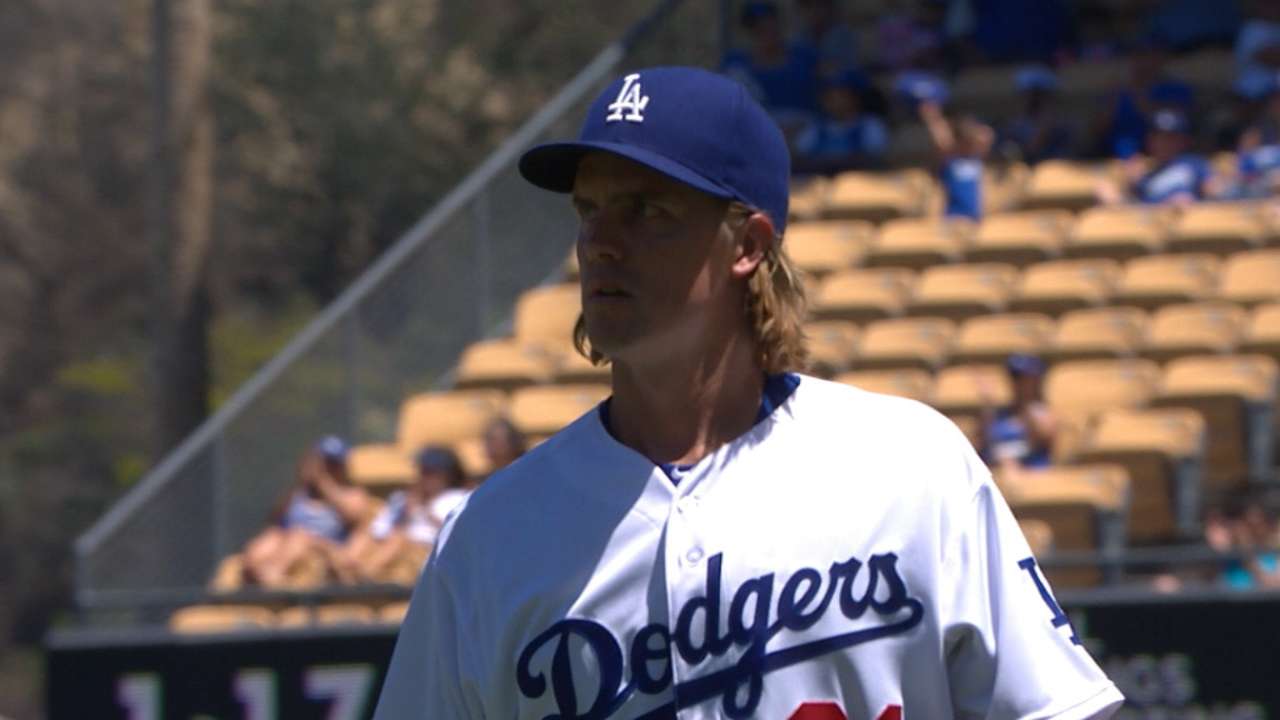 LOS ANGELES -- All throughout the Dodgers' four-game series against the Reds, those reporters regularly covering the team have been kidding around with manager Don Mattingly, who won't designate Clayton Kershaw or Zack Greinke as the team's No. 1 starter.
Greinke pretty definitively answered the question himself after defeating the Reds, 2-1, and hitting the game-winning homer on Sunday at Dodger Stadium as his team won for the third time in those four games.
"Clayton is No. 1. He's the best in the game. He's amazing," Greinke said.
Well, then, Greinke is a pretty amazing No. 2. For the 17th time in this season's 24 starts, Greinke held the opposition to one run or none. He's given up no runs nine times, with six of those scoreless outings coming in a row, plus he tossed a complete game in June. Those are the reasons why Greinke owns an incredibly minuscule Major League-best 1.58 ERA.
Greinke's 0.86 WHIP and the .193 batting average opponents have against him are also the best in the Majors. And oh yeah, he's 13-2. Even at a time when those who value analytics think the win for a starter is a pretty insignificant stat, that figure speaks for itself.
So does this one: The 67-51 first-place Dodgers are 30-17 this season in games that Kershaw and Greinke start, 37-34 when they don't.
That's why Mattingly said after the game that he, Andrew Friedman and the rest of Los Angeles' baseball ops brain trust are trying to figure out how to optimize the remainder of the starts made by the duo if they remain healthy.
There are seven weeks to go and the Dodgers are running just 2 1/2 games ahead of the defending World Series-winning Giants in the National League West. With 44 games left, that key duo can combine to make a maximum 18 more starts, or nine each.
Last season, Greinke and Kershaw were 8-0 with a 1.64 ERA against San Francisco, and Los Angeles won the division by six games. During the second half of that season, Mattingly found a way to start that pair in every series they played against the Giants.
This year will be no different. The rivals play each other seven more times, three of them at Dodger Stadium from Aug. 31-Sept. 2 and a four-game set at AT&T Park from Sept. 28-Oct. 1 during the season's final week.
"We're not only looking at that for those games, but more looking into how do we maximize those starts?" Mattingly said. "With the off-days, that's one of those things we've been talking about, and we'll make some decisions here."
What Mattingly is talking about is three off-days in the next eight days, with two of them sandwiched around a two-game Interleague series this week at Oakland on Tuesday and Wednesday.
It's probable that the Dodgers will go to a four-man rotation during that period so Greinke and Kershaw can pitch on their normal cycle, every fifth day.
"We're running different scenarios," Mattingly said. "And that's one of the things we've been going over."
Kershaw is slated for Tuesday night against the A's, and that would mean Greinke could go as early as next Saturday night in Houston, with either Mat Latos, Alex Wood or Brett Anderson sitting out a start.
"Maybe, I don't know what they're planning," Greinke said. "It's possible."
The season is beginning to dwindle to a precious few weeks and every game has added significance, with division titles in the NL West, NL East and two Wild Card spots still up for grabs. Even the once-seemingly-invincible Cardinals lead the Pirates by just five games in the NL Central.
While Greinke was holding the Reds to a run on six hits with a walk in eight strikeouts during seven innings in 98-degree heat on Sunday, throwing a very taxing 107 pitches, up north, Madison Bumgarner did even better.
In a 5-0 win for the Giants that ended a four-game sweep of the Nationals, Bumgarner threw a complete-game three-hitter, walked one and struck out 14, all on only 112 pitches. He also hit a towering homer, his fourth of the season.
Bumgarner's record went to 14-6 with a 2.98 ERA, but his numbers are not in the same stratosphere this season as Greinke's. But unlike Kershaw and Greinke, Bumgarner has been a major component of a team that has won the World Series three times in the past five years. He's 4-0 with a save and an 0.25 ERA (one earned run) in five World Series games, four starts. Neither Greinke nor Kershaw have pitched in the World Series.
Mattingly, advised of Bumgarner's outing on Sunday, responded in a media conference setting: "He stinks."
When told that the remark was on the record, Mattingly added: "I said it with a smile."
The point is, there's no smiling around the Big Blue on the days when Kershaw and Greinke aren't on the mound. Kershaw is 10-6 with a 2.39 ERA and league-leading 205 strikeouts, this following last year's 21-3, 1.77 ERA and 239 whiffs. He won the NL MVP Award and his third NL Cy Young Award for that regular-season performance.
It's no wonder Mattingly is loathe to tab either Kershaw or Greinke as his No. 1 starter, although as Greinke pointed out, the answer is obvious.
"Greinke today is my No. 1 starter," Mattingly said before the game. "And my No. 1 starter is going on Tuesday and my No. 1 is going on Wednesday, too."
Afterward, Kershaw was told about the light-hearted kerfuffle. Asked if he cared who was considered the Dodgers' No. 1 starter, Kershaw said: "Nope. Is that it?'
Yes, at least for now.
Barry M. Bloom is a national reporter for MLB.com and writes an MLBlog, Boomskie on Baseball. Follow @boomskie on Twitter. This story was not subject to the approval of Major League Baseball or its clubs.