McKenry makes Padres pay after intentional walk
After LeMahieu gets free pass, Rockies catcher hits three-run double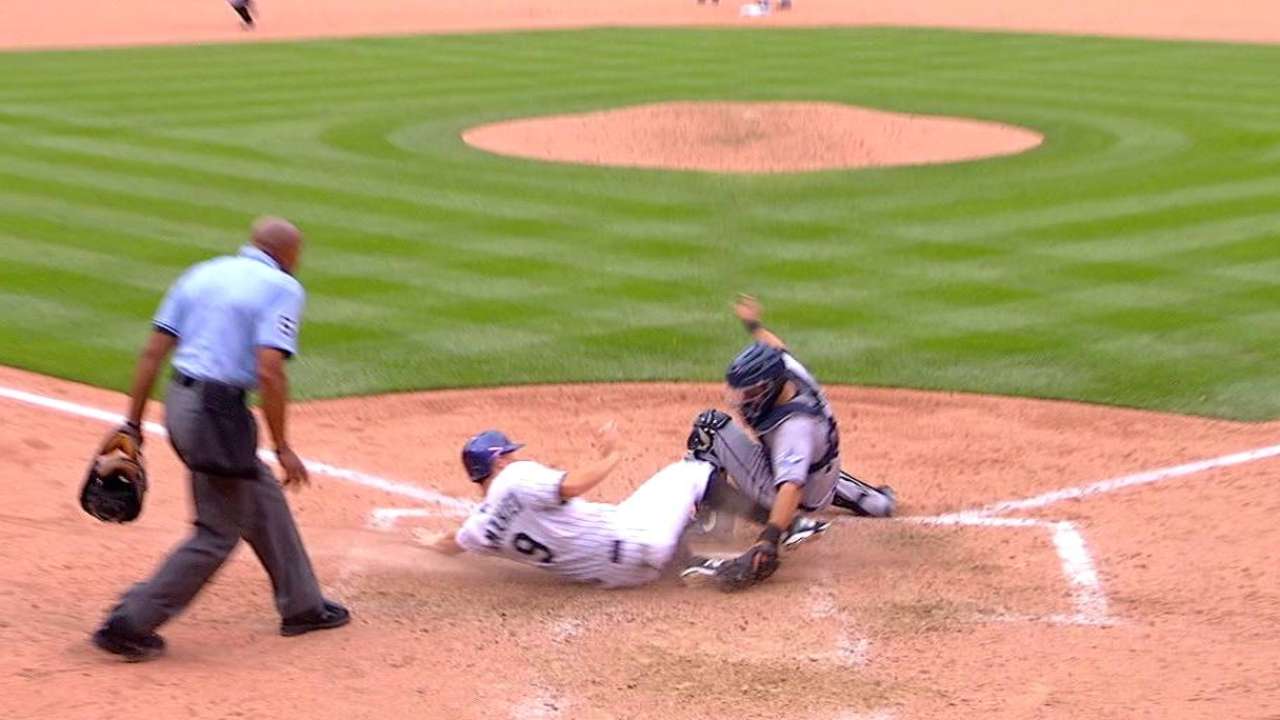 DENVER -- With two runners on late in a one-run game, the Padres wanted no part of DJ LeMahieu. They issued the Rockies second baseman four wide ones and took their chances with Colorado's seventh-place hitter.
Michael McKenry quickly made San Diego pay.
On the first pitch after the intentional walk, McKenry delivered a bases-clearing double in the seventh off Padres starter Ian Kennedy, which handed the Rockies some breathing room in their 5-0 victory on Sunday afternoon at Coors Field.
"The biggest thing is just staying within yourself," McKenry said. "Kennedy had his best stuff today. He had four pitches. He was painting down and away, and I was just looking for a pitch to hit that I could drive."
San Diego should've never been in that situation. First baseman Derek Norris dropped Nolan Arenado's easy infield popup with two outs, cracking the door just enough for the Rockies to barge through.
Ben Paulsen followed with an opposite-field double. And after LeMahieu's walk, McKenry, who entered Sunday hitting .071 with two outs and runners in scoring position this season, one-hopped the wall in right.
With one swing, he equaled the number of RBIs he had this year from the seventh inning on, including extras.
"We talked about it a lot, especially here, when you get a fourth out in an inning, you've got to make teams pay," Rockies manager Walt Weiss said. "I think when you do that, it's demoralizing for the other club. It's a game-changer, so it's nice to see us take advantage of that."
In McKenry's eyes, his clutch hit carried dual meanings. Not only was it beneficial for an offense that hadn't produced much, but it also gave Chris Rusin a chance to finish off his eventual shutout.
"If it's a close situation, there's a good chance [Rockies setup man John Axford] comes in the game [for the eighth], especially in the heart of their order with a lot of righties," McKenry said. "So it was kind of both today."
Dargan Southard is an associate reporter for MLB.com. This story was not subject to the approval of Major League Baseball or its clubs.