Rasmussen's gutty inning highlighted by K of Papi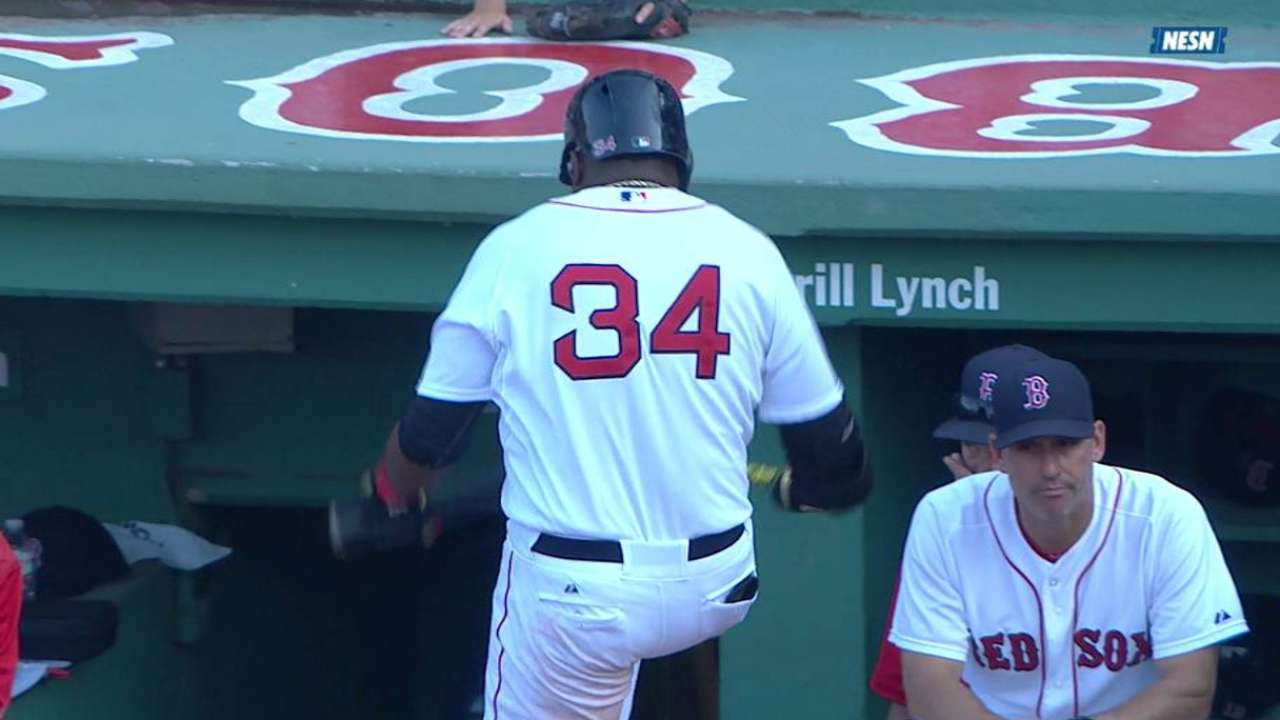 BOSTON -- Reliever Rob Rasmussen has only been with the Mariners a little over two weeks since being acquired from the Blue Jays in the Mark Lowe trade on July 31 and not all the moments have been happy highlights, as evidenced by his unwieldy 14.09 ERA.
But the 5-foot-9 lefty has proven big on several occasions, none more than a gutsy inning of relief that earned him his second career win in Sunday's 10-8, 12-inning victory over the Red Sox.
Rasmussen has turned into a workhorse in a bullpen that was heavily taxed by a three-game Fenway Park series in which Seattle surrendered 60 hits and 45 runs. With the starters combining to last just nine of the 28 innings pitched in the series, Seattle's relief crew was stretched thin.
Rasmussen, who has now pitched in eight of Seattle's 12 games since his arrival, threw 20 pitches in 1 1/3 innings in Friday's 15-1 loss and 24 in two-thirds of an inning in Saturday's 22-10 shellacking. Manager Lloyd McClendon intended to give the 26-year-old the day off Sunday, but wound up calling on him again with the game tied in the 11th.
Rasmussen walked the second batter he faced, Xander Bogaerts, then got into an epic duel with slugger David Ortiz. After falling behind 2-0, he got Ortiz to foul off five pitches, including three in a row with a full count, before striking him out on a low slider.
A disgusted Ortiz snapped his bat in half just before reaching the dugout, the sound of the splintering wood vibrating through Fenway.
"I heard it," said Rasmussen. "I heard it and I heard everyone go crazy. I want to watch it. Hopefully, it's like a Bo Jackson bat snap."
Rasmussen, who gave up six runs in an 11th-inning meltdown against the Rangers last week and four runs in Saturday's blowout, enjoyed the chance to relish a far better moment against Ortiz.
"I fell behind and couldn't really find my slider early in the at-bat," he said. "And I just said to myself, 'Have fun. Make it a battle. Make it you against him and try to beat him any way you can.' Luckily I executed a slider down enough for him to finally swing and miss."
McClendon appreciates the effort his overworked relievers have provided.
"I don't know how they did it, but they gutted it out and got it done," McClendon said. "[Rasmussen] has been pretty resilient. If we keep running him out there, he's not going to be that way. But he's done a nice job. I'll tell you what, he's not afraid."
Greg Johns is a reporter for MLB.com. Follow him on Twitter @GregJohnsMLB, read his Mariners Musings blog, and listen to his podcast. This story was not subject to the approval of Major League Baseball or its clubs.