Margin for error slim for Carrasco, Tribe arms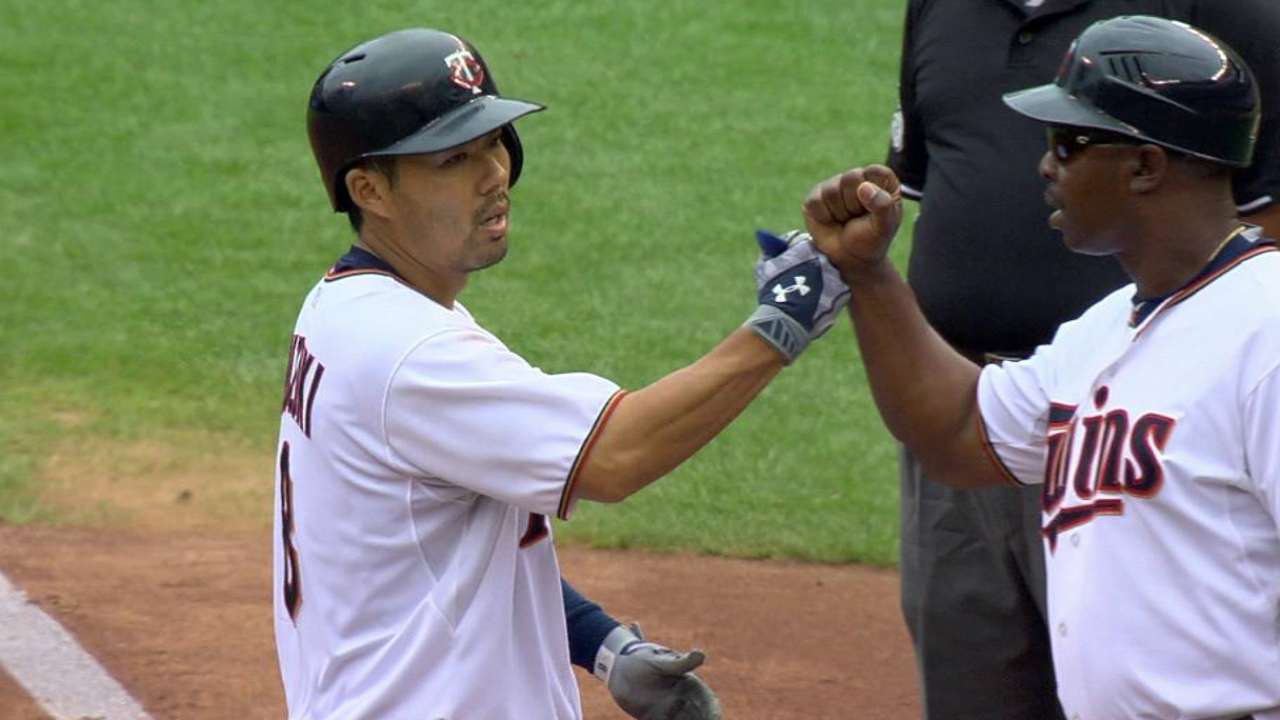 MINNEAPOLIS -- The baseball journeyed through the infield grass and up the middle, where Indians shortstop Francisco Lindor closed in on the sharp grounder. The rookie stretched and leaned, but the ball glanced off the edge of his glove and skipped into center field.
An inch or two difference and Lindor might have had an inning-ending groundout in the second inning on Sunday afternoon at Target Field. Instead, Eduardo Nunez was credited with a two-out double, the Twins took advantage with a two-run outburst and that was a wrap on an otherwise fine outing from Carlos Carrasco in Cleveland's 4-1 loss in Minnesota.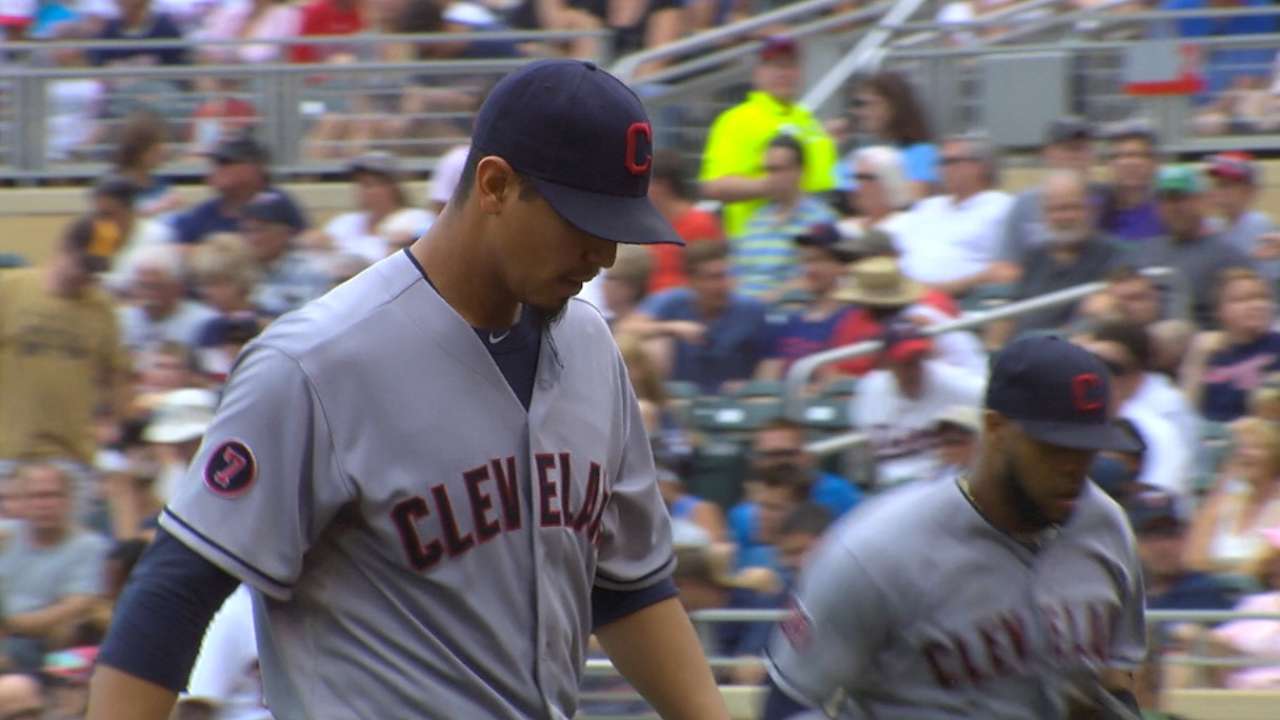 "It's a tough play," Indians manager Terry Francona said. "And, where it goes in center field, that's just luck of the draw."
Bad luck has been an all-too-familiar theme for the Tribe's rotation this year.
Cleveland's lineup roared to life earlier this week -- scoring 53 runs in a seven-game span that lasted through Friday -- but the offense has been the main culprit behind the team's last-place standing in the American League Central. The Indians' impressive rotation has been hung with a lot of no-decisions and hard-luck defeats over the past five months, and Sunday proved no different.
The starters have constantly had little to no margin for error.
Carrasco shrugged it off.
"You know what? I really don't care about that," Carrasco said. "I just care about giving an opportunity for the team to win the game, and going deep in the game, too."
Consider those boxes checked once again for the big right-hander. Carrasco logged seven innings and limited the Twins to a two-run single by Kurt Suzuki. Over his past four outings, Carrasco has turned in a tidy 1.36 ERA with a paltry .119 opponents' batting average. Over 33 innings in that span, the starter has 29 strikeouts and five walks. And, only one win.
"He did his job. We just weren't able to help him out," Indians utility man Ryan Raburn said. "Games like that, you need to at least get a few more runs and give him a chance to win. They scored a few late, but by then it was already too late anyway."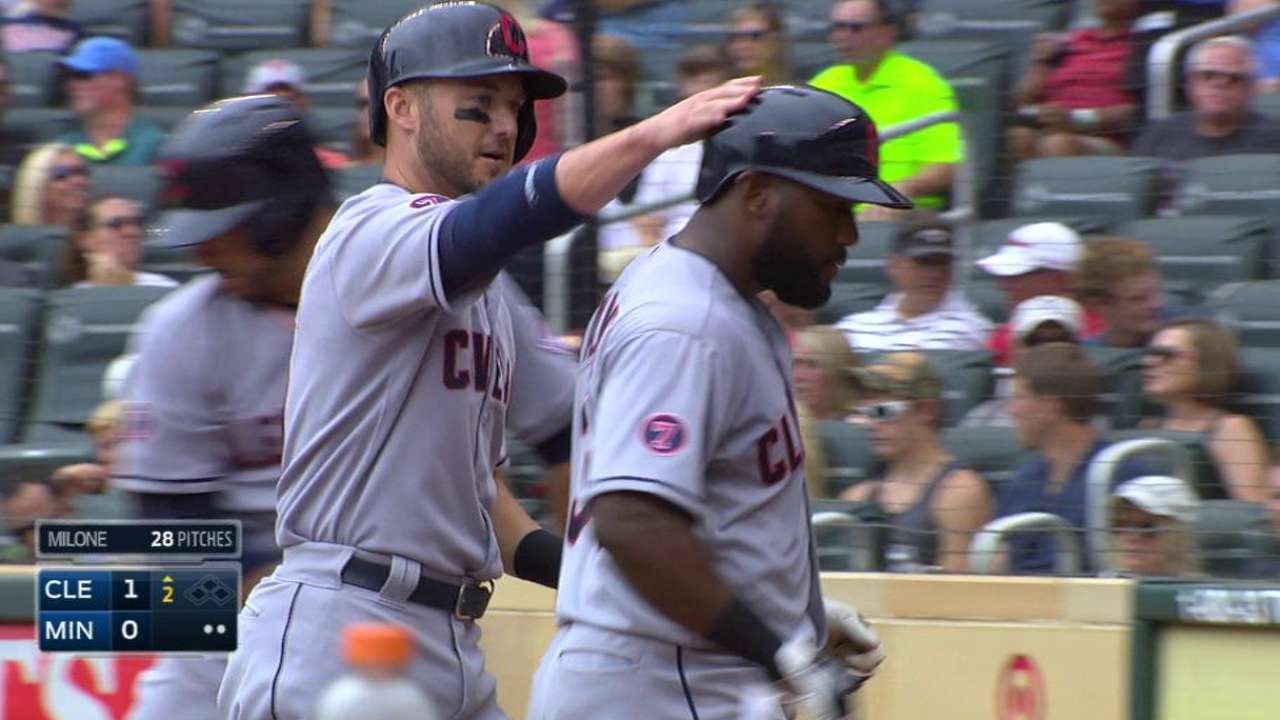 Entering Sunday, the Indians' run support average of 4.04 was the fourt-lowest rate in the AL. Corey Kluber has an 8-12 record largely due to that very problem. While he has had more support of late (39 runs scored by the offense in his past six starts), Kluber's first 19 outings included 13 in which the lineup produced no more than two runs. Danny Salazar has a 1.48 ERA in his last six turns, and only a 3-2 record in that stretch.
On Saturday, righty Josh Tomlin returned to the rotation, spun a quality start and picked up a loss.
"On a lot of days," Francona said, "we're saying, 'OK, [Carrasco] fought some things, but he gave up two and we had a great game.' We just struggled offensively today and, because of that, every time they score, it's so impactful."
And a grounder that nicks a glove is put under the microscope.
"He tried," Carrasco said of Lindor's effort. "He tried to make that play."
Jordan Bastian is a reporter for MLB.com. Read his blog, Major League Bastian, follow him on Twitter @MLBastian and listen to his podcast. This story was not subject to the approval of Major League Baseball or its clubs.