Jungmann bounces back, K's career-high nine
Rookie lowers ERA to 2.23 as Brewers complete season sweep of Phillies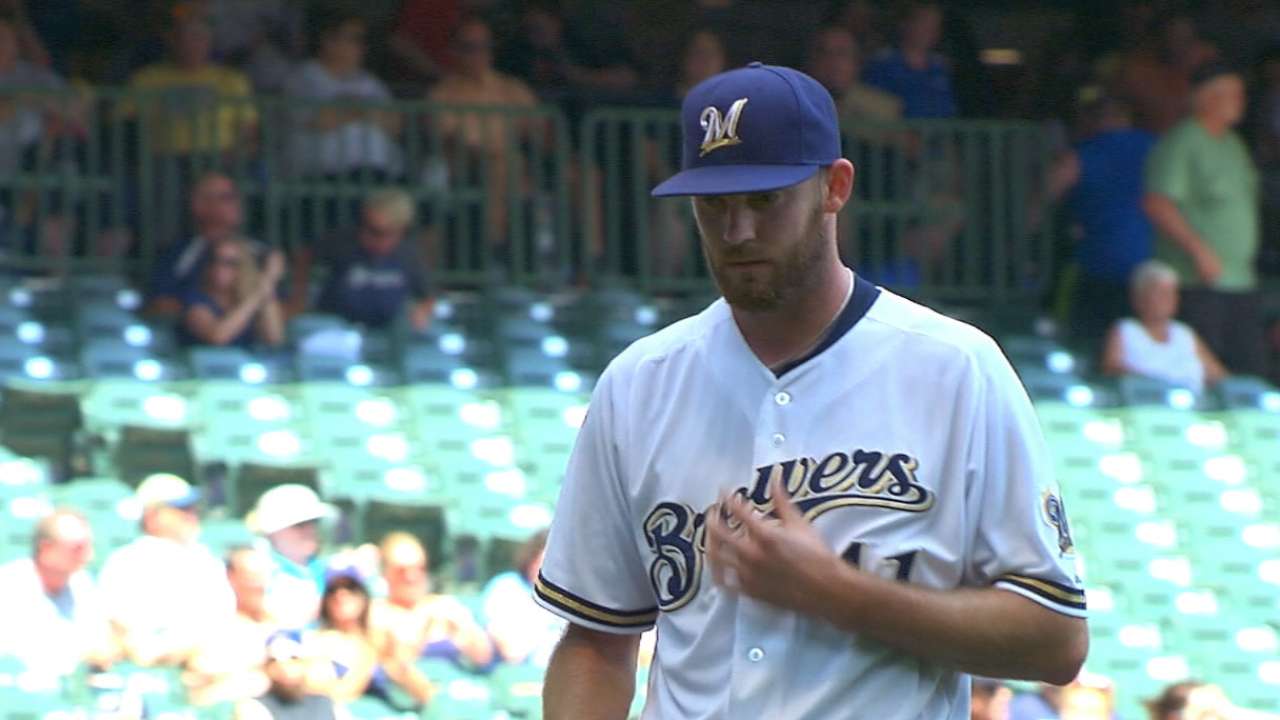 MILWAUKEE -- Taylor Jungmann experienced his first poor outing as a Major League pitcher on Tuesday against the Cubs, as the rookie wasn't able to make it out of the third inning. That didn't stop Brewers manager Craig Counsell from maintaining confidence in the young hurler.
Jungmann returned to form Sunday in Milwaukee's 6-1 win over the Phillies at Miller Park. The lanky right-hander struck out a career-high nine batters over 6 1/3 scoreless innings. Jungmann surrendered just three hits and two walks, and he appears to be back on track.
"I was confident he was going to bounce back," Counsell said. "There's going to be blips in the road, and he came back and pitched a really nice game."
"I'm a guy that after a good night's sleep, I'm over it," Jungmann said of the Chicago outing. "As a starter, you have to. You can't stew on stuff like that five days until your next start."
Jungmann struck out the side in the first inning on just 11 pitches and followed that up in the third by doing it again, this time on only 10 pitches. His go-to pitch on Sunday was the curveball, throwing it both as a get-ahead and put-away pitch. After his last start against the Cubs, Jungmann tweaked his mechanics on the breaking ball, which led to his success against the Phillies.
"The biggest thing is not only the strikeout pitch, but being able to throw it early in the count," Jungmann said of the breaking ball. "Getting ahead of guys with the breaking ball, where they have to think about that and not only first-pitch fastballs. I felt like I commanded it pretty well today."
Jungmann has now allowed two earned runs or fewer in 12 of his first 13 big league starts. He lowered his season ERA to 2.23 with Sunday's performance.
The 25-year-old continues to be a bright spot in a tough season for the Brewers. Jungmann, along with other young arms in Milwaukee's starting rotation, caught the eye of Phillies manager Pete Mackanin.
"You don't see many curveballs consistently like that," Mackanin said after his team was swept by the Brewers. "He had us fishing for it all day long. When we were looking for the fastball, he'd drop a hammer. I have to give him a lot of credit."
Brandon Curry is an associate reporter for MLB.com. This story was not subject to the approval of Major League Baseball or its clubs.