O's break out with 9-run 5th inning
After starting frame with four consecutive singles, Baltimore puts game out of reach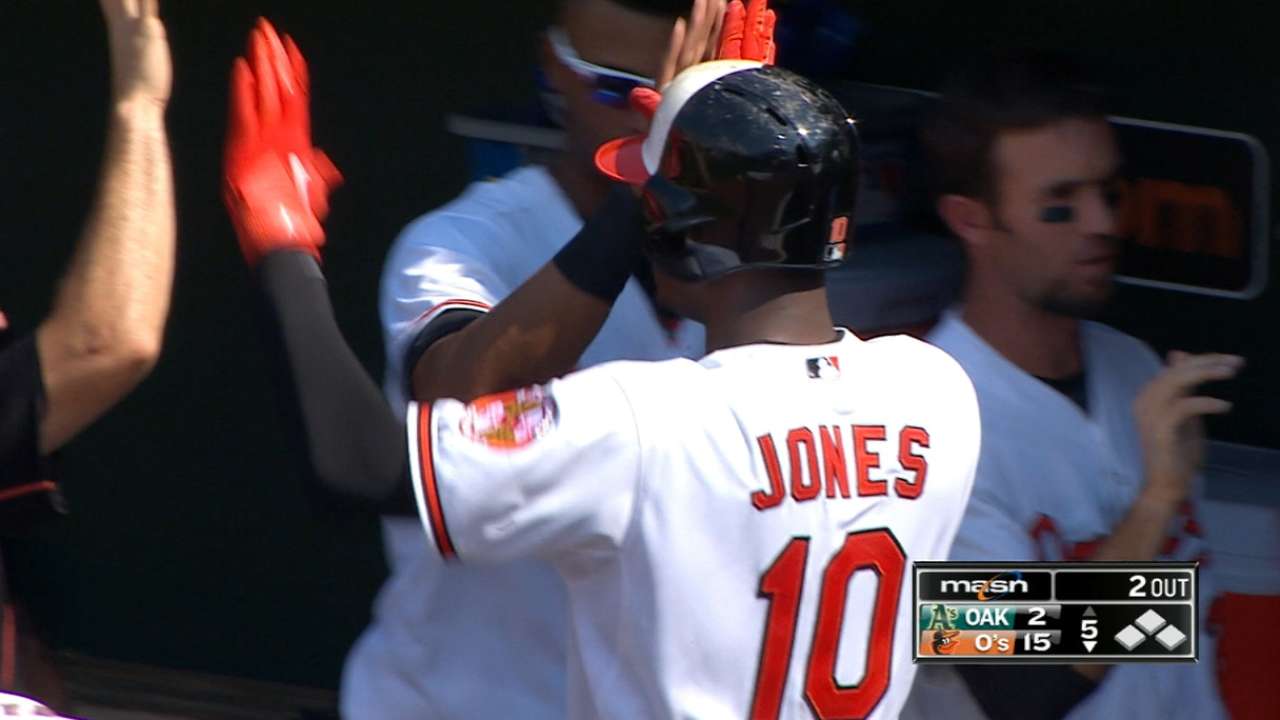 BALTIMORE -- It started like a typical inning. Gerardo Parra led off the fifth inning with a single, and Adam Jones followed with one of his own. But what happened next was anything but ordinary.
Chris Davis singled in a run, and then Jonathan Schoop roped a one-bagger, and the four consecutive singles were followed by even more offensive production on the way to a 10-hit, nine-run fifth inning in the Orioles' 18-2 rout of the A's on Sunday.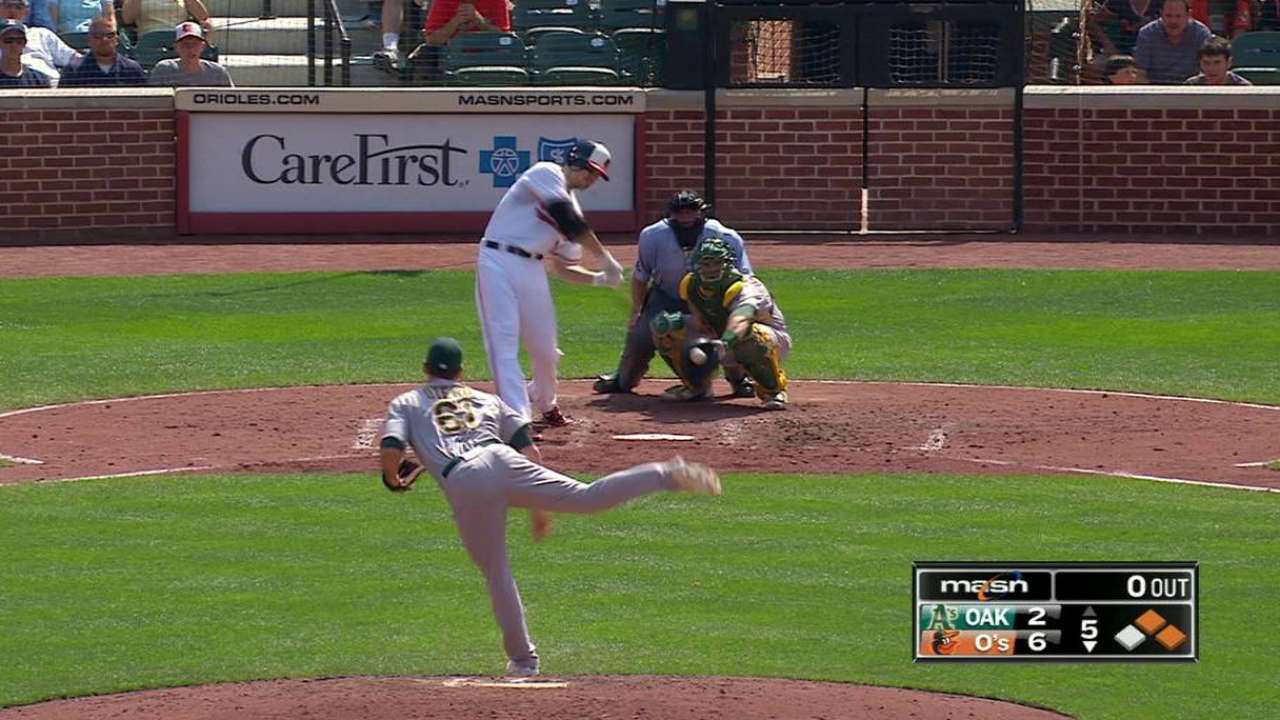 "It was more like follow the leader," said Jones, who homered twice on Sunday. "The guy ahead of us was having a good at-bat, and I had a good at-bat myself. And the guys behind me, and the guys behind me."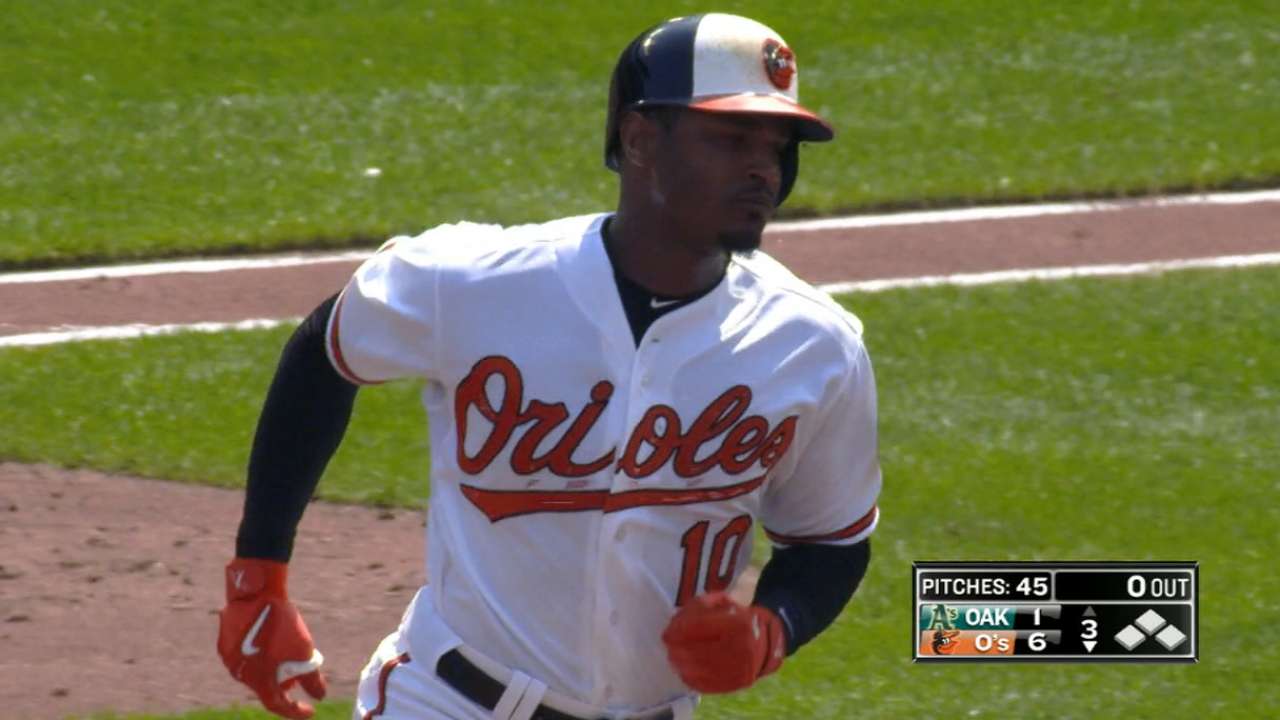 Baltimore sent 13 batters to the plate in the fifth while setting season highs for both hits and runs scored in an inning while nearly matching the franchise records of 11 hits and 12 runs scored in a single frame.
The Orioles were already enjoying a comfortable 6-2 lead heading into the fifth when the hit barrage began. Seven Orioles collected a hit in the inning, three had two hits and six Baltimore starters picked up an RBI.
The inning began with the four straight singles and following two consecutive outs, Baltimore strung together six straight hits for seven runs. Henry Urrutia, Manny Machado and Jones each produced two RBIs, with Jones' coming on his second home run of the day.
"I was happy because I never see my teammates score that many runs," Orioles starter Wei-Yin Chen said.
The fifth inning was just a microcosm of an enormous offensive display that matched a club record with 26 hits for the first time since Aug. 28, 1980, against the California Angels. Three Orioles either registered or matched career highs, with Parra matching a career-high five hits, Caleb Joseph logging a career-high four RBIs and Steve Clevenger recording a career-high four hits.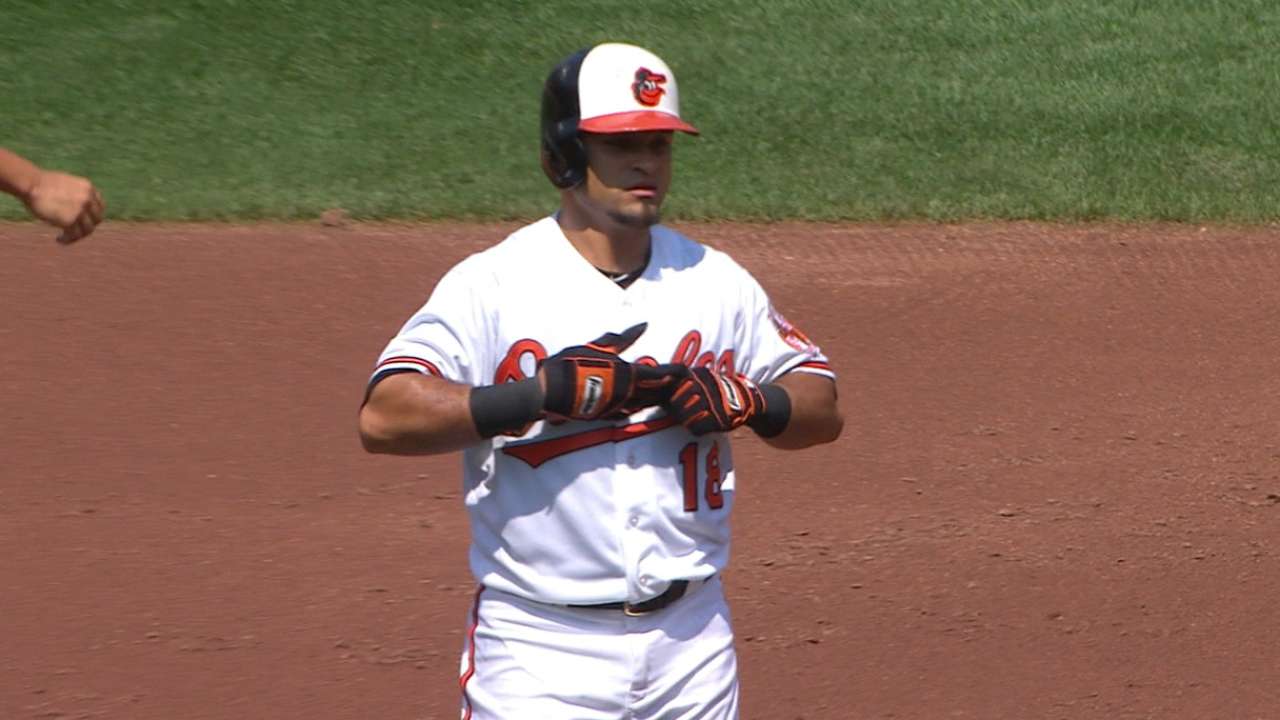 According to STATS, LLC., it was the first time Baltimore had 10 or more hits in an inning since April 11, 2002, against Tampa Bay. Every Orioles starter collected at least two hits except J.J. Hardy, all of which comes four days after Baltimore was no-hit in Seattle.
"There was a lot of guys that were [ticked off] with what happened, so to come out, even if it was a couple days after, this club is capable of putting up games like that," Joseph said after his 3-for-4 day. "We've got a lot of good talent on this team, especially after two walk-off wins. It's easy to win two in a row and come out in a day game and come out flat and just kind of go through the motions. But not with this team, especially in the race, in the hunt, like we are. This team is full of fire, and you know we're not giving up."
Connor Smolensky is an associate reporter for MLB.com. This story was not subject to the approval of Major League Baseball or its clubs.