Position player Davis pitches scoreless 8th
Struggling A's call on first baseman, who notches first career strikeout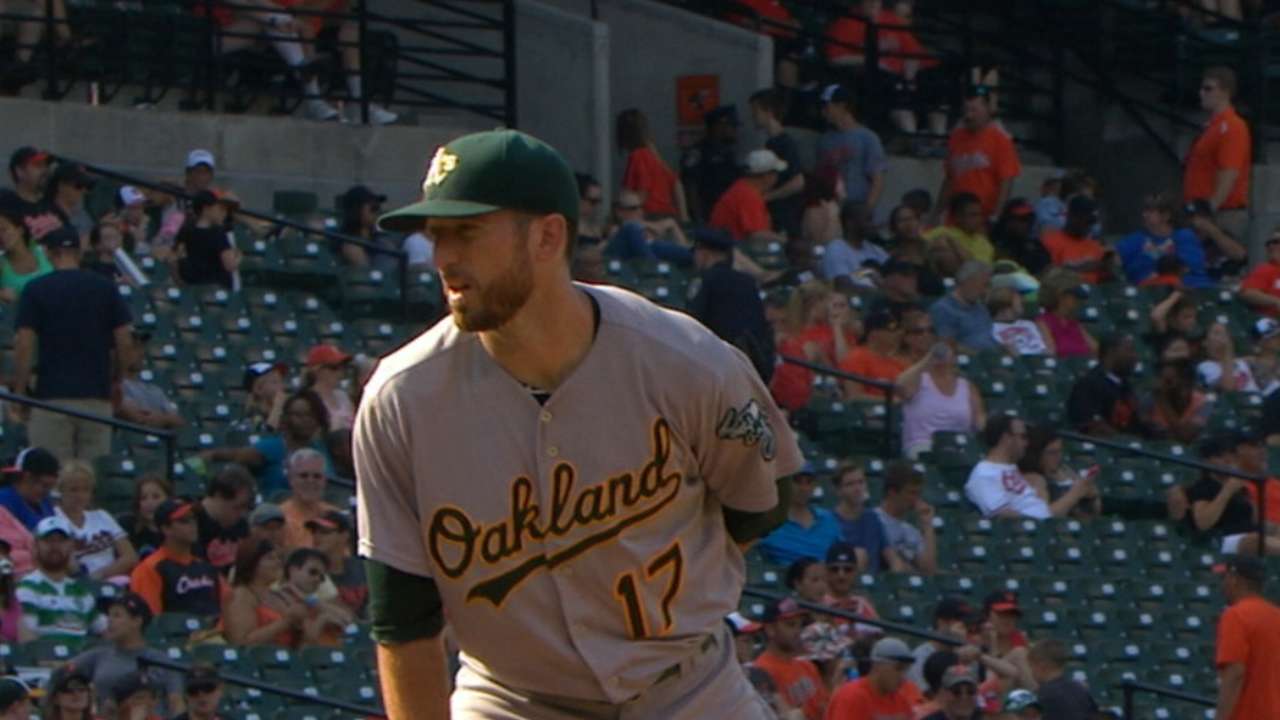 BALTIMORE -- First baseman Ike Davis took the mound in the eighth inning at Camden Yards on Sunday afternoon, but with little enthusiasm amid a 16-run deficit to an Orioles club that won, 18-2, to hand the A's their sixth straight loss.
It was the second time this season Davis has toed the rubber for the A's, his last outing -- a perfect inning in Anaheim in April -- culminating in a viewing party in the clubhouse, where Davis and teammates replayed video of his first career pitching performance.
On Sunday, the A's instead spent postgame in a team meeting with manager Bob Melvin.
"I didn't want to be out there," Davis said. "It was a bad day for us, but we're trying to save some guys in our 'pen a little bit so we can have some arms for tomorrow."
"You certainly need that at times," Melvin said. "You don't want to see it too often, and if anybody designated-pitcher-wise has the ability to do that, it's him. Usually lightens up the mood a little bit after what is a tough game. Maybe not so much today, but he certainly did his job."
Davis, the son of former Major League pitcher Ron Davis, needed 17 pitches to get through a scoreless eighth inning, topping out at 87 mph.
"It was OK," said Davis, who often pitched at Arizona State University. "I threw a lot more offspeed today. I don't know if I wasn't into it as much as I was or not concentrating enough, but my sinker wasn't as good. I had to start throwing four-seams and sliders."
Davis allowed one hit, a Jimmy Paredes one-out double, and walked his next batter on four pitches, Orioles relief pitcher Jason Garcia, before striking out Jonathan Schoop and getting Steve Clevenger to fly out to end the inning.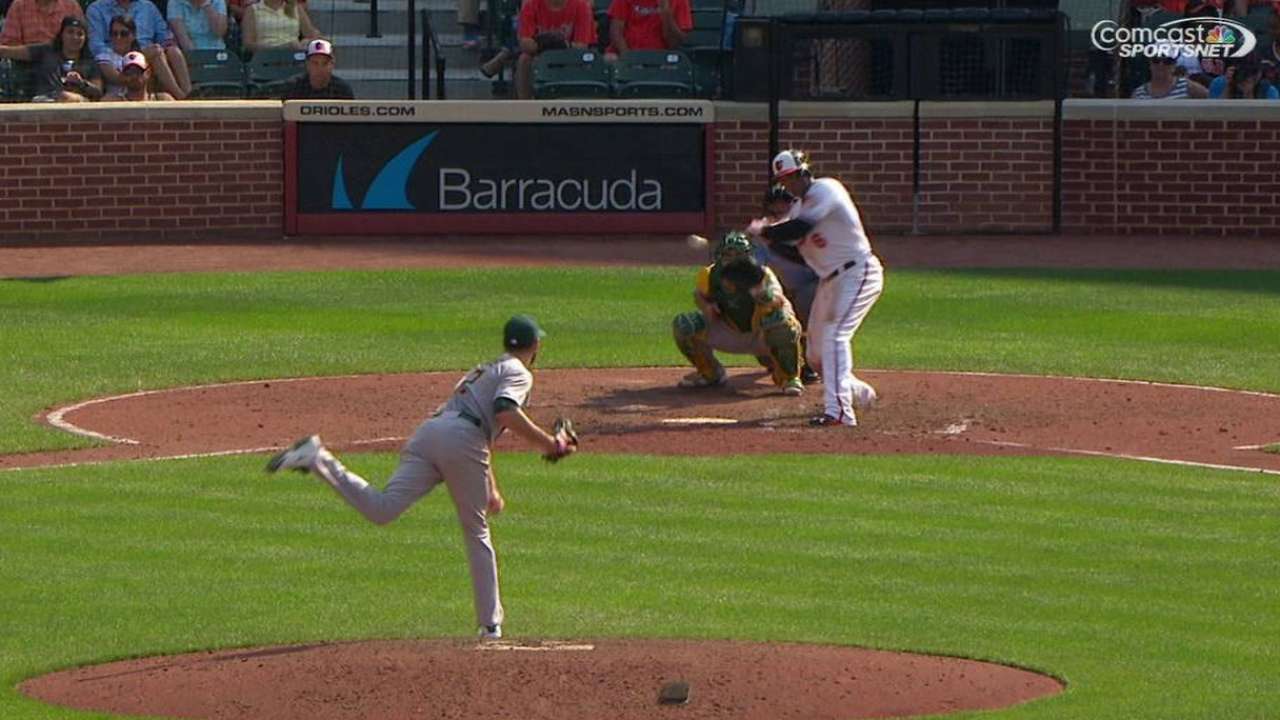 Of Garcia, who was instructed by Baltimore manager Buck Showalter not to swing the bat, Davis said, "I tried to throw strikes, I just couldn't do it. I don't know what happened."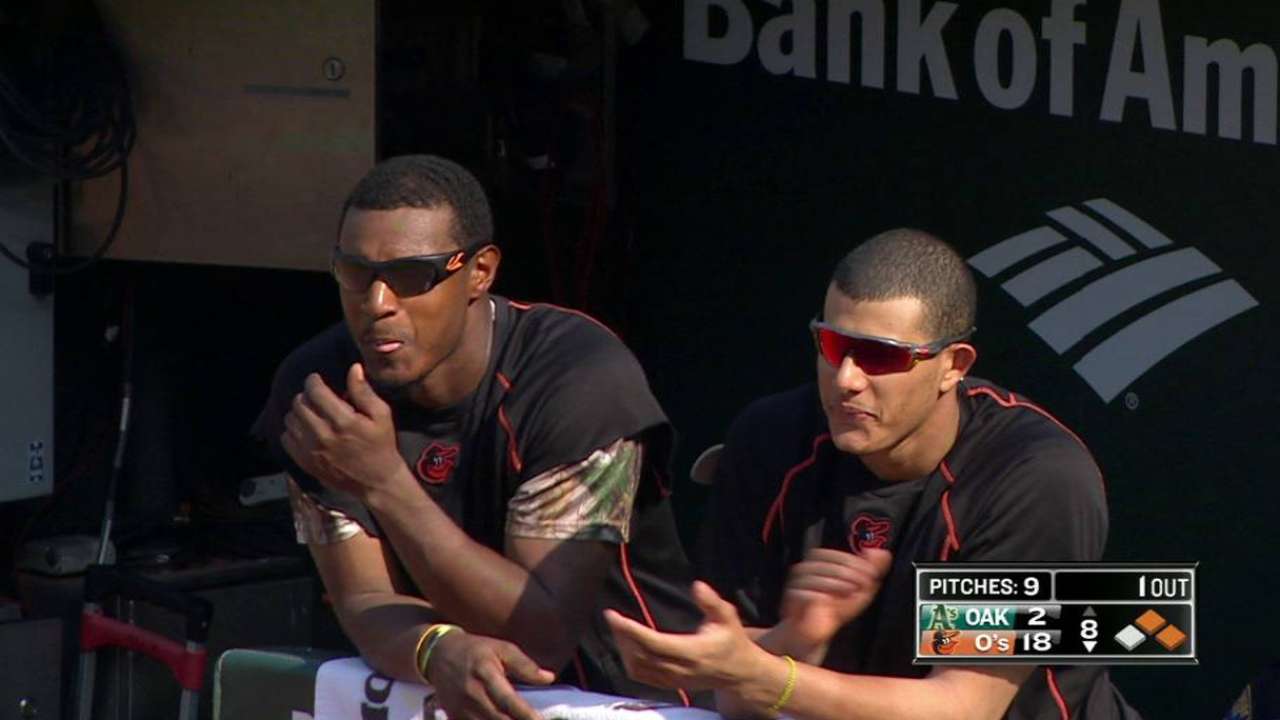 According to Elias, the last time an American League position player faced an AL pitcher batting was on July 19, 1987, when the Yankees' Rick Cerone pitched to Bobby Witt of the Rangers.
Jane Lee is a reporter for MLB.com. This story was not subject to the approval of Major League Baseball or its clubs.