Pirates show NL Central's mettle on road trip
Bucs tough against leaders, but only 21-29 in their own division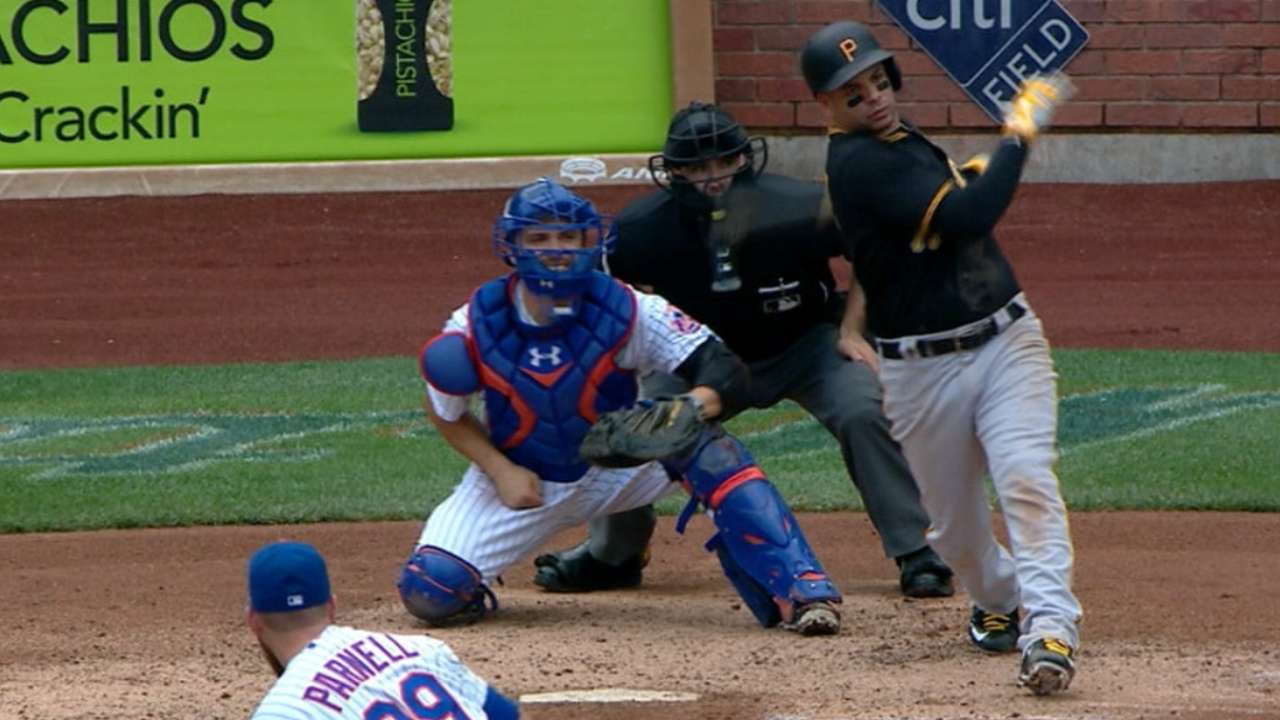 NEW YORK -- When the Pirates entered the gauntlet a week-and-a-half ago, there was speculation how well they would come out on the other side. They were looking at consecutive series against all three National League division leaders, so some looked away in fright.
Well, the gauntlet ran out on Sunday and, following the series-sweeping 8-1 win over the Mets at Citi Field, the Bucs head home a 7-2 record through that stretch.
"It doesn't matter who we play. We're capable of competing with anybody out there," Andrew McCutchen said. "We're a good team. We don't have one of the better records in baseball for no reason."
At 69-46, the Bucs in fact have the third-best record in baseball, which brings to mind something people are always saying, that "Baseball is designed to break your heart." But this probably isn't what they mean: Two of the NL's far-and-away best three teams are bound to go home in early October with cracked hearts.
Yes, we are talking NL Central, which earned more props through the Pirates' weekend performance here. A New York team with still a commanding East Division lead now is 3-17 against Central kingpins St. Louis, Pittsburgh and Chicago.
Two of those kingpins, each on pace for between 94 and 104 wins, must have a short postseason shelf life. And one of those, if the current NL Wild Card leaders board holds, will have to go home after one game.
"That just puts even more premium on winning the division," manager Clint Hurdle said after the Bucs actually gained a game on the Cardinals, inching within five lengths of their lead.
The Mets aren't the only ones unable to beat NL Central teams. The Bucs now are 21-8 against the East, 14-2 against the West, 13-7 against the American League -- and 21-29 in their own division.
"There are a lot of ways to cut that up," Hurdle said of that statistical oddity, acknowledging that the relative strength of NL Central teams is "definitely one way to look at it. But we also have had some challenges within our division, and it's an area we need to get better at."
The New York media, still the nation's tastemakers, are about to start spreading the NL Central gospel. Matt Harvey's start for the Mets on Sunday brought the press heavyweights to Citi Field. Instead, they saw another example of the Central's strength.
"That shouldn't be a surprise to anybody by now," McCutchen said. "This division's been pretty good the last couple of years."
It should be a pretty gripping stretch drive. After two more weeks of interdivisional play, the Pirates will play 25 of their last 32 games against NL Central teams. MLB's prime.
"We'll have to beat the best to get to where we're going," Neil Walker said.
Hurdle is all for that, saying, "The better the competition, the better for us, I believe."
Tom Singer is a reporter for MLB.com and writes an MLBlog Change for a Nickel. He can also be found on Twitter @Tom_Singer and on his podcast. This story was not subject to the approval of Major League Baseball or its clubs.