Puig sees improved patience with new stance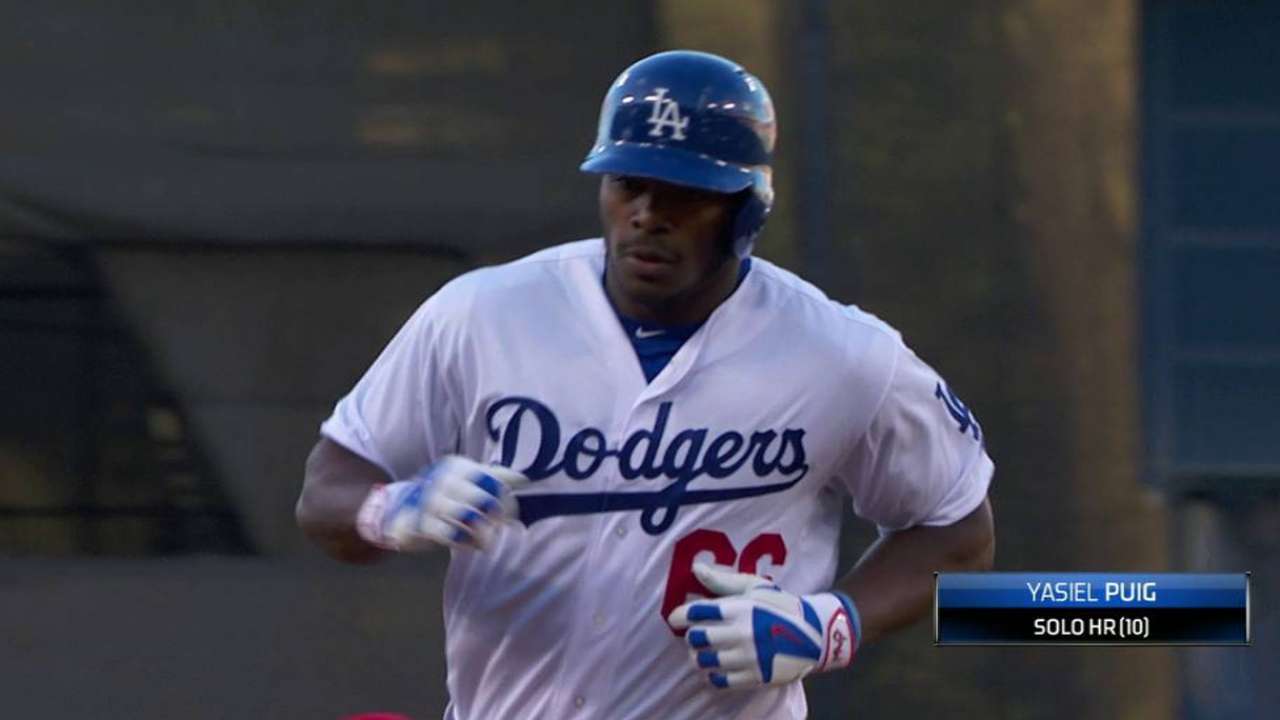 LOS ANGELES -- On Aug. 5 in Philadelphia, Yasiel Puig substantially opened his stance, moving his front foot well toward third base in order to see the ball better and pick better pitches to swing at.
Puig had been working with hitting coach Mark McGwire to get straightened out -- to cut down on extra uncoiling to the baseball resulting from his previously closed stance, which had been elongating his swing.
"What I've been working on in my stance is just to be able to pick better pitches," said Puig, through an interpreter on Tuesday after going 2-for-4 with a home run in a win over the Nationals. "Basically, what I've been working on, in changing that, hopefully I will able to connect better based on my stance."
In the 11 games since the noticeable opening-up of Puig's front foot, he's shown improved plate discipline and pitch selection, chasing pitches much less often.
From Aug. 5 and entering Sunday, Puig had swung at only 29 of the 101 offerings he'd seen outside of the strike zone, per Baseball Savant's PITCHf/x data -- a chase rate of 28.7 percent. That's even lower than his chase rate from his hottest stretch of the year. From Opening Day through June 13, when Puig chased 30.2 percent of pitches out of the zone, he hit a season-high .379.
In the 42 games between Puig's season-high batting average and his adjusted batting stance -- from June 14 through Aug. 4 -- Puig hit just .189 while chasing 40.1 percent of pitches outside the strike zone.
In Saturday's game, Puig went 2-for-3 with a walk, opposite-field line drive single, and a home run deep to right-center field -- the culmination of a patient at-bat where Puig worked the count to 3-1, took a called strike, then got his pitch, a hanging changeup, on 3-2. Puig swung just once at a pitch out of the strike zone on Saturday, on 12 such offerings.
"To me, mechanically, he looks a lot better," manager Don Mattingly said on Sunday. "Just watching his BP yesterday and kind of keeping an eye on him -- not really being in there every day, but seeing the subtle changes of him being a little more open from the standpoint of that front foot, getting more square down into his legs. Just seems better-balanced."
David Adler is an associate reporter for MLB.com. Follow him on Twitter @_dadler. This story was not subject to the approval of Major League Baseball or its clubs.