Dickerson making steady progress in rehab
Outfielder remains patient as rib injury continues to heal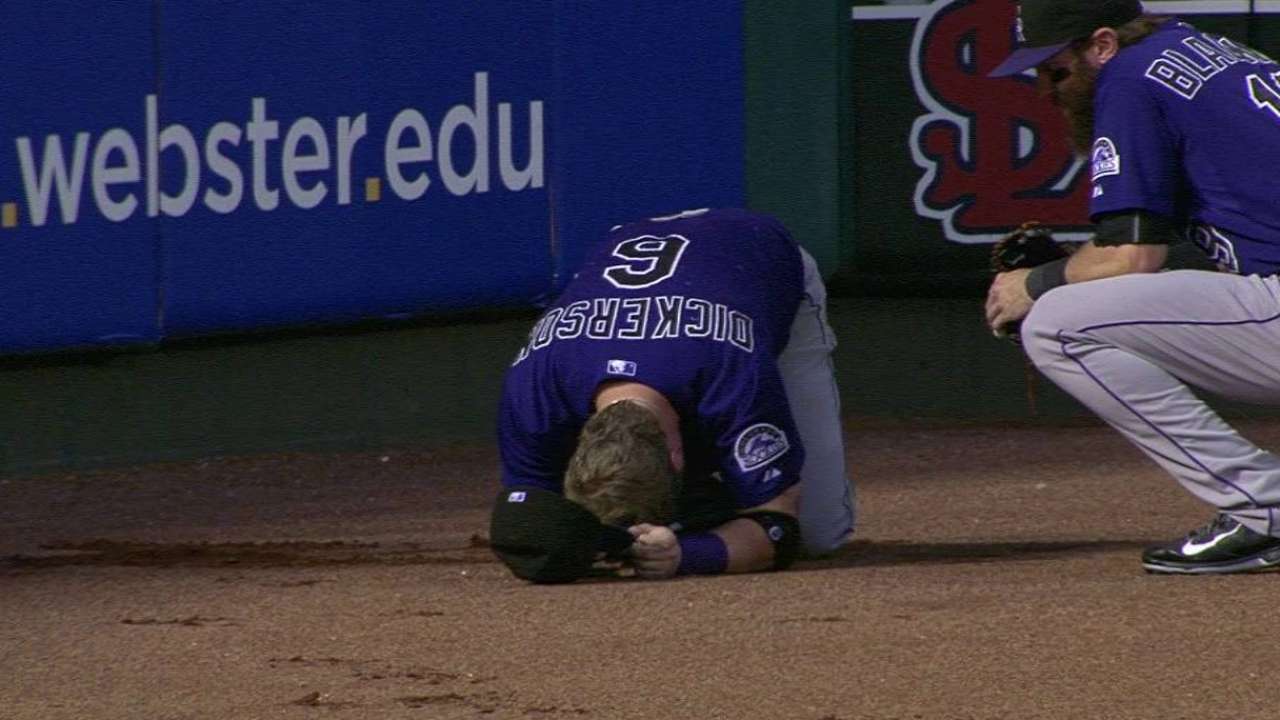 DENVER -- Slowly but surely, Rockies outfielder Corey Dickerson is making his way back from two non-displaced rib fractures sustained on July 30 in St. Louis.
"I just started pool work and rotational stuff -- moving, elliptical, just doing some conditioning stuff," Dickerson said on Sunday. "Nothing too crazy yet."
Dickerson's frustrating season has been well documented. This is his third lengthy DL stint this season, having missed extended time twice for plantar fasciitis in his left foot.
The foot is receiving a much-needed rest as Dickerson rehabs from the rib injury, but Rockies manager Walt Weiss still isn't sure if Dickerson will return this season.
"Guys that have been out for a long time, it's hard to pinpoint a date or even a general time that they might be back," Weiss said. "With Corey, it's ribs, and it takes time to heal."
Injury-free for most of his playing career, Dickerson's 2015 season has brought on new obstacles, but he hasn't lost sight of what's ahead. He's performed this year when healthy -- a .315 average in 43 games -- and that's stayed prevalent throughout his various rehab stints.
"I feel like I'm a mentally strong person, and I've got a really good family behind me," Dickerson said. "I love coming to the ballpark, and I know when I'm healthy, I'm going to succeed. Every time I got hurt this year or something was hurting, my motivation was to come back even better."
The return process is slow, but Dickerson has displayed the necessary patience.
"Corey is one of those guys that's not affected by the situation or circumstances," Weiss said. "He shows up the same way every day with a blue-collar attitude and with a lot of confidence.
"It's been a tough year for him, but that's not going to change anything about him. He'll work hard to get back on the field, and he'll be playing at a high level again."
Dargan Southard is an associate reporter for MLB.com. This story was not subject to the approval of Major League Baseball or its clubs.