Indians making sure Lindor limits lapses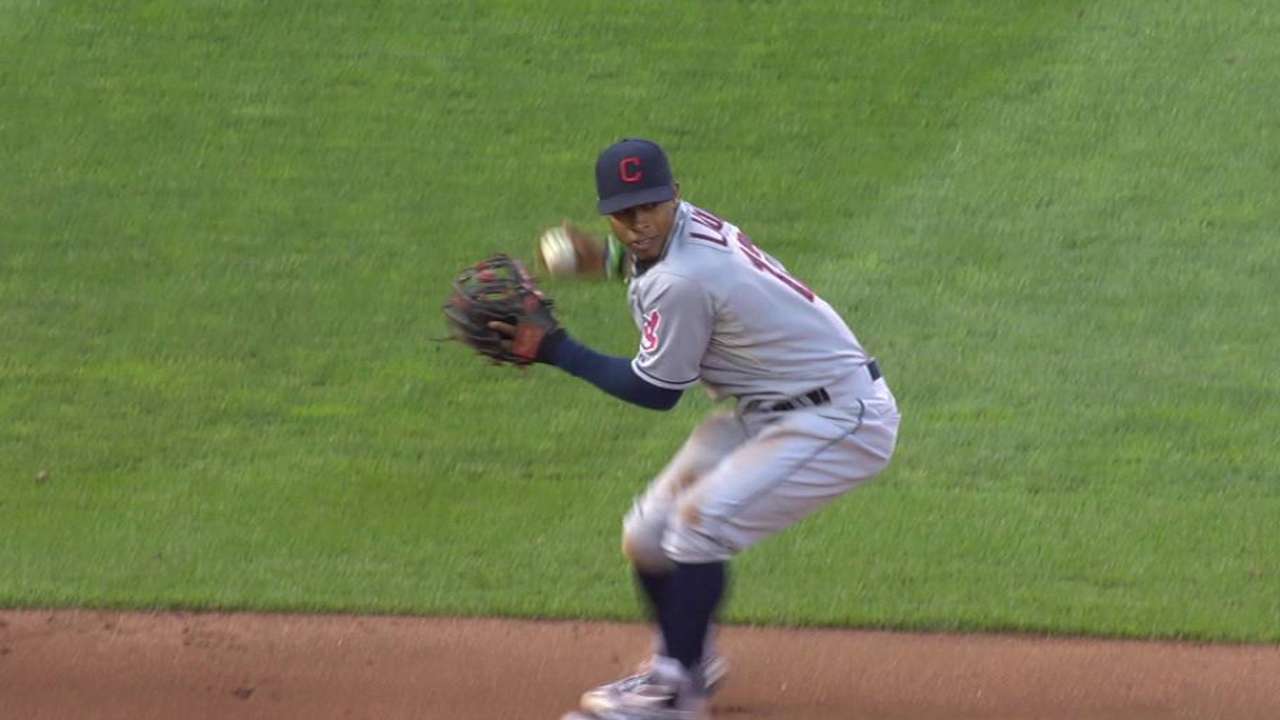 MINNEAPOLIS -- The Indians want to keep making sure that Francisco Lindor's youth does not get in the way of his potential. For all the flash that has been on display, there have also been lapses by the rookie shortstop that Cleveland has emphasized in an effort to get the most of Lindor's abilities.
"If you would've told me two months ago this is where he'd be, I'd say we're thrilled," Indians manager Terry Francona said on Sunday morning. "It's just, he has the ability to do more. That's what's exciting, but that's why we continue to stay on him."
Specifically, the Indians want to see the 21-year-old Lindor show more focus on routine defensive plays. The rookie has dazzled with highlight-reel gems over the past two months, but there have also been moments -- his throwing error in the fourth inning on Saturday, for example -- when Lindor has made head-scratching mistakes.
Saturday's misstep had its roots in Lindor's footwork, which was out of whack on what should have been a routine groundout off the bat of Joe Mauer. Then, two innings later, Lindor made an incredible play based on instincts, diving to his right to snare a sharp grounder from Trevor Plouffe to initiate a dynamic double play.
"Sometimes those kind of easier, routine plays, it's almost like they're too easy," said Indians third-base coach Mike Sarbaugh, who doubles as the team's infield instructor. "He'll lose his footwork. He'll decelerate his body a little bit and then his arm speed slows down and that's when you see that ball sail. He just needs to keep his feet moving. He's got the arm strength, everything is there, but it's just being consistent with his footwork.
"The thing I like about him is he won't back away. He won't put his head down. He'll let the pitcher know, 'Hey, that was my mistake.' And then he'll go out and make a play after that like he did [on the double play]. That's huge."
Statistically, Lindor has shown he is already among the game's elite defenders. His six Defensive Runs Saved heading into Sunday's action were the most this season by any American League shortstop, and the most in a single season by an Indians shortstop since Omar Vizquel had 10 in 2003.
"This kid is top shelf, man," Francona said. "This kid, he's what you're looking for, but we want to stay on him, because we want him to be better. When you have a guy that can make the play like he made on that double play, and he makes the routine play, too, or doesn't take the routine play off, that's when you've got a heck of a shortstop."
Jordan Bastian is a reporter for MLB.com. Read his blog, Major League Bastian, follow him on Twitter @MLBastian and listen to his podcast. This story was not subject to the approval of Major League Baseball or its clubs.