Panda, Hanley out of lineup, could be back soon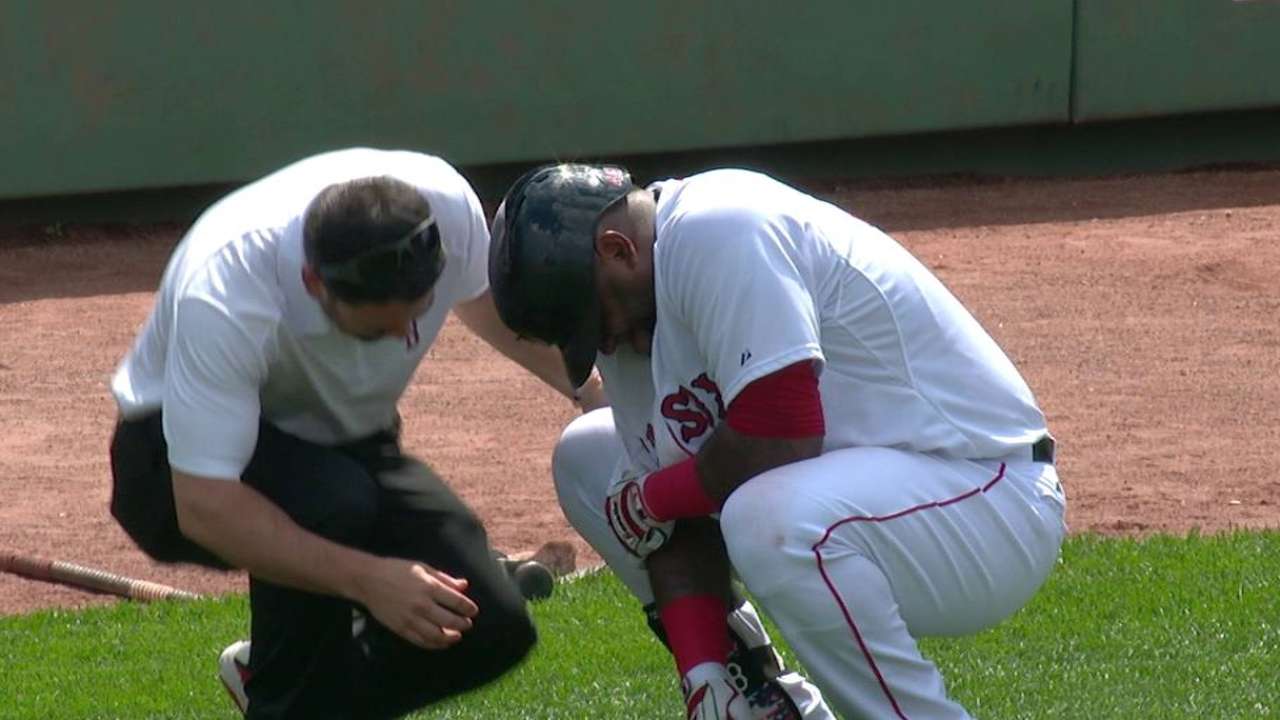 BOSTON -- The two biggest Red Sox acquisitions of the offseason were not in the lineup for Sunday's game against the Mariners, but both Hanley Ramirez and Pablo Sandoval could be on the field again in short order.
Ramirez, who fouled a pitch off his left foot on Aug. 7 in Detroit, has not played in nine days. However, the team does not appear inclined to place him on the 15-day disabled list, and interim manager Torey Lovullo believes his return is "close."
"He's improving every day, getting closer," Lovullo said. "He's such a finely tuned athlete. I think that's the type of body we're dealing with here. When something was a little off, it takes a little time to make sure that everything is OK before he gets back in there. He's going to run through a series of tests today indoors, much like he did yesterday. We're looking to get him outdoors tomorrow, test him a little bit more and see where he's at."
Now that right fielder Rusney Catillo is back in the lineup after also hurting his foot on a foul tip, coupled with Jackie Bradley Jr. raking of late, Boston's urgency in getting the often-hobbled Ramirez back into the lineup has lessened. Ramirez, who signed a four-year, $88 million contract last offseason, has played in 97 of 116 games this season.
Sandoval is day to day with a sore elbow after Felix Hernandez pegged him with a fastball during Saturday's game. All signs point to the third baseman coming back sooner rather than later. Brock Holt filled in for Sandoval at the hot corner on Sunday, while Josh Rutledge played second base.
"Pablo came in today a little cranky with that elbow," Lovullo aid. "Everything was negative yesterday. All the tests that were done [came back] negative. So he's OK. But I think he's a little swollen. We took it out of his hands. We just thought, 'You know what, here's a guy that got hit pretty good, is dealing with a little bit of discomfort.' So instead of forcing him to get out there, we said, 'Take it day to day,' and we'll see where we're at tomorrow."
Even after the Red Sox recalled No. 14 prospect Garin Cecchini from Triple-A Pawtucket on Saturday, the injuries leave the Red Sox with a short bench on Sunday. With right-hander Matt Barnes set to join the club for his start on Monday, Lovullo could find himself in a difficult position, especially following Saturday's lengthy 22-10 beat down of Seattle.
"At times it can be challenging. When you get a score like that, you're looking to get some guys off the bench, get them some at-bats, get some regular players off their feet. There's a combination of things there," Lovullo said. "It can be a little challenging."
Alec Shirkey is an associate reporter for MLB.com. This story was not subject to the approval of Major League Baseball or its clubs.