Gyorko, Kemp, J. Upton all have eight-game hitting streaks
Trio has combined for 6 homers, 20 RBIs since Aug. 7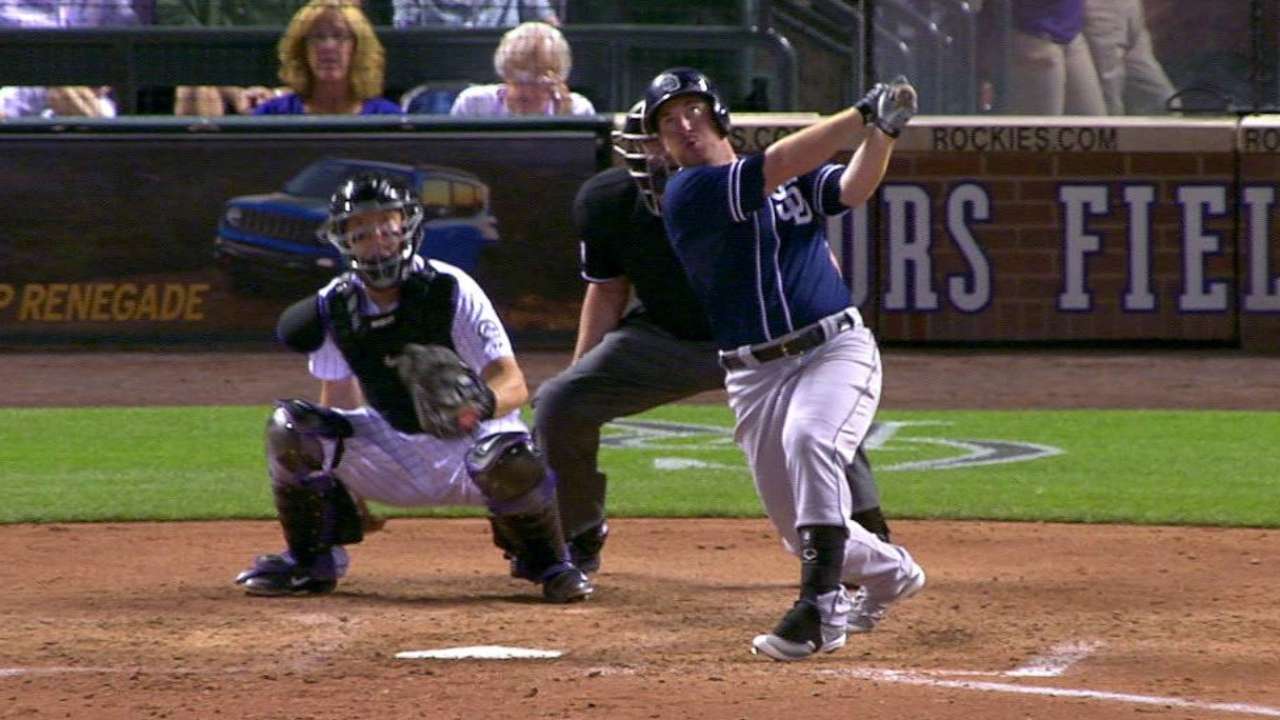 Bill Center, longtime sportswriter for U-T San Diego, is an employee of the Padres.
Hot teams need hot players and, right now, the Padres have three hitters with eight-game hitting streaks -- Jedd Gyorko, Matt Kemp and Justin Upton -- since Aug. 7.
Gyorko is 10-for-33 (.303, with a .545 slugging percentage) during his streak, with two doubles, two home runs, 11 RBIs and three runs scored. Going back a little farther, the second baseman has hit safely in 13 of his last 16 games, going 21-for-65 (.323) with three doubles, three homers, 16 RBIs and five runs scored to raise his average from .211 to .239.
Kemp, who has been hot since the end of June, is 12-for-32 (.375, with a .429 on-base percentage and .656 slugging percentage) during his eight-game hitting streak, with a double, a triple, two homers, nine RBIs and seven runs scored. The right fielder is hitting .300 with nine homers and 32 RBIs since June 25.
Left fielder Upton is 10-for-29 (.345, with a .486 on-base percentage, .690 slugging percentage) during his eight-game streak, with two doubles, a triple, two homers, seven RBIs and nine runs scored.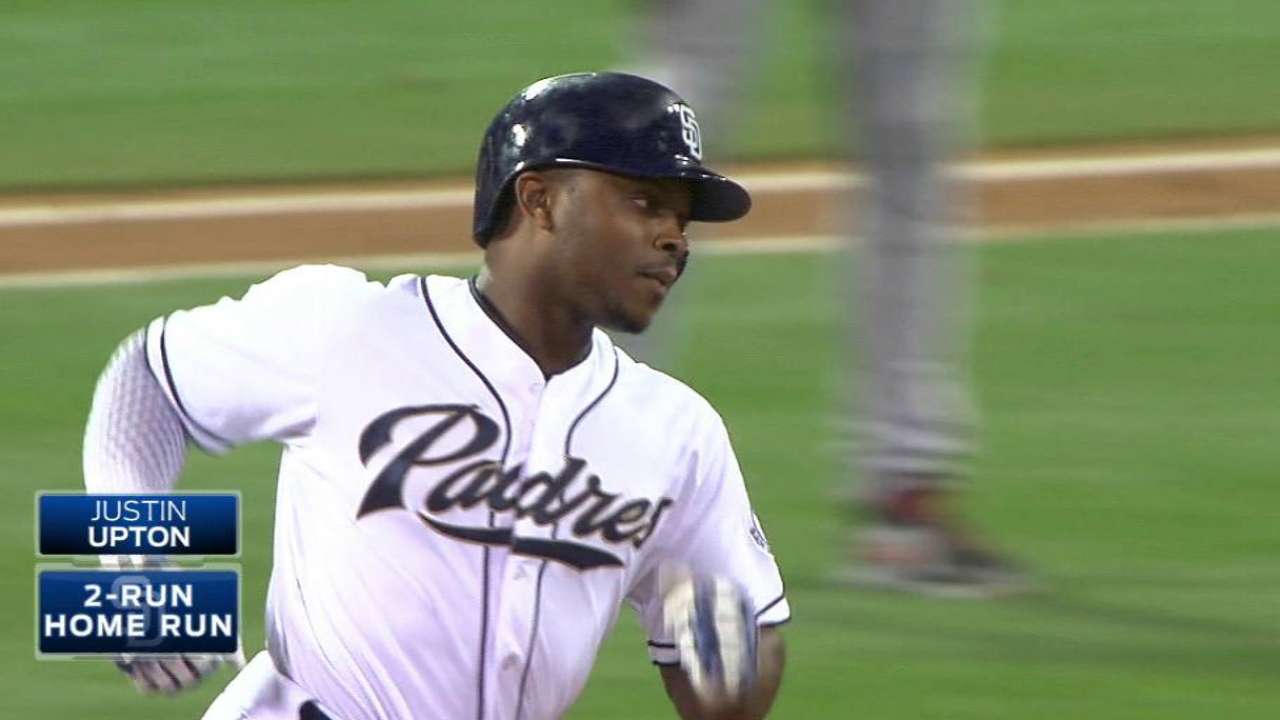 Catcher Derek Norris is 6-for-15 (.400) with three doubles and a homer in his four-game hitting streak.
FROM THE SCORECARD
• With Gyorko, Yangervis Solarte and Cory Spangenberg available to play second and third and Norris also backing up Yonder Alonso at first against tough left-handers, corner infielder Brett Wallace is a man without a fielding position. But he plays "bat" quite well. Wallace, whose best playing position is first base, is 7-for-26 (.269) with a double, a home run, five RBIs and four walks as a pinch-hitter since being promoted from Triple-A El Paso on June 19.
"Wallace as a left-handed pinch-hitter is his best role on this team at this time," said interim manager Pat Murphy.
• Murphy is going to give Melvin Upton Jr. more time in center "to see if a flash is there with Melvin." Upton Jr. is hitting .275 (19-for-69) with three doubles, a triple, two home runs, six RBIs and 10 runs scored since July 7.
• Right-handed closer Craig Kimbrel has allowed one run on two hits and two walks over his last 13 one-inning appearances to lower his earned run average to 2.53 -- the lowest it has been since April 29. With 33 saves, Kimbrel is three shy of cracking the Padres' all-time Top 10 saves list, although he's still nine shy of making the single-season Top-10.
• Right-handed starter Andrew Cashner is 0-2 with a 5.56 ERA in his last four starts. He has allowed 16 runs (14 earned) on 29 hits and eight walks, with 14 strikeouts, over 22 2/3 innings.