Nieuwenhuis eager to return to Major Leagues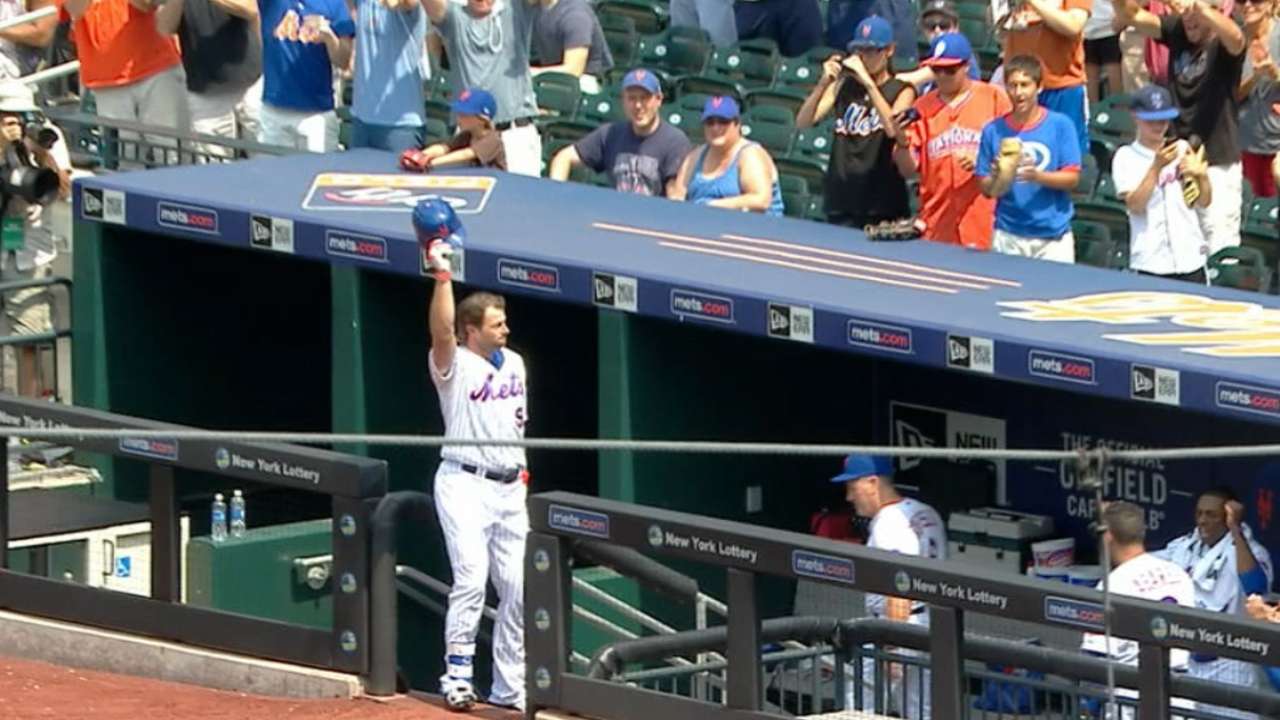 JUPITER, Fla. -- Mets outfielder Kirk Nieuwenhuis spent his 28th birthday on the disabled list.
Just a little over a month ago -- on July 12 to be precise -- he was the toast of New York, if only for one incredible night in which he hit three homers in a 5-3 win over the D-backs.
Those were the only three homers Nieuwenhuis has hit in 101 at-bats in the Majors this season. And his peaks-and-valleys season -- he was picked up in May by the Angels, where he played 10 games before returning to the Mets -- hit another low point when he suffered a pinched nerve in his back.
Nieuwenhuis, who was injured while swinging the bat, seems almost embarrassed by it, especially the timing.
"It was a frustrating, goofy injury," said Nieuwenhuis, who returned to action on Thursday during a rehab stint with Class A Advanced St. Lucie. "It's feeling better. The biggest thing for me is the strength in my left arm is coming back.
"I was feeling pretty good at the plate in the middle of July, late July and then this nerve or whatever it was ... I was losing strength in my left hand. I couldn't keep my top hand on the bat as strong as I wanted to. Thankfully, it's not anything in my neck or my shoulders ... so that's good."
So far in his rehab stint, Nieuwenhuis is 1-for-8 with two walks, a two-run homer and a fielding error.
Chances are strong that Nieuhenhuis will remain on his rehab stint until Sept. 1, when Major League rosters can expand to up to 40 players. At that point, the Mets could bring him up without having to remove another player from their roster.
The Mets are much deeper in the outfield than before Nieuwenhuis got hurt. Since then, they traded for veterans Yoenis Cespedes, who is an everyday starter, and Kelly Johnson, who has started games at second base and in the outfield. In addition, the Mets promoted top hitting prospect Michael Conforto, who is starting in left field against right-handed pitchers.
That may leave Nieuwenhuis with a role as a pinch-hitter, pinch-runner and possibly as a defensive replacement.
At 6-foot-3, 225-pounds, Nieuwenhuis is agile defensively and on the basepaths, and he provides a left-handed bat with occasional pop -- 16 big league homers in 253 games.
When asked how many more rehab at-bats he felt he needed before he was ready for the Majors, Nieuwenhuis laughed.
"I'm not sure," he said. "I don't know. Who knows? Just take it day by day. I'm off [Sunday]. I went two weeks without playing. Hopefully, [I don't need] too many more [at-bats].
"I don't feel too feel rusty. ... I definitely want to go up there [in New York]. They are playing great. It's a lot of fun."
Walter Villa is a contributor to MLB.com. This story was not subject to the approval of Major League Baseball or its clubs.