Furbush heads to Seattle to see team doctors
Lefty reliever continues to feel soreness in biceps after latest bullpen session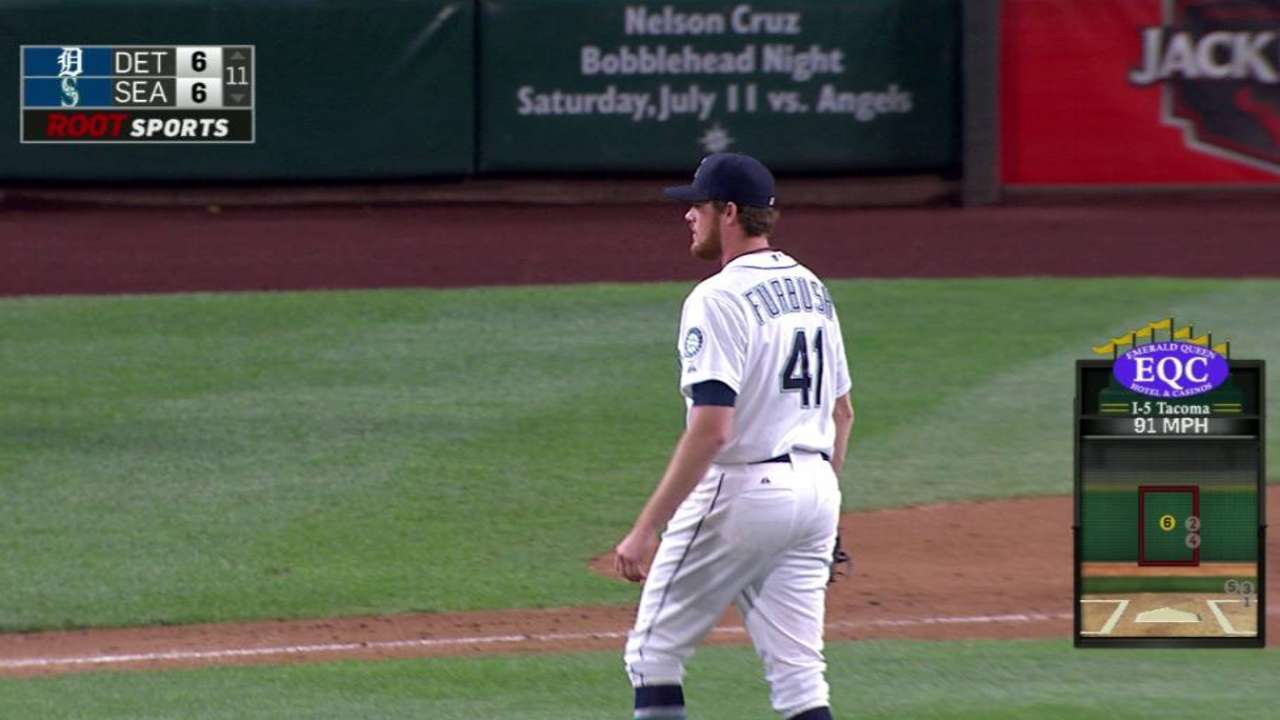 BOSTON -- Veteran left-hander Charlie Furbush flew back to Seattle on Sunday to see the Mariners' team physicians after continuing to feel soreness in his left biceps following a bullpen session Saturday at Fenway Park.
Furbush has been on the disabled list since July 9 with tendinitis in his upper arm. He'd originally hoped to return by late July, but the issue has lingered and he'll now be reexamined in Seattle while the team continues on its current road trip to Texas.
"His bullpen did not go well," manager Lloyd McClendon said Sunday. "We decided to send him back and let the doctor do his thing, evaluate, and we should know more on Wednesday."
McClendon said Furbush completed his full bullpen throwing session and didn't have any new issue, but was still dealing with the same type of soreness.
"It just didn't get any better," McClendon said. "He's hit a block in the road, so to speak."
Furbush's absence has been significant for a bullpen that has worn thin in the second half of the season. The 29-year-old posted a 2.08 ERA in 33 appearances before going on the DL, allowing just nine hits with five walks while notching 17 strikeouts in 21 2/3 innings. Opposing batters have hit just .122 against him this year, and he's stranded all 16 inherited runners.
Without Furbush, the Mariners have relied heavily on veteran Joe Beimel, with rookies Rob Rasmussen and David Rollins also taking on increased innings in recent days as left-handed options. Southpaw starter Mike Montgomery was available in the bullpen for Sunday's series finale with the Red Sox to help out after lasting just 2 1/3 innings in his last start on Friday.
Worth noting
• McClendon said the plan for now is to stay in rotation following Thursday's off-day, which means Felix Hernandez will be in line to start Friday against the White Sox in the opening game of a six-game homestand.
• When Nelson Cruz hit his 35th homer of the year on Saturday, he became the seventh player in Mariners history to achieve that mark for a season. Ken Griffey Jr. hit 35-plus homers in six different seasons, Alex Rodriguez did it four times, Jay Buhner three, Bret Boone twice and Richie Sexson and Edgar Martinez once. Cruz has already hit the most homers by a Mariner since Sexson went deep 39 times in 2005.
Greg Johns is a reporter for MLB.com. Follow him on Twitter @GregJohnsMLB, read his Mariners Musings blog, and listen to his podcast. This story was not subject to the approval of Major League Baseball or its clubs.