Denson supported by teammates, front office
Brewers prospect applauded for 'courageous' decision to come out as gay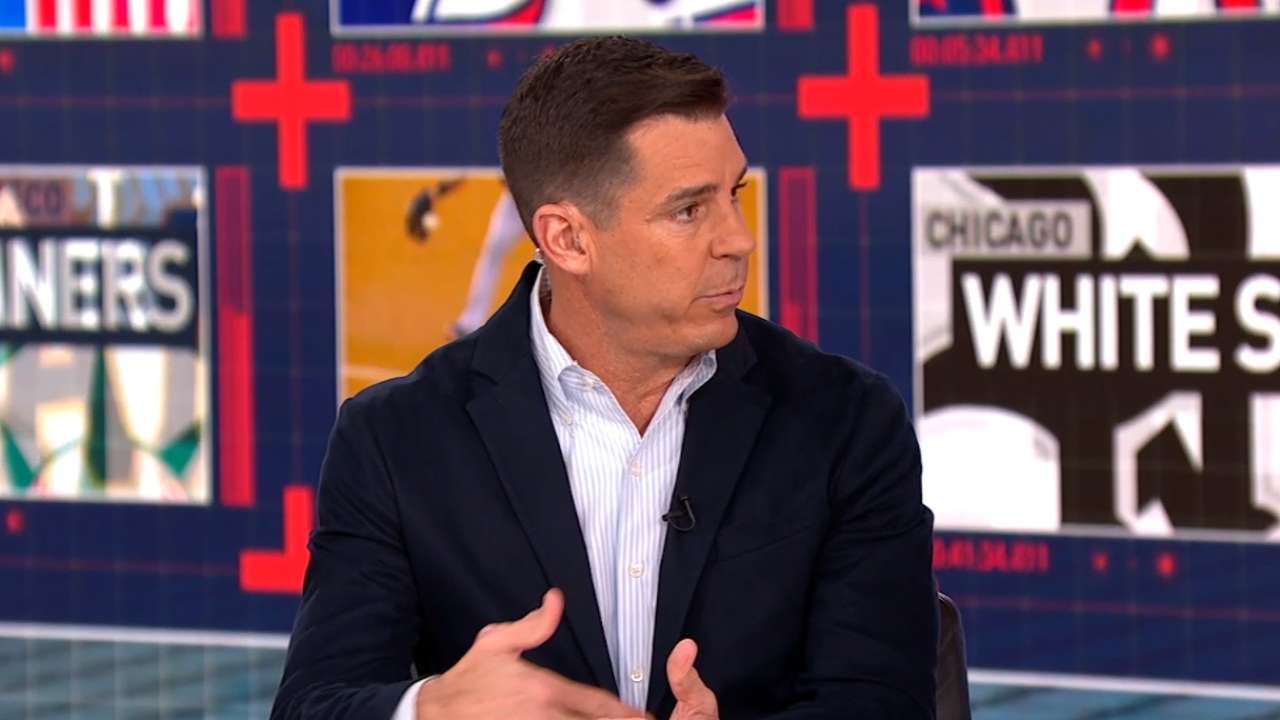 MILWAUKEE -- Brewers second baseman Scooter Gennett was a teammate of David Denson's earlier this season while on a short rehab assignment with Class A Wisconsin. At the time, Gennett, along with the rest of Denson's teammates, didn't realize the 20-year-old first baseman and outfielder had a secret that he was struggling to share.
That secret came to light on Saturday, as Denson revealed he is gay in a story that appeared overnight in the Milwaukee Journal Sentinel. He becomes the first active player affiliated with a Major League organization to come out publicly.
"Coming out for him, it's less clutter. He's able to focus on baseball," Gennett said of Denson before Sunday's game against the Phillies. "If he's called up, will he be accepted? Absolutely. Anybody that plays this game, goes out and plays hard everyday, is going to be accepted."
Denson, the Brewers' 27th-ranked prospect, according to MLB.com, leaned on former big leaguer and current MLB Ambassador of Inclusion Billy Bean through the process. Bean revealed he is gay after retiring from the game, and he provided Denson with the confidence to share his sexuality to not only his teammates, but also the general public.
Denson is now with Rookie-level Helena in the Brewers' system, and his teammates made the decision easier for him with their support.
"Talking with my teammates, they gave me the confidence I needed, coming out to them," Denson told the Journal Sentinel. "They said, 'You're still our teammate. You're still our brother. We kind of had an idea, but your sexuality has nothing to do with your ability. You're still a ballplayer at the end of the day. We don't treat you any different. We've got your back.'
"That was a giant relief for me. I never wanted to feel like I was forcing it on them. It just happened. The outcome was amazing."
Denson was selected by the Brewers in the 15th round of the 2013 MLB Draft out of South Hills High School in West Covina, Calif. He was batting .247 with four home runs and 18 RBIs in his first 43 games for Helena after 24 games earlier this season with Wisconsin.
"Baseball is such a mental sport," Gennett said. "Maybe things aren't ever going to completely disappear, at least with the things I'm dealing with, but whenever I'm able to put that aside and can focus on baseball, it's amazing just how more fun it is.
"That's something that might've been missing at [Class A Wisconsin]. Hopefully I don't have to go down and rehab anytime soon, but I would like the chance to play with him again, because I'm sure he'll be out there having a lot more fun. I thought he was an awesome guy."
Gennett's support for Denson streams through the Brewers' organization. Manager Craig Counsell, who told the team of the news after Saturday night's win over the Phillies, shares the same agent with Denson when Counsell was a player. The skipper said he's always looked out for Denson and has had multiple conversations with him in the past.
"I'm happy for him, more than anything," Counsell said. "He says it wasn't a courageous thing to do, [but] it was a courageous thing to do. We applaud that. I wish him the best of luck trying to become a Major League player. ... Hopefully this gets something for himself out of the way that can allow all of his talents to shine through."
Brewers president of baseball operations and general manager Doug Melvin relayed a similar message through a statement on Sunday: "David is a highly respected member of the Milwaukee Brewers family, and he is a very courageous young man. Our goal for David is to help develop him into a Major League player, just as it is for any player in our system, and we will continue to support him in every way as he chases his dream."
When Counsell was asked if Denson will be accepted in the Brewers' clubhouse should he be called up in the future, his answer was emphatic.
"I do. I hope it happens," Counsell said. "He's a talented young man and hopefully that happens."
Brandon Curry is an associate reporter for MLB.com. This story was not subject to the approval of Major League Baseball or its clubs.