Moylan makes long trek back to big leagues
Veteran back in Majors for first time since 2013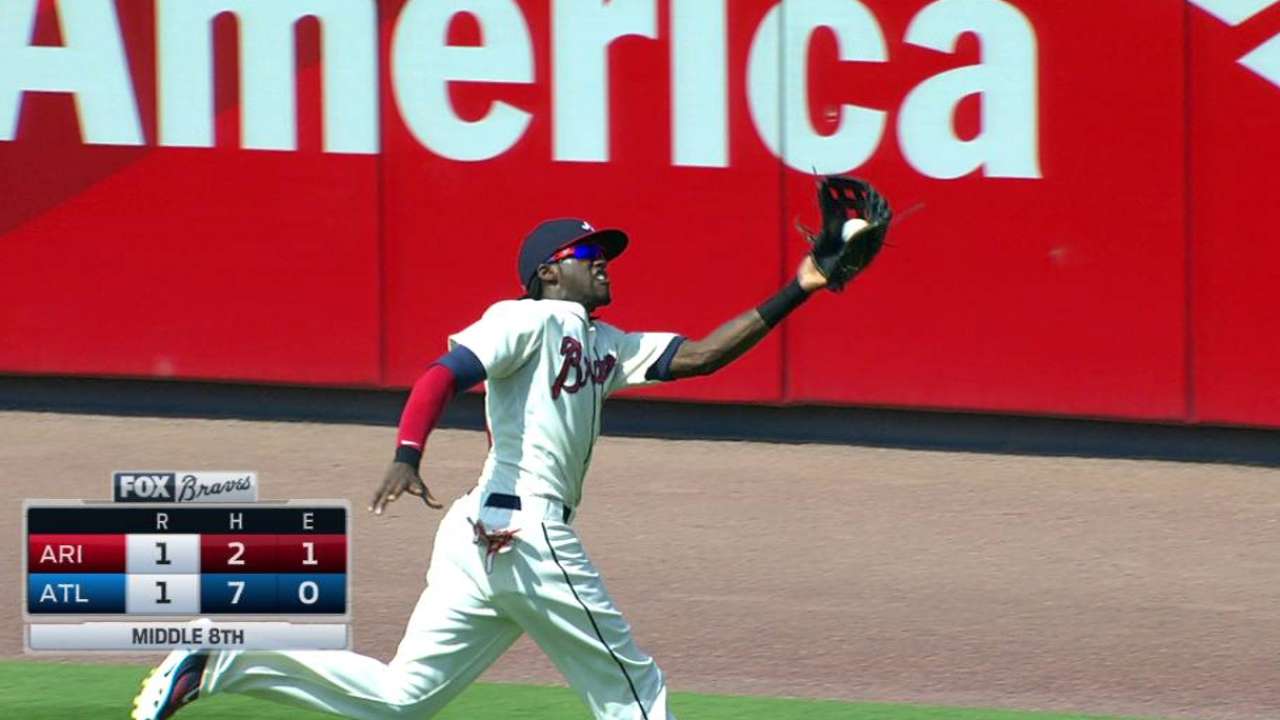 ATLANTA -- Peter Moylan's journey back to the big leagues brought him to the place he considers home on Sunday, and he was relieved to get on the mound and put a zero on the board his first day back.
The Braves purchased Moylan's contract on Sunday, and optioned right-hander Jake Brigham to Triple-A Gwinnett. He entered the Braves' 2-1, 10-inning win over the D-backs with one out in the eighth and got Aaron Hill to ground to short and Paul Goldschmidt to fly out to deep center to end the inning.
"I would have preferred for young Goldy to hit the ball on the ground, but it's an out, so I was glad to get out of it," Moylan said.
Moylan was admittedly nervous upon arriving at the ballpark.
"I mean, it's been a while," Moylan said. "Especially here, I mean, the last time I pitched here was 2012, so I wanted to prove to everyone that I still have something left in the tank."
The 36-year-old righty, known for his sidearm delivery, pitched for Atlanta from 2006-12, but the Australian was plagued by injuries.
Besides enduring two Tommy John surgeries in six years, Moylan dealt with a torn rotator cuff and also underwent back surgery in 2011.
Moylan had a short and rocky stint with the Dodgers in 2013, posting a 6.46 ERA in 15 innings. He signed with the Astros in the offseason, but was released during Spring Training.
The Braves signed Moylan to a two-year Minor League deal in March. As a player-coach for Triple-A Gwinnett, Moylan went 2-0 with a 3.14 ERA in 27 games. He recorded six saves and had not allowed a run in nine appearances since July 21 before getting callup from the Braves.
"If you match him up right, and he's been healthy all year, I know [Braves pitching coach] Roger [McDowell] and Marty Reed, pitching coach out there in Triple-A and myself talk about him all the time and look at the reports and velocity's up, he's healthy, so we're giving him another opportunity," Braves manager Fredi Gonzalez said.
Moylan said he "absolutely wanted to go in" to Sunday's game.
"There's nothing worse than being here and then having to sit for a few days and then the nerves get even worse, and every time the phone rings you don't know if it's going to be you, but it was nice to get that first one out of the way," Moylan said. "It was pretty cool."
Moylan is the second veteran arm Atlanta has added to its bullpen this week, with the Braves signing Edwin Jackson for the remainder of the season. The 31-year-old, who was released by the Cubs in July, looked sharp in his Braves debut during Saturday's 8-4 loss to the D-backs. The hard-throwing right-hander struck out four in 2 1/3 innings.
Aimee Sachs is a contributor to MLB.com. This story was not subject to the approval of Major League Baseball or its clubs.